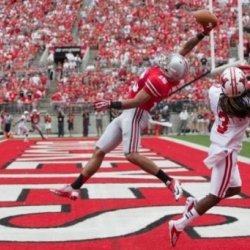 OSUmuFAN
---
Member since 30 July 2013 | Blog
Helmet Stickers: 233 | Leaderboard
Favorites
NFL TEAM: Cleveland Browns
NBA TEAM: Cleveland Cavs
MLB TEAM: Cleveland Indians
Recent Activity
Yes, i liked this BOTH times you said it!

You've had 7 great months of posting and only 1 redundant thread. Everybody makes mistakes. I've made mistakes as well. Who am I to hold a grudge?
Really anytime a post can bring in a Dumb and Dumber line I'm all on board, great find.
Even more, they are such easy targets.
Great work on all of the cap space details and providing great contract details, but you totally lost me on the Craft and Embiid ideas. I like Craft as much as the next guy and think it would be awesome for them to give him a shot as an undrafted FA, but when you went ahead and added him right into the starting lineup, like that would be icing on the cake, I almost spit up my lunch laughing. Just get Craft in the league for now so he can contribute on the defensive end and hopefully in time he'll develop a shot and be a real contributor.
I don't think sarcasm font is necessary for that comment.

It would be pretty hard to get "The University of Ohio State" wrong.
This is exactly what i wanted to see to confirm my opinion. Even though they were planning for and trying to stop Hyde as was beautifully laid out in this article, Hyde was still effective despite them bringing extra numbers. He never once lost yardage, never even had a run under 2 yards. On the play diagrammed above showing MSU's perfect defense to stop Hyde, he still went for a 3 yard gain(enough for a First down). Don't get me wrong, I still think Meyer is a tremendous coach and the best possible coach for OSU, but I think the wrong call was made on this play.
I'd be happy to catch you up on things not related to the military, world events, or David Hasselhoff since you probably got that news in Germany.
2009-
Poor super bowl that year, don't worry about that, not important. Dow Jones hits rock bottom. Pirates still exist off the coast of Somalia, who knew. Bryan Cranston is awesome at acting. OSU beat TSUN. Tiger Woods got caught cheating on his wife and all hell broke loose.
2010-
OSU wins Rose Bowl. Saints won the super bowl, this really happened. Lebron turns heel and is an ass. Bryan Cranston is still awesome. OSU beats TSUN again.
2011-
OSU beats SEC in a bowl game. I don't care what people say, we all saw it. Packers win an awesome super bowl over the Steelers. Jim Tressel resigns from OSU. I believe the College football season was skipped that year due to the tornado outbreak or something along those lines.
2012- OSU highers Urban Meyer. Giants win super bowl. OSU beats TSUN again for an undefeated season.
Hahah, my thoughts exactly! The question was about what his "ceiling" is, not your expectations of what he'll end up being. Last I checked, just because you're a 3 star doesn't mean you can't be a star. See, Troy Smith, Malcolm Jenkins, AJ Hawk, James Laurinitis...
If you don't want Ohio State to be a character that dies, you probably want to use a different show. Pretty much EVERYBODY dies, the show is awesome, but brutal.
Congrats to Tress and welcome home!
Watch our for he secret deep spot.
Belly Flop!!
Backflip!!
I almost fell down and broke an ankle at work when he juked that skunk weasel at 3:04
Thank you for finding this, this is the first one that came to my mind. I love the line that follows "Lay off me I'm SARVING" as well, "Diet starts Monday!"
You after watching the Hype video
So has anyone else actually watched the Troll Hunter movie the Troll shot above came from?
http://www.imdb.com/title/tt1740707/?ref_=nv_sr_2
They really should have saved some time and traded him as soon as he was sacked by the flag in his first game.
Pick em up!
and don't forget about Roby!
I can't believe it took this long to get The Simpson's, X-men and TMNT named, those 3 were the best along with PacMan / Ms Pacman
Agreed, the team will now be built by Farmer and Pettine, working hand in hand. With Alec Shiner running the business side, and that's it. There was no reason to tie the Business guy(Banner) pulling the strings on the roster and talent side.
This is what happens when you pass on the draft last year and are unwilling to supply your team with the parts it needs to function(Lombardi), and you don't know how to work with people and are a power hungry person who thinks he should have his hand in everything even if you don't have the required expertise(Banner).