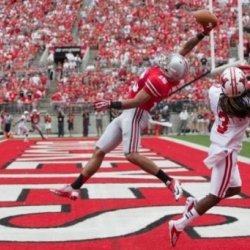 OSUmuFAN
---
Member since 30 July 2013 | Blog
Helmet Stickers: 537 | Leaderboard
Voting Record: 1781 / 164
Favorites
NFL TEAM: Cleveland Browns
NBA TEAM: Cleveland Cavs
MLB TEAM: Cleveland Indians
Recent Activity
Impressive for a guy that couldn't even win a BIG Coach of the Year award.
Let me take a run at this and tell me if this helps,
Here in portland at the airport filming "duck fans" heading to arlington for Monday's game.

Well opening their broadcast one channel got a whooooole lot of a solo bright red buckeye cap.

And I'm out
Translation: I am a fellow Buckeye fan living way out here in Portland, Oregon (not Maine). I was at the airport this morning where the local news stations are at the airport trying to get live shots of Oregon Duck fans leaving to go to Arlington for Monday's game. Well, I got to thinkin, wouldn't it be funny if I, as a Buckeye fan, went full on troll to the news station and as soon as they opened there broadcast, jumped in front of the camera with my Scarlet (not red) Buckeyes hat rather than the typical Duck school colors they were looking for, Green, Forest Green, Lime Green, Yellow, Electric Yellow, Duck Bill Yellow, White, Off white, Gray, Gun Metal, Black, Textured Duck Feather Black, Mat Black, Chrome, pink, OH SHIT, I've got to go, my flight's leaving!
I was thinking that is one of the things that's RIGHT about twitter. I love the ability to be able to capture someone showing how stupid they really are so they can't deny it later and say they were "misquoted" or "taken out of context".
If you can't win the BIG go try the SEC (Nick Saban)
The play that sticks out to me where everything has to go wrong for them to find a way to lose was the opening day loss to the Chiefs in 02.
Just found a recap on Dwayne Rudd's Wiki profile, unbelieveable.
Rudd's most infamous moment came in the 2002 season opener between the Browns and the Kansas City Chiefs. With less than 10 seconds left on the clock and the Browns clinging to a 39–37 lead, Chiefs quarterback Trent Green dropped back to pass. The entire Browns defensive line swarmed him, and it initially appeared that Rudd sacked Green as time expired. However, Green lateraled the ball to tackle John Tait just before he went down. Rudd did not see this happen. Believing that he'd sacked Green to end the game, he took off his helmet and threw it in the air in celebration of an apparent Browns victory.
Tait ran to the Browns' 26-yard line where he was knocked out of bounds. That would have been the end of the game, but Rudd was assessed an unsportsmanlike conduct penalty for his premature helmet toss. Since football games by rule cannot end on a defensive penalty, the Chiefs got to run an untimed play. The ball was moved to the 13-yard line (half the distance to the goal from the end of the run). Chiefs kicker Morten Andersen booted a 30-yard field goal to win the game 40–39.[1]
Spencer's block was amazing, he actually took out 2 LB's on that block, he smashed the freshman like he wasn't even there and blew him all the way through their Senior leader Trey Depriest.
He was trying to slow the pace of the comments. Giving the readers. Time to rest. Between thoughts.

I was half expecting him to run out all excited and spike the ball or something and Bama picks it up to win the game.
You must be a Browns fan too, :(
Is there actually such a thing as a Houston message board?
Found it, Congratulations Alabama for participating in the inaugural College Football Playoff!
My real estate agent friend said they heard Bill Cowher was buying a house in Strongsville Ann Arbor.
as much as some of their crazy talk was terrible they did come through with one of the best lines in a while. When coming back from an in studio update, Gus says "Charles, what the heck is that growing on his face?" At our house we were all in the having the same conversation looking at the freaking ridiculous mutton chops the in studio host had growing everywhere but his chin. It was gold
If anyone is going to say OSU doesn't deserve to be in the top 4 because of an inconsistent Defense, then there is only 1 team out of all of the contenders that should be in the top 4, and that would make it only a top 1. All of these team have warts, and if our problem is defense, then i like where we sit, because out of the "contenders" we are top 4 in Defense too.
Rank Def PPG
2 - Alabama 14.5
17 - Mississippi State 20.2
19 - Baylor 21.0
25 - Ohio State 22.0
34 - Florida State 22.8
36 - TCU 23.1
52 - Oregon 25.0
PR / KR / DB / WR, i think he'd help a little bit, it has been a while, but I don't remember a bunch of turnovers in the Kick return game with him.
we don't have any effect on outcomes,"
You may not have that much effect on a game as a fan, but the rest of us are all wearing the same clothes we wore when we beat up MSU, sitting in the same seat, not moving when the game is going well, drinking the same beer, and watching the games with the same people.
Dream scenario, Alabama loses to Auburn, Miss St loses to Ole Miss, would Ole Miss be the rep from the SEC West in that scenario? They would have beaten both Miss St and Ala head to head. Then we have Missouri beat Ole Miss in the SEC Championship game who lost to Indiana who is 0 for the BIG.
I thought the "M!CH!GAN man" way to do this was to just leave it up to a "Team Vote". Yes i'm looking at you Les Miles and Jeremy Hill.
That was my beer of choice while OSU was beating up MSU, I may have to start drinking a bunch of those every saturday.
Unfortunately I think you are 100% right with this and that sucks. Everyone that says just keep winning and everything will be fine isn't paying attention to what those teams ahead of us have left. We need something crazy to happen to at least 1 or 2 of the teams ahead of us to manage to get into the top 4. Simply winning out isn't going to do it.
ORE v ASU will put one of them out, but leaves the winner in.
FSU has nobody tough on their schedule, without something crazy they are in.
TCU has nobody left on their schedule, if we don't get the benefit of being OSU they could be in ahead of us.
Baylor has KSU left, but between TCU / Baylor as of now 1 would be in.
And oh ya, i almost for got, secsecsec, MSU v ALA would knock out ALA if they lost, but a 1 loss MSU would remain ahead of us. Somehow we need everyone in the SEC to come away with 2 losses by having Georgia or Missouri win the sec championship game. Even in that situation, do you really see them having NO sec representative in the playoff?
We still have a long road ahead of us and need to take care of our own business, but need to keep hoping for mayhem to hit across all of College Football.
OSU - Eleventy Billion
MSU - Threeve
I think that means we win.
After OSU scores a TD on the first possession of OT, Bosa sacks their QB 3 consecutive plays injuring the starting QB, 2nd, and 3rd string QB's on each play. MSU at this point has nobody on their roster capable of throwing a forward pass and rather than bring someone else in, at the risk of Bosa injuring another player, they decide to just concede the W and go for the field goal. They would rather make the score look closer and have a "higher quality" loss by only losing 37-33 rather than 37-30 at home.
Plus Bollman is their OC, I could easily see him just run Dave 3 times and decide to kick the FG.
unfortunately I think our "Sizeable" jump into the top 10 will be from where we are to about #10. Not the jump SEC teams get like going from 12 to 3 for beating TA&M. MSU will drop to about 17 too, they won't get the one of the quality losses that Ole Miss is racking up.
All wins against the SEC are apparently huge wins and should at least boost you up into the top 25, so i think they get to be considered bitch slaps.
Shouldn't TA&M still be ranked because of there huge win over a top 10 South Carolina team, that's a huge win?