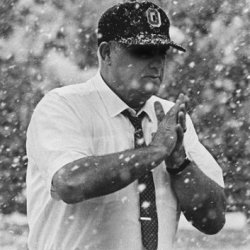 osu_killernuts
Member since 30 September 2013 | Blog
Helmet Stickers: 114 | Leaderboard
Favorites
SPORTS MOMENT: 2003 BCS championship game
COLLEGE FOOTBALL PLAYER: Joey Bosa
COLLEGE BASKETBALL PLAYER: Aaron Craft
NFL TEAM: Chicago Bears
NHL TEAM: Chicago Blackhawks
NBA TEAM: Cleveland Cavaliers
MLB TEAM: Cleveland Indians
SOCCER TEAM: God intended for us to play football
Recent Activity
Priceless....I love defenders with a bit of cockiness and swagger.
As much of a fan as I am of EzE, I have a feeling that backfield will be a 3 headed monster this year with EzE, Rod and Dunn getting the carries in a 50/25/25ish split. Before Dunn was in the dog house last year, he got some decent PT and carries as a freshman, he is my sleeper pick to shine in the Buckeye backfield this year.
Regardless, great news that EzE is cleared, and hopefully full go!
He's never used a redshirt, no need for a medical redshirt. Do your research first, haha
This isn't an apples to apples comparison, but did anyone project Jameis Winston to have the kind of year he had last year in his first year starting at FSU? Not that I have close to the expectation of JT having that type of freshman campaign should he start all the games this year, but I expect JT to be a more than formidable replacement should Braxton be out this year (worst case scenario).
Devin Smith, Spencer, Marshall, Wilson, Green, Thomas, Heuermann, Vannett, EzE, Rod Smith, Dunn, Samuel....the amount of offensive weapons at tOSU's disposal this year is ridiculous. And let's be honest, JT is not Bauserman or Schoenhoft, etc. (no offense to the former players). I still think OSU runs the table until the big matchup in East Lansing in November, then we will all see what JT is made out of (assuming Braxton is out for the season).
Non-panic mode here.
I'm surprised that all 25 teams are from the "power 5" conferences, plus Notre Dame and there aren't any teams like Boise State, etc. that usually get some preseason run from the media.
1) Alabama
2) LSU
3) Any other team in the SEC including Florida, Texas A&M, Mizzou, Tennessee, Georgia
Realistic:
1) UCLA/Stanford
2) Washington
3) Hawaii (could help with recruiting knowing you get a trip to Hawaii, haha)
I want to know how many QBs have Miller's athleticism and his arm strength. Hundley is not one of them for sure.
Cook is solid at best sans the career game in the B1G championship game last year. We will all get a good barometer reading after MSU's non-conference slate this year. I hope they are undefeated going into the game with the Buckeyes.
Our offense will be firing on all cylinders going into this game and their defense loses some key personnel.
It will come down to our defense getting off the field....I can't wait for this game and it's only mid-August
It's funny that VT now has a defense on par with MSU last year. I'm not underestimating VT by any stretch, I just don't see them stopping us in the fashion MSU did last year. Call me crazy, but this year's offense is going to be vastly different than last year's with Hyde. I think we will be doing a better job get the playmakers the ball in space which will spread out the defense a bit then we go to a more ground and pound attack as the game progresses. Last year OSU had Hyde pounding the rock, Miller's legs, Philly on short routes and too rarely Devin Smith deep.
This year has D. Smith and Miller, plus playmakers all over the place. When this offense gels, watch out...it will be fun to watch.
Granted, I will miss El Guapo this year without a doubt.
This made my noon lunch today, great read
I think the atmosphere helps OSU in Happy Valley more than it hurts them. Great atmosphere, place is rockin' and PSU has a marginal defense - not a game I worry about.
Honestly, what scares me in general is if an opponent torch us through the air in the first two possessions like last year. How will the team respond? Will they play timid or will they have the moxie to step it up? I hope the defense doesn't have the "oh, here we go again" mentality. I don't see it happening, but it is in the back of my mind.
This is the Purdue effect. For some reason a bad Purdue team has given us fits over the past few years, while we have also blown them away too. Still, those couple close contests and/or losses are very present in my mind compared to the drubbing them on multiple occasions.
I guess I still have nightmares about the Cincy game back in the 2002 season and that greatly skews my thinking. Last two games weren't close, you are correct, but that '02 game still makes me shudder.
276, that's the over/under line.
I'll take the over.
Just like I gain weight one pound at a time, OSU will get to the four team playoff - one game at a time.
First stop, blowing up the wing T attack of Navy.
Hands down the Cincy game. They historically play great against us. Plus, I feel like Cincy generally doesn't get the respect from OSU, subconsciously at least, and they show up to play. Cincy has a roster riddled with players who didn't get that offer from OSU and show up with a chip on their shoulders, that's what makes me nervous. I'm guessing very few Cincy players had offers from both Cincy and OSU, and opted to go to Cincy. Thus, trap game #1 of the season.
I want tickets for the VT game. Let me know the price, I sent you a message.
I still believe that Thomas and Dunn will make solid contributions the next couple of years. Everyone is getting really excited for EzE at RB to replace Hyde this year, I just don't see it. I think Dunn and/or Rod will get the red zone duties at RB, EzE will be more of the between the 20s back with solid numbers.
The group I'm most excited about is to see what Wilson, Jalin, Samuel, Clark and Dixon can do when the ball is in their hands. It's funny to think about all the weapons we have on offense with these younger players and there are still guys like Braxton, Devin Smith, Spencer, Heuerman (sp?), etc.
I'm thankful that I don't have to gameplan to stop the OSU offense this year, errrr at least try to slow them down.
I watched Danny Clark play in the first high school varsity game last year. He came in to start the 3rd quarter due to an injury with their starting QB. As a freshman, playing his first varsity game, you could tell he was special. He throws a pretty deep ball and can zip it in there on short and intermediate routes. He is not Justin Zwick. Danny has three years to hone in his skills on the high school level and still has at least 3 years at OSU. I know it's the hype machine and I hate the hype machine, but this young man has the potential and upside to be something very special.
Heck, 6'3 and 210+ as an incoming sophomore high school QB....he may turn into a 6'5 250 beast at QB by the time 2017 comes around. I'm thankful he is 100% buckeye....
Note: I absolutely hate the Massillon Tiger high school football program, but I have to give credit where credit is due.
It's a great day to be part of Buckeye Nation!!
So it's ga_e 12, week 14 of the college football season including the bye weeks...and Taylor Lewan has an epiphany that their offense needs to be _ore consistent and they are working on that this week.....now that sh!t is funny!!
I am even _ore confident in the tOSU e_barrassing TTUN after cHoke's and Lewan's input.
Well written article, yet there is much speculation at this point and should be based on the fact of the overall team success. Fickell is replaceable, and I hate to see Herman go but it is inevitable.
The one guy I hope sticks around is Vrabel. His successful NFL career and passion for OSU has to be a huge plus in recruiting. If I was a wide eyed 17 year old defensive player and Vrabel showed up to talk to me, I may sign on the spot. I just love Vrabel's enthusiasm and energy he brings. And since he's a Buckeye at heart, he's the one I hope stays the longest bringing back the glory day of the silver bullet defense from his playing days.
Actually, same holds true with Warinner, Coombs and Drayton - I hope they are all retained also. I think Herman and Fickell are first to leave, followed by Withers.
Long time reader, first time poster....it's good to be part of 11W nation.
If Ohio State comes out with a fire in their belly as they did against Wisky, it could be a rough night for NW. Based case scenario for NW is that they trade punches with the Bucks in the first half. If Ohio State jumps on NW early as they have grown accustomed to this year, I have a bad feeling that NW may lose focus and have the mentality of 'here we go again.'
I'll go with Ohio State 41 - Northwestern 27, in a game that isn't as close as the final score.