osuguy2008
---
Member since 17 July 2012 | Blog
Favorites
SPORTS MOMENT: 1997 Rose Bowl
2002 National Championship Game
COLLEGE FOOTBALL PLAYER: Eddie George
COLLEGE BASKETBALL PLAYER: Scoonie Penn ( with Evan Turner a very close 2nd)
MLB TEAM: Reds
Recent Activity
I"ll give Kam a 7 on the dunk
Did anyone else notice that Tom Dienthart forgot to mention Sam Hubbard in his breakdown of the defensive line? Major oversight
If Rece Davis hadn't already climbed up the ladder to being a lead studio analyst and now head of Game Day my vote would be for him. When he was calling games back in the day on Thursday nights and other low profile games he was really good
There was a professional strength & conditioning coach who was talking in a piece about how guys train and he said the mistake a lot of guys make is getting too big and not continuing to train for strength, agility, and facets needed to play football. There's no doubt that once the guys get to the league they need to add some muscle for the new riggers but if you take a look at Whitner in his days at Buffalo and the early 49ers days and compare them to the later 49ers/Browns days there's a huge difference. Also, the NFL game requires safeties who have range which Whitner lost years ago
Donte Whitner made the mistake of bulking up as big as he did. He was extremely athletic for a safety coming out of Ohio St and his early days with Buffalo. He had really good range but then decided to get big and become an enforcer.
Nick Bosa listed as a DT? Huh?
I remember getting this issue the summer before my 8th grade year. I still have it with other Ohio St SI's, programs, and other commemorative stuff
Well, he would have been a commit with Brady Hoke. As much as this sucks, Harbaugh is a new coach and may not see the same potential in the kid as Hoke did.
I want to add that entirely neglecting your responsibilities is ever ok or honorable, but for all the grief and mockery the kid got, it seemed at the time to be piling on unnecessarily given some surrounding circumstances
Reggie Germany got a lot of undeserved grief because of his 0.0 gpa because if you remember the whole story, that fall quarter his father passed away and he had slipped into depression and wasn't going to class. I'm proud of this guy going back and getting his degree. I've also read how he has had his own sport training business and has focused on mentoring young kids. Class act.
I'm a big fan of Conley. He reminds me of a poor man's Shawn Springs
I firmly believe that come August Tyquan Lewis will be a captain. He's too much of a good kid and grinder not to earn the respect of his teammates. Plus, he's a good football player (led the team in sacks).
I firmly believe Tyquan Lewis will be a captain next year. That kid busted his butt last year and played very well. He's a real grinder, which we know Urban loves, and will be our most experienced defensive lineman.
I said he reminded me a little of Ray Allen. Yes he can hit 3s but they also have similar body types (in my opinion). I didn't say it was a perfect comparison, just that if I had to think of a player Kam reminded me of, Ray Allen came to mind
This is a bad move on his part. He's not an established receiver and not a dangerous punt returner ( I'm thinking of Devin Hester who wasn't established in a particular position but who was a legit threat as a returner or Tyler Lockett this year for the Seahawks). If he returned he had an opportunity to be OSU's #1 receiver ( assuming Mike Thomas left, which seems almost a certain) with an established qb ( JT). That could have meant more targets, more catches, more big plays, and more opportunities to showcase that he could transition from a marginal slot player to a player who could make plays in a variety of ways. I see him as a 5th round type guy at best because this is only judging him against himself and not against all the other receivers who will be coming out.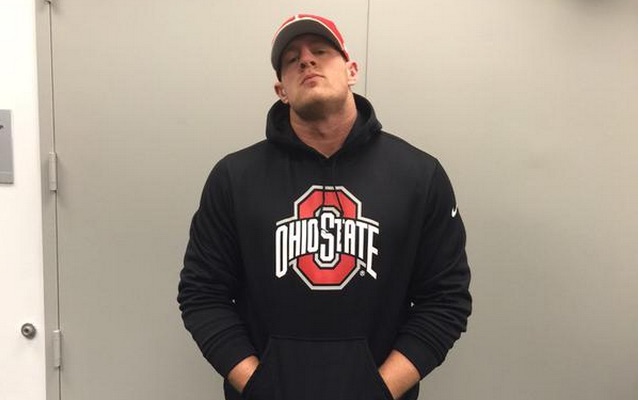 Or JJ Watt
Those were the days when the Mike & Mike program was watchable/listenable. Ever since they moved to a tv studio and producers have pushed interviews with celebrities and more ESPN guests the show is just foolish. I miss when Mark Schlereth would be a regular guest because I enjoyed his insight to the game. The Mike's also didn't seem to take as many days off, so (maybe) they were hungrier to prove their chops as a national radio show.
I should've been more specific. Under the new playoff format with the bowls I know that there are new bowl selection procedures once the semi-finals are set and any bowl commitments are made ( Big Ten/Pac Ten with the Rose, SEC with the Sugar, etc)… So if the Peach this year and the Fiesta last year "fall on a grenade" , are there some back room understandings and talks that lead some bowls to take a hit on match ups? My overall question is how an explanation of how the selection process now works
The Peach Bowl fell on the Group of Five grenade this year after the Fiesta Bowl took one for the team last year.
Can someone explain what Vico means by this? Thanks
I was hoping we were going to wear the whites we wore against Alabama, Va Tech, and Michigan