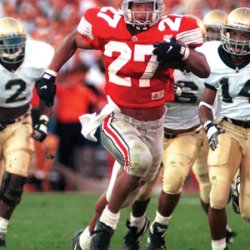 osuguy2008
---
Member since 17 July 2012 | Blog
Helmet Stickers: 263 | Leaderboard
Favorites
SPORTS MOMENT: 1997 Rose Bowl
2002 National Championship Game
COLLEGE FOOTBALL PLAYER: Eddie George
COLLEGE BASKETBALL PLAYER: Scoonie Penn ( with Evan Turner a very close 2nd)
MLB TEAM: Reds
Recent Activity
Hmm.. I wonder what coach Coombs would have to say?
No; left some points on the board from some missed opportunities in the red zone and Indiana should never have come close to 27 points , especially off those two long runs. I might have voted yes because of the way Bucks came on in the last 10 minutes of the 4th but 42-27 doesn't look as good as 42-20 would have (or more)
Normally by this time of year is when you hear coordinators' names leaked as being on hot lists for jobs (even for non high profile jobs) and I haven't heard Herman's name. I'm sure he'll garner an interview because of the job he's done with JT but my feeling is that he'll stay a little longer.
Plus, with the way JT has progressed Herman may think that he'll have JT for a couple more years and can further nurture and develop him while chasing a national championship within the next couple of years. Coming close to winning a national championship if not winning one as well as having a Heisman contending quarterback can do wonders for raising your profile for more lucrative jobs
Congratulations !
If I say I'm not sure I like this idea will I be put in jail?
The SEC West will continue to eat itself so everyone has 2 losses and Baylor may put up lots of points but I don't think they're trending up as well as OSU. OSU just needs to continue the trajectory they're on and improve each week
This is the 2nd game in 3 that Jalin has had some bad muffed punts. Maybe next year we give him another try but not with 3 games we need to keep rolling to try and get into the playoffs. Anyone but Jalin.
Snickers
I voted no because I presumed the question meant this year. JT has been playing great, but aside from the Michigan St game he hasn't had any other big time performance against a quality opponent. However, I fully expect him to be a Heisman finalist next year or other years to come as long as JT is in Columbus.
I see the Heisman finalist field to be Mariota, Prescott, Cooper , Gordon, and possibly Boykin.
For any other game, maybe; but this is the Michigan game. If you're not pumped by 9 am then check your pulse
Where it rightfully belongs
Here is another obligatory 2015 Quarterback Story when we're not even through 2014. Folks, Braxton isn't coming back next year; he's said and done all the right things so as not to create a media firestorm. However, given his injury history and his desire to get paid he's going to leave.
Before anyone says "He needs to come back another year to develop into a pro quarterback", let me offer this newsflash : sometimes 20 somethings don't always make prudent decisions (although in this case I think the prudent decision is to change positions and leave but that is for another topic).
The weekly Braxton vs JT stories are old. Frankly, they got old somewhere around mid-October. I understand they create great discussion topics and chatter but by now there's nothing new that can be said.
Wait, NYC doesn't care about college football? But we were told that by adding Rutgers into the Big Ten we'd be adding the all-important NY market.
By no means am I a fan of Skip Bayless and I whole heartedly agree with Lee's sentiment, I don't think it's becoming of a college kid to spout off on twitter towards a professional adult. I know that this feeds into our joy to see certain people in the media get smacked around, but I don't see where this was becoming of a young man. Had it just been a blanket statement not directed towards anyone in particular I wouldn't have as much of a problem with it, but he called out someone specifically.
Despite being blessed to play on a national platform and elevated to professional attention, he's still a college kid and humility,grace, and tact would have been better exercised here.
For the record, I love the kid and find him to be a humble, well spoken kid; however, this tweet serves no purpose and would have best been not sent in my opinion
Animal abuse in more ways than one
A decisive win helps in the comparison with Oregon
This may be the best one ever
The aggravating part of this whole mess is that sometimes I can click in the text box and type away and other times I can't. There are times that if I want to comment on a particular post and can't, if I come back to it later in the day then I can click in the text box and type. Another scenario is that I want to comment on article A but can't so I go to another article (B) to read and wish to comment at the bottom but can. I went from articles A to B in matter of seconds, yet on one article I couldn't comment but on the other I could.
Java has always been enabled and I made sure cookies were never blocked. Still no luck yet (this time I had to switch over to Chrome)

Since we're 13 in the AP & Coaches Poll, being ranked 3 spots lower in the Committee's poll isn't too egregious.
On another note, I think we can partially blame Delaney for the predicament we're in ( the other share goes to Gene Smith for scheduling weak non-conference opponents). If it were not for bringing in Rutgers & Maryland into the Big Ten, OSU would most likely be playing Nebraska or Wisconsin, if not both. This would drastically improve the Buckeye's opportunities for marquee games to garner attention from the committee
My apologies if an earlier post made no sense ( it might read "dsfjl"). I've been having problems posting comments - when I try to type in the text box at the bottom of a page nothing appears.
So I'm sorry for the finger slips that led to jibberish. However, if it did make sense to you then you probably received a UofM education
Did I miss the HoF induction ceremony where Keyshawn Johnson was inducted ?
Keep in mind that Braxton said he wanted to attend graduate school , not that he was going to attend graduate school. I realize there are many excited at the prospect of Braxton returning but keep in mind that his emotions are probably still running high after his injury and normally any decision made under the circumstances aren't the ones one sticks with. Besides, what else would he say ? Would anyone expect him to say " I'm leaving"? That would add an extra distraction to the season.
To be honest, the best thing for him , in my opinion, is to leave after this year and turn pro. His future was never going to be as a quarterback in the NFL for a multitude of reasons : skill set, injury history, stature, and ability to run a pro offense to name a few. Therefore, he should go ahead and leave and embrace that he is going to be a skill position player at the next level if he wants to have any length of a career. He's already gotten banged up so much that to come back for another year opens him up for further injury and not get paid for it. I realize that he wants to be a quarterback but some self awareness on his part at where he stands at being a quarterback in the NFL and another year older and opening yourself up to more hits and injury would be in his best interest.
If he comes back for another year he's going to be heavily scrutinized by the scouts for skill and injury and may have his draft stock pushed further down (4-5th round) or he can leave, switch to a skill position, and more likely be drafted in the second round where he'll have a more lucrative contract, make more of an impact on the field, have a chance at staying in the league longer, and have a chance at an extra contract.
I also think that with all the young skill guys that Urban has been recruiting , JT and Cardale getting all the reps in spring and fall camp , and an entire season of the skill guys building a rapport with JT that for the team the best thing could be for them to be building now for years to come with a core nucleus.