osugreg04
Dayton, OH (via Marietta, OH)
Member since 27 September 2013 | Blog
Favorites
SPORTS MOMENT: January 2003... Oh come, let's sing Ohio's praise...
COLLEGE FOOTBALL PLAYER: Today? Braxton... All time? Krenzel
COLLEGE BASKETBALL PLAYER: Aaron "Baby Face" Craft
NFL TEAM: Pittsburgh Steelers
NHL TEAM: Columbus Blue Jackets
NBA TEAM: Ugh, NBA
MLB TEAM: Cincinnati Reds
SOCCER TEAM: Columbus Crew
Recent Activity
I agree, but I'm not ready to concede defeat just yet. Come on chaos!!!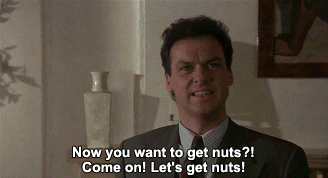 No mention of the walrus?
That's what she... uhh sorry, it's a habit
Literally got me to laugh out loud at work. Amazing BTBuckeye, simply amazing.
<immediately Googles Conner Cook's sister>
Tickets are $8 for adult, $5 for youth/student and free for current OSU students with a BuckID. Parking is free.
What about 30-something's with an old, faded BuckID they've kept on their basement bar because they like to mentally escape to Panini's South after they've put the kids to bed? How much are tickets for "those guys?" Asking for a friend.
I suppose italics would have been a better choice
Torrance Gibson???? It's like he's gone missing
Nice shot on the personal attack, BBB. Just trying to be lighthearted in my feelings towards the news. Try not to read things too literally next time.
Been aa tough week for Buckeye news
Well poop... Guess he doesn't like winning
Same reaction I had when I heard the news this morning
Ramzy on his soap box again about Fall weddings?
The VC is classic, but don't sleep on the Thirsty Scholar. All us FCOB kids know about that one.
The Twitter? Never heard of her.
believe in superstition
I don't believe you can say that here... oh wait...
Ok so I'm risking massive DV's here, but something doesn't feel quite right about an entire website dedicated to hating on scUM. I mean, I am anti-mitten as much as anyone and like schadenfreude, yet I kind of think we need to be a little better than this and focus on our greatness instead of their ass-baggetry.
Here's a hellacious scenario to jumpstart your Wednesday: Ohio State dumps Michigan State then loses to Jim Harbaugh's Cracker Barrel disciples.
Oh thanks DJ, there goes my breakfast
That's a darn shame m*ch*gan
Trying to be facetious here. In reality, the offense is producing some good numbers, but they're not "Star Wars" numbers, as Urban says.
460 yards per game of total offense... 26th in the nation... what's wrong with the offense?