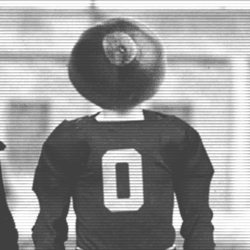 OSUFlash
---
Member since 13 September 2013 | Blog
Helmet Stickers: 541 | Leaderboard
Favorites
SPORTS MOMENT: Watching the Holy Buckeye play against Purdue with my then 10 year old son and us rolling around on the floor together when Jenkins scored.
Then watching that same Son win his high school conference 100m dash title his junior and senior year.
COLLEGE FOOTBALL PLAYER: Troy Smith
COLLEGE BASKETBALL PLAYER: Aaron Craft
NFL TEAM: Pittsburgh Steelers
NHL TEAM: n/a
NBA TEAM: any team that has a current Buckeye
MLB TEAM: Reds
SOCCER TEAM: n/a
Recent Activity
Here we are talking major college programs, big men, national championships and future NBAers. And that picture of them eating cheetos is just down right cute! Kids will be kids.

Actually it all starts with the parents steering their child away from trouble and if they don't listen to parents or family they sure as hell aren't going to listen to a football coach especially during the summer months. And despite all the best efforts you can lead a horse to water but you can't make him drink. Easy come easy go.
In the words of the famous Soup Nazi...........NEXT!
One word......DUMB!
Urban giveth and Urban takeith away.
At some point in the future his name will come up as the next head coach at Ohio State.

I hope he gets Giant Eagle fuel perks.

Dear Steelers ~ pay no attention to that man behind the curtain and thank-you Mr Rooney!
I get the best of both worlds with 2 teams rolled into one. And lets not forget the Steelers also signed the fastest man in the draft and possibly the NFL in Kent States Dri Archer. This season of the Steelers and Buckeyes is going to be legendary.

I just don't see the Buckeyes making the final 4 unless they're undefeated or have a very impressive 1 loss record. Having 2 losses will never make it no matter who you are. If it ever goes to 8 teams we should be in it almost every year.
I've never tweetered or snap chirped in my life. 11Warriors and Bucknuts are my only 2 sources of entertainment.
Positively couldn't be more proud of Maurice. This is a true comeback for the ages.
Tressels name belongs hanging in the Shoe and so will Meyers some day.
Any idea how Craft did at the combine? I saw a few results of actual height and weight but I was wondering how he did in the bench press and any one on one drills or scrimmaging.
Does the NBA Combine still consist of seeing how many times they can bench 185 lbs? If so Craft should do quite well in that.

And Christian Bryant gets de-cleted in the process.
As a Steeler fan all I can say is all is right with the world. And the coffee tastes especially good this morning.
Yaaaaawn....way too much high school drama for my taste. For every player we lose there's always one ready to take their place so no worries here.
Campbell is a legit burner but he also ran that time with 4.1 tail wind.
I'm literally sitting here beside myself over this one. Can law enforcement be cited for being F ing stupid? Welcome to the Steelers, we're damn glad to have you.
Just stick with a green field please. Colors will play havoc with my rods and cones. I can't watch any Boise games because of that F'D up blue field of theirs.
I have that episode recorded as a keeper. Tom Izzo was first class all the way when talking about Craft. You know he would've loved him on his team.
I too was a big Mike Mitchell fan but the young man never played a down for the Buckeyes and is now yesterday news. I wish him nothing but the best but our group of Linebackers we have now along with those coming in will bring the excitement back at that position.
And don't forget that track times are electric timed so these guys are flying. A 10.3 ET is easily 10.1 hand timed.
I must be The biggest moron for actually reading this entire thing.
I still think he might be the fastest Buckeye when at 100%.
And lets not forget this is hand timed.