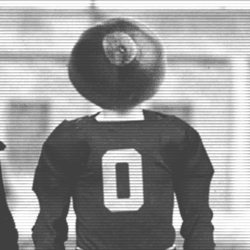 OSUFlash
---
Member since 13 September 2013 | Blog
Helmet Stickers: 475 | Leaderboard
Favorites
SPORTS MOMENT: Watching the Holy Buckeye play against Purdue with my then 10 year old son and us rolling around on the floor together when Jenkins scored.
Then watching that same Son win his high school conference 100m dash title his junior and senior year.
COLLEGE FOOTBALL PLAYER: Troy Smith
COLLEGE BASKETBALL PLAYER: Aaron Craft
NFL TEAM: Pittsburgh Steelers
NHL TEAM: n/a
NBA TEAM: any team that has a current Buckeye
MLB TEAM: Reds
SOCCER TEAM: n/a
Recent Activity
I still think he might be the fastest Buckeye when at 100%.
And lets not forget this is hand timed.
Herman definitely needs to show an offense we've been hearing about but have seldom seen. Take away Hyde and our offensive production is very average at best. I hope to see at least 3 - 4 offensive guys who put the living fear in you if they get the ball much like Ted Ginn did. And I don't count Braxton as being one of those 3 or 4 guys; he's an added bonus.
How trilled must Parry's family and friends be? Love tough kids like this that may only see mop up duty but work their @sses off! Count me as part of his fan club too. I truly wish the young man all the best.
He would add some depth but only being a 4 game starter himself and being from Alabama doesn't mean he's better than what we already have at center. Go back and watch #54 on the gray team, Billy Price is the real deal. He man handled anyone in front of him. Plus we have 3 more studs arriving in June.
Get the F ing twerk out of here Miley and keep your twin Beiber the F away too!
WTH Raekwon McMillan was the best middle line backer on the field.
I need to give a big thumbs up to Billy Price 54 from the grey team. He really stood out at center especially the final TD drive. He is a grown ass man!
Not impressed with Jones or Barrett. McMillan and Apple looked great! Michael Thomas was a spring game star again now lets see if he disappears the rest of the year.
I definitely wasn't impressed with either QB and I really tried to be. Jones throws off the back foot and Barrett throws high but has better mechanics.
McMillan looks the part and played well. I see him over taking Grant at some point.
Apple looked great!
Rod Smith was Mr. Football in Indiana so what does that tell you? I'm not comparing him to Noah Brown though.
If Rod is the leader he claims he is shouldn't off the field issues be a thing of the past especially for a senior???? Seriously Rod???? Same shit different day.
Could be college's version of the Steel Curtain.
Epitroupolous is a perfect transfer candidate if he wants to play somewhere.
Isn't it a little late in the game for Rod Smith to be struggling with these sorts of things? Unfortunately it seems as if the sun is setting on this young man.
I dispute that Doran Grant got better as the season went on; the statistics of Gardner, Cook and Boyd say other wise.
If neither play Saturday the tone is set for them to be buried deep in the depth charth come August. Rod will go down as one of the biggest OSU mysteries of all time. And if Bri' onte Dunn doesn't seize this opportunity he too may once again be MIA this season.
another reason to love Elliot.
Couldn't be happier for Eli. And also wondering if Rod is once again going to be MIA unless he was ill or hurt.
I don't us making the 4 team playoff. Too many new faces and the team. Winning the Big 10 title game will be tough enough but is possible. I say 11-2 is probable and12-1 possible.
I've been out of college for almost 3 decades and my reflexes and timing are still great in the front yard. I'm pretty sure Braxton is a better athlete than me.
No spring ball = no problem. He'll be throwing with his receivers all summer long.
Simply amazing!!!! I'll never forget that rebound at the end of the MSU game. Craft at his best.
Russell will definitely be a great addition and brings the skills we desperately need. Hard to really tell a whole lot from last night since defense was basically non-existent. But you come to expect that in an Allstar game. Turner sounds like a great young man and very mature for his age. Hopefully he lands in Columbus but wherever he goes i wish him well.
I was quoting Coming to America, the barber shop scene. That was a classic!
Great news but instantly making us a "championship contender" is way too strong of a statement for my taste especially losing Ross.