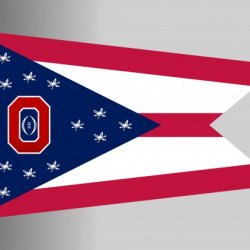 @osu.fbu
---
Member since 31 December 2013 | Blog
Recent Activity
If the guy really wanted to make a point he should have said that "Basic Defense"
Just like in the 2002 NC game, AFTER all the calls in question, each team had 1st and goal.
Just like in the 2002 NC game, only one team got it done.
THE Ohio State University.
Hilarious and accurate.
Don't forget you have to wait for your opponent to get into position before you move again.
Mirror Lake should be replaced with the safer choice of baby pool full of tequila.
http://thelantern.com/2009/11/where-did-the-mirror-lake-jump-come-from/
Apparently it started in the 1920's and faded into obscurity for a while. Someone call Jack Park for clarification.
The corner on James Clark was in zone reading the QB so I don't think a head fake would have done much. Maybe stem the route at his outside shoulder a little harder to either turn his hips or to force backward momentum before making the in-cut.
Crazy stat: Just saw on CFB stats that we have not had a Top 50 WR (in terms of yards per game) since 2010. That WR was Dane Sanzenbacher. He finished 41st with 72.9 yards per game. http://www.cfbstats.com/2010/leader/national/player/split01/category03/sort01.html
Landers is awesome. There was a play against Indiana where he drove back the center about 6 yards toward the RB like he was pushing a blocking sled. I believe he made the tackle on the play as well. Dude stepped up big time in Tracy Sprinkles absence. Larry Johnson knows how to coach 'em up.
Can't you get fired from most jobs for posting stupid things on social media? I thought that was behind the first rule of twitter: Never Tweet.
Dang. If you have to decommit, that's the way to do it. After hearing how well Joe Burrow is doing, I thought D Clark would have a shot at success here. Best of luck to him.
I stopped listening to the show when T-Bone started to bring up soccer every chance he could in the off-season. I know ESPN is trying to tell Americans we like soccer now, and it's working on a lot of people, but their message still hasn't caught on with me.
That Joe Burger man. He's like Rudy but actually good.
That is my thought. An effective system allows the leader to communicate feedback in real-time. I'm sure these things are designed more to get the reviewed to think about their performance rather than to allow the reviewer to air his grievances. But only doing it once a year seems like a pointless formality with little impact. Personally, if I only do something once a year, it has little staying power (think New Year's Resolutions).
Those are always fun meetings.
I like the Vapor and the Alpha, the Lunar beast look kinda generic. It would be cool to see gray replace the white, but if they beat MSU and TTUN, they could play in orange Crocs for all I care.
I don't see how they are so hard to remember. My two year old can do them. Plus, if confusion is a primary complaint, how are you going to compare it to the haka, which is way more involved?
The Hive was cool until everybody started ripping it off. Credit the OSU staff for originality on this one. Maybe college students can just have some fun and try to participate instead of being hipsters about it.
This reminds me of something I read Tim Floyd (UTEP coach) said last week:
http://coachingsearch.com/article?a=Tim-Floyd-blasts-radio-host-goes-off-about-college-transfers
- Per Floyd, there have been 581 transfers in college hoops so far (UTEP has 3).
- Per Floyd, last year, there were 79 teams with three transfers and 74 with four (UTEP had 1).
- Per Jim Larrañaga, over the last two years, 344 Division I programs (out of 351) have had at least one player leave.
There are also excerpts from other coaches. They go on to say that these kids will play for multiple AAU teams at a time, sometimes three teams in the same day. The whole culture that basketball players are being raised in seems very nomadic. Expect transfer rates to increase.
His game looks familiar..
If you keep a lot of files backed up and keep reinstalling them on your new computers it's possible you could have a bad file in your back ups.
He got a head start on Peyton drinking all those Budweisers.
Yes I have seen that and it is pretty amazing. That and the virtual reality QB training systems they are developing are pretty intriguing teaching tools. I believe it's just a matter of refinement and you will see those popping up everywhere in a few years.
Troy Smith. I'll never forget the 4th quarter drive against Michigan his JR year. Legendary
We are better than Stanford.
We have a better resume than Stanford.
Relegate Stanford.
You know who is not going to the NFL?
Urban Meyer
We will be fine (thumbs up emoji).
The situation reminds me of the criticism Gordon Gee got when he joked he was happy Tressel didn't fire him. People thought it was outrageous a college football coach would hold power over the college president, even though Gee's comment was in jest.
Gary Pinkel just turned Gordon Gee's joke into reality. He backed the students over the president. Either Pinkel or the president had to go.