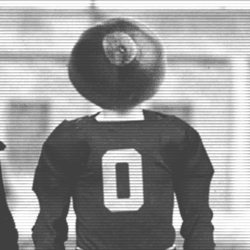 osubuck57
---
living in Atlanta,Georgia now (via Akron,Ohio)
Member since 22 October 2012 | Blog
Helmet Stickers: 2,442 | Leaderboard
Favorites
COLLEGE FOOTBALL PLAYER: Chris Speilman
NFL TEAM: Cleveland Browns
NBA TEAM: Cleveland Cavaliers
MLB TEAM: Cleveland Indians
Recent Activity
Like it or not, Bama is killing it this weekend. Ridley, Fitzpatrick, Burgess-Becker, and Lewis.
Saban gets flipped on occasion as well...it happens to the best. Guess it was just our turn!!
Thought Braxton and company would have at least 2 Big Ten Championships before they graduated, but I'll take one :)
Shocker, SEC riding on the coat-tails of Urban and OSU!! Sounds very Sabanish. lol
Give me Hentges and Boykin. Don't think we get Hentges and Clark.
Unfortunate, but understandable. Hopefully, they can make it up this summer.
Bad luck for Green. Hope the kid gets more offers!!
Welcome aboard Trevor!! Looking forward to seeing him on the court, whether it's this upcoming season or the one after. He'll only make us better!!
Mine too!! Esa would be a great plan "B" though.
Think this was Elijah Taylors' 3rd or 4th trip since being offered. Maybe a staff member can be a little more definite. Hope we can get him, Dre'mont Jones, and Wilkins from Connecticut.
Think him and his family moved to Florida, which made it a heck of a lot easier to commit to the home team!! And yes, he was a strong lean to OSU for awhile. So goes the recruiting world. We have two Cbs and a S already signed up, unless EGW plays WR in college. Best of luck to him in the Swamp. Or am I way off and thinking of another recruit??
Hoping Myles picks us, but not real confident. He is right, we need a "true big"!! If he chooses elsewhere, I would definitely offer Esa. Love the Ohio kids we can keep in-state.
Troy Smith vs. Braxton Miller
Reminds me of Austin Roberts, kid we recruited last year from Indiana, who eventually signed with UCLA.
Really hope Wimbush can make it up this weekend, or soon there after!! What's up with the fire explosion of crystal balls for Nunez to South Carolina??
Best of luck to him. Bad break on the injury last year. Probably put him behind and he saw the depth shaking out. Hope he becomes a starter elsewhere.
I think Wimbushs' game translates better as a college QB than Gibsons' right now. I think Gibson is more of a RB/ WR playing QB and Wimbush is more a QB, with scrambling ability. If I had to choose one OR the other, I'd take Wimbush #1. I just think we need a more polished passer. We have plenty of RB's and WR's who can run with the ball.
Think all of Buckeye Nation is rooting for Marcus. If he stays on the straight and narrow, there should be no problems. Remember being excited when he committed to us, without even visiting the school yet. Hope he fulfills his potential on the field, even more so off the field!!
Like the offer. Just for anyone out there. Have we ever had a commit from Oklahoma??
Chandler Cox is a interesting recruit. Wonder how hard Urban and company will go after him. Like that he plays multiple positions.
Virginia Tech and Penn State, with it being Franklins' first year at the helm, I can see. But Illinois?? Would have been great to Get MSU at night.
Anyone know if Strong is still planning to visit with his commitment to Mizzou?? Would be awesome if we could land Dre'mont and Elijah!!
Congratulations to both of them!! Glad they're staying in the Big Ten.