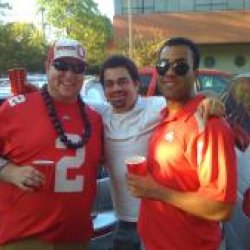 osubigcunn
---
Member since 03 October 2012 | Blog
Helmet Stickers: 10 | Leaderboard
Recent Activity
Someone needs to get on the horn and get Doss down to Columbus and convince these guys (Shazier, Roby, Bryant (if he gets the chance), etc.) to return next year. He is a great example as to why you come back for your senior year (or another year for some players cases) to win the ultimate prize. ESPECIALLY since we will most likely get screwed out of it this year. Just think about it though, Senior year, 24 games in a row and counting (with no reason to think another undefeated season isn't highly probable (albeit with a young line), first year of the playoff, National Champions (38 wins in a row and counting). Urban STILL without a loss at OSU. Now that is a way to go out... granted millions of dollars is also nice too. Although the signing bonus may look better with that on the resume.
Boy the Miami Dolphins better get that guy on speed dial.
Great story by the way.
I wonder how he feels by the Ryan Damn Shazier moniker?
After reading this all I could think of was this quote "If my aunt had balls she'd be my uncle".
Great win, go bucks.
For what it is worth I wish him all the best in whatever he decides to do. In a selfish stance, if he doesn't pursue the NBA it gives him time to begin his medical degree/ residency and he can begin helping people. I feel confident that he will do great things as a physician. Just think about how well he can "defend" against sickness! Pun intended.
On that note... It is not widely known that Don was a Massillon Tiger (same school as Devin Smith). Quite a mark that little stark county school has had on the coaching profession (i.e. Paul Brown, Earl Bruce, etc.).
I hate the anticipation. The worst thing is before you know it the season is over. Play 16 or 18 games!
Let me say what all of buckeye nation is thinking right now. WHEW! Go with the flow El Guapo! Become a better man and a better buckeye for this incident. For that matter, Urban should use this as a rallying cry to the rest if the team to straighten up because it could only take a second for a career or a legacy to be tainted forever.