OSUAeroEng
---
Columbus, Ohio (via Homeworth, Ohio)
Member since 01 March 2012 | Blog
Helmet Stickers: 1,588 | Leaderboard
Voting Record: 87 / 3
I'm currently a PhD student at THE Ohio State University, studying Aerospace Engineering. Specifically, I am researching fundamental particle impact characteristics in both cold and hot (2000 F) flows to help define a model for particulate deposition in gas turbine engines that can lead to early part failure.
Favorites
SPORTS MOMENT: OSU vs. USC, 2009: Best crowd atmosphere I've ever experienced.
COLLEGE FOOTBALL PLAYER: Carlos Hyde
NFL TEAM: Cleveland Browns (sigh)
NBA TEAM: Cleveland Cavaliers (double sigh)
MLB TEAM: Cleveland Indians (triple sigh)
Recent Activity
Yeah, EzE's 200+ yards seem to indicate the opposite actually occurred.
@ULuvLucy: The movie is called Sunshine. It's a great movie if you're into science fiction/horror.
Because every once in a while you get people like BamaMike who are actually civil and provoke thoughtful discussion.
Check RGB values, folks. It's bluish grey and gold, at least in the image. In all likelihood the actual dress is blue and black, but that's irrelevant to what people see in the image.
The actual dress may be blue/black, but the IMAGE of the dress is blue-grey and gold. I've personally loaded this image into Matlab and checked the RGB values of the pixels. So, if you see blue/black, it is YOU who are experiencing some sort of optical illusion.
Dr. Gregorek (if that's who you're referring to), was still teaching at least through my senior year in 2011. I don't remember if that was his last year teaching or not.
B.S. - Aeronautical and Astronautical Engineering, 2011, Ohio State
Ph.D. - Aeronautical and Astronautical Engineering, 2016(?), Ohio State
Yeah, you graduated a year ahead of me. How do you like Illinois? I believe that, like most of the Big 10 universities, they have an excellent engineering school.
Yep...been here since 2007. Which is kind-of depressing, now that I think of it :)
Ph.D. student in aerospace engineering. I do research involving the interaction between microparticles and surfaces at conditions relevant to the gas turbine industry.
Pretty sure they've won the internet for the week with that one. Hilarious.
LOL...like people have been saying, this is completely unprecedented. I doubt any championship caliber team at any level has had 3 quarterbacks and no idea which of them is most deserving to start the upcoming season. Seriously, there is no bad option. It's ridiculous.
Good luck to him in the NFL. He's got the size to succeed, and we all know how accurate he is. Arm strength seems to leave a bit to be desired, but you can work on that. I think he'll do pretty well for himself.
Yeah, you'd think after the way OSU manhandled Oregon (TCU, I would say, is slightly worse than Oregon on offense and slightly better than Oregon on defense), they'd realize that OSU probably would blast TCU in the same way they did Oregon.
Agree completely. We play an even remotely close game with Wisky and we don't get in. We needed to demolish them to even have a chance.
Yeah. They get a decent QB and their offense would be pretty tough to stop. A lot like ours (power run with a throwing threat), but different formation. Stave's inability to throw well killed them when they faced anyone who could actually slow down Gordon.
Ask Bollman:
1) Dave
2) Dave
3) Dave
That's great
Not bad at all. They should be really proud of their season.
In Chrome, at least, you can right click and save the video as an MP4. From there, I'm sure there's a way to convert it to a .gif
Edit: makeagif.com seems to work.
Somehow it doesn't surprise me that you'd piss all over the floor.
According to what I've seen on the ESPN comments, they don't think the championship is really "Undisputed" until OSU plays TCU. Seriously, you didn't even win your own conference, and the team that did got beat by a team OSU manhandled.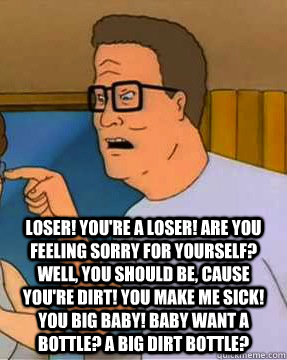 In a hotel bar somewhere in Dallas crying...