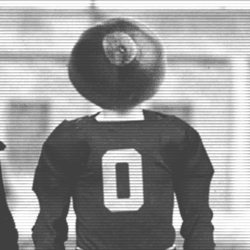 OSU069
---
Member since 03 August 2012 | Blog
Helmet Stickers: 1,420 | Leaderboard
Favorites
COLLEGE FOOTBALL PLAYER: Braxton Miller/Terelle Pryor
COLLEGE BASKETBALL PLAYER: Evan Turner
NFL TEAM: Bengals
NHL TEAM: Who Cares
NBA TEAM: Cavs
MLB TEAM: Reds
SOCCER TEAM: Who Cares
Recent Activity
Aaron harrison has I've in his veins!!! He's done this 3 straight games!!
Russell was dropping dimes in the dunk contest though.
Having some trouble catching the ball and then having stone hands like Amir Williams are two very different things.
Having some trouble catching the ball and then having stone hands like Amir Williams are two very different things.
I will be rooting for Kentucky. I can't root for TTUN. I don't like Calipari and the Kentucky fan base but honestly I like watching their team this year.
Having both of them would make it almost impossible for Dalton to play terribly in important games. It might be what we need to advance in the postseason with Dalton. I really think the Bengals should try signing Jackson.
Fine I will edit my comment. The Bengals should bring him in for a visit and see exactly what kind I problems he is having. They should also see what kind of contract he is looking for and then go from there. Him and AJ Green would be the best duo in the league at WR.
It's just crazy for anyone to say he will have trouble finding a team. He is one of the best receivers in the league. Even though he has some bad friends, he has never been arrested yet. The Bengals need to sign him. They have had success in recent years with players with character issues. If they can get Pac Man Jones on the right track, they will definitely be able to help Jackson.
Did I miss where he committed somewhere else? If he visits I think we will get him. Don't jump off the ledge yet.
We will see. Either way Gibson is going to be a very good player at some position. The most important thing is for us to get his signature . The rest will work itself out.
Not really. I checked on twitter and there was nothing. Still kind of a dick move.
You seriously just made that up? For real dude?
I don't see it anywhere.... Are you sure u didn't mean visited Tennessee?
Ross and Thompson are both going to be starting next year . If by some miracle we land Myles Turner I think we win the big ten and be championship contenders.
Then you have no idea what you're talking about. We wouldn't have even cracked. 50 points in a lot of our games this year without Ross .
I don't know why you would be frightened about SG. Russell will start there. He will provide an offensive spark while Scott will start at PG and provide the defense. Thomspon will start at the 3 and I think Ross comes back and starts at the 4. Center I have no idea. It might be Amir if we can't land Myles Turner which really sucks. Overall, I think we will be an improved offensive team next year.
You seriously need to calm down...
Are you FUCKING KIDDING ME???! That's not a foul!!
Edit: sorry wrong thread
Ross playing like a first rounder.
Ain't no one inbounding the ball on us
Well we can't shoot free throws and we keep getting these BS fouls.
Damn I love Craft but his jump shot is hard to watch.