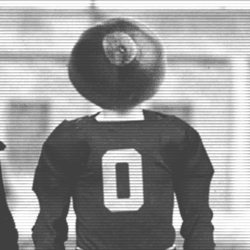 original buckeye
---
Member since 07 September 2010 | Blog
Helmet Stickers: 100 | Leaderboard
Recent Activity
...and his team lost the game. So, yeah, congrats to him on that.
News to me. He's the leader of the team that lost that game.

Yeah, Dontre asked those five or six Michigan players to surround him, push him, and not let him get off the ground or back to his sideline. Sure. Question for you--is Dontre also responsible for Hoke starting a convicted felon at linebacker or the Brendan Gibbons incident? Or any other of the depths to which your program has sunk under Hoke's watch? (and, in asking that, I am not referring to the Hoke's pathetic on the field performance; rather, I'm asking about off the field)
I'm passionate too. Doesn't mean I have any business being involved in coaching OSU football.
What exactly are you doing, if you're not disputing the report, given that you claim to "really dislike Bucknuts," and you call Baxendell and Biddle "moron fanboys?" Sure does sound like you're bringing into question the veracity of the report by attacking the authors.
I wasn't aware that Michigan flipped Webb (the Rivals #1 player in that state). That aside, even if the OL "has to improve," the results necessarily won't get any better--Akron and UConn aren't on the schedule from here on out, to say nothing of Minnesota and Central Michigan.
And before any Michigan fans go all "we didn't offer him," everyone should rest assured that although the fat clown isn't that bright, he knew he had no chance at Glover-Williams, and hence didn't even bother offering.
Agreed. The way Michigan stumbled across the finish line (6-6 in their last 12), they should be lucky to get a 4. We'll see if the committee rewards and punishes, as applicable, teams based on how they finished the season, like it says it does.
re: Ohio State's B1G game of the year, it's gotta be Indiana. I know ESPN takes a lot of flack, and rightly so, but this was a great article about the game:
http://espn.go.com/blog/collegebasketballnation/post/_/id/78253/ohio-state-spoils-indianas-night
I loved quotes like, "Ohio State barged in the door, shattered the speaker system, flipped over the beer pong table and -- before anyone knew what was happening -- strutted out the front door, smiling all the way," and "he Buckeyes won 67-58 in Bloomington, in one of the most brazen road performances by any team in any environment anywhere this season."
Makes you proud to be a Buckeye. Go Bucks!
Not to nitpick, but I'm not sure how you can put Michigan ahead of Michigan State--MSU blasted the Wolverines in East Lansing, and yet Michigan was incredibly lucky to win by a point in Ann Arbor. I'd have the top as follows:
1. Indiana
2. MSU
T3. OSU
T3. Michigan
It amazes me that a dullard like Bollman and his antiquated, unimaginative approach to offense can get an OC job at a Big Ten school after displaying ineptitude year in and year out at OSU. Dantonio's going to be in trouble at MSU if he's making decisions like this.
Mack Brown doesn't have more important things to concern himself with? Like, you know, not squandering ridiculous talent year in and year out?
Not to nitpick, but we'd be looking at a matchup with the Wolverines on Saturday in the BTT, not on Friday evening.
Count me as one who's ready to see Fickell go. I know he was put in a tough spot, blah, blah...but that doesn't excuse his deer in the headlights approach to coaching and his fielding a team that was horribly undisciplined and frankly didn't care. There was enough talent on that team to win at least 8 or 9 games, yet this coaching staff leads OSU to a 6-7 record. That's unacceptable and it falls on the staff's shoulders. Try as he might, Luke proved he's years away from having what it takes to lead a football team.
Agree. Meyer's a good judge of talent if he wants Gene Smith gone. And if we lose out on a star like Meyer because we insist on keeping that boob Smith around, that would be the worst decision in the history of OSU athletics.
Doesn't explain the poor play by the D in the last few games. Schematically, we've been horrible.
Agreed. None of them will be missed.
I'm no Bollman fan, but I'm kind of surprised how no one ever calls out Heacock. The defense was horrible again today, in addition to being horrible ever since halftime of the Wisconsin game. Today's loss is on the defense. 34 points is enough to win.
See you later, Luke. Your team has worlds more talent than Indiana and Purdue combined, but you almost lose to IU at home and you lose to an absolutely pathetic a purdue team. See you later. Thanks to you and Bollman for a horrible season.
"America's finest TV masterpiece."
Word.
Are you serious? It's a pet peeve of yours that you can't keep up with the conversation and understand the context in which the author's statement was made? The author realizes the Stanford-Oregon winner still has to play the Pac-12 south champ, but the point is because that Pac-12 south champ will be some horrible team (let's face it--there are only two teams that are even remotely good in the Pac-12, Stanford and Oregon), that this weekend's game really is the championship game, for all intents and purposes. Try to keep up.
I'm getting a little tired of these "cupboard was bare" and "Luke inherited a horrible situation" excuses that I'm hearing. No one is irritated at Luke for these reasons--they're irritated at the indefensible personnel decisions that continue to be made under his watch, such as leaving Joe B in the Nebraska game when it was clear 3 games ago that he doesn't have what it takes to consistently complete passes and lead the offense (worse yet, he's still the backup on the depth chart, even after last week's 1-for-10 with a pick performance), and now leaving Boom off the depth chart when he's clearly the best running back on the team.
I agree with this. He seems like a great guy and a true Buckeye. But some of his coaching decisions are indefensible. Anyone who has watched a game of football in their life (well, except for Luke, apparently) can see that Joe B cannot move the offense and gives OSU no chance to win. Yet, Luke still trots him out there when Brax goes down against Nebraska. This, despite the fact that Joe played poorly against Toledo, Miami, and MSU. Guiton CANNOT be worse.
Good point about the wind in the 4th quarter. When I was at the game last weekend, I noticed he did the same thing--MSU got the ball in the second half and the wind at their backs in the 4th. It is like Fickell is such an amateur that there are facets of the game that never even cross his mind.