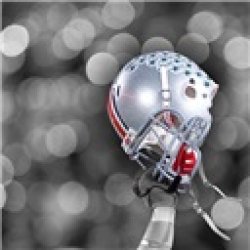 Orangeslash
---
Member since 19 November 2013 | Blog
Helmet Stickers: 162 | Leaderboard
Favorites
COLLEGE FOOTBALL PLAYER: Troy Smith
COLLEGE BASKETBALL PLAYER: Jared Sullinger
NFL TEAM: 49ers
NHL TEAM: Penguins
NBA TEAM: Nuggets
MLB TEAM: Indians
Recent Activity
They spelled Whitner's name wrong.
Didn't FAMU just have a scandal recently as well?
I bet more schools begin to look into band hazing.
So, will multiple home night games a year become a routine?
:x
I honestly think our WR corps will impress this year, if our OL holds up well enough to let Braxton get some passes off.
I wish we could steal the TweetPoster Bot from Reddit. 95% of WMDs are blocked at work :(
From an article I found -
>As a quarterback, he's far from a finished product. On Sunday, he struggled at times with mechanics, particularly when it came to throwing touch passes. At one point during drills, while other quarterbacks were getting normal reps in drills, Gibson was pulled aside by camp counselor Jordan Palmer, the former NFL quarterback and Carson Palmer's brother. The pair worked on the left-handed Gibson's release and footwork, with the counselor urging him to relax when throwing mid-range passes, saying "throw it just like I'm five yards away."
Not being from Ohio, can someone tell me what exactly happens at FNL?
Suspicious quotation marks.
He has showed flashed of brilliance and speed. I think he was just overshadowed by Hyde, and would have gotten more touches if Hyde wasn't just a massive stallion last year. We'll need him much more this year, and I really think he'll be a key player in our offense.
Any chance of him flipping before signing day? Seems like a strong possibility, all hopes and wishes aside.
It SHOULD have less load seeing how two 5* aren't both committing at the same time, but I agree. Longest 8 hours ever.

Never knew he used to play WR. Seems like quite a position change.
I did the same thing. Got excited that I knew the answer and then realized everyone did by the end of it. :(
Crystal Ball'd to Tenn still, but would be awesome to add another OL to the class. Hopefully he enjoys Friday Night Lights camp in 2 weeks.
Why is Not Sure an option? None of us are sure.
WOOOOOOOOOOOOOOHOOOOOOOOOOOOOOOOOOO
Thanks, I'm sure twitter, EW, and /r/cfb will blow up the second it happens too. It's just not the same ._.