Optimistic Buckeye Pessimist
---
Member since 30 September 2011 | Blog
Helmet Stickers: 6,537 | Leaderboard
Favorites
NFL TEAM: Browns
NHL TEAM: Blue Jackets
NBA TEAM: Cavs
MLB TEAM: Indians
SOCCER TEAM: Crew
Recent Activity
Maybe try getting off the internet?
I placed a parlay wager for Miss St., FSU, Bama, and TCU to win (not against spread, just win) at +300. This ensures a 95% chance (closer to 100%) that one of those 4 will lose. If anyone would like to donate to my "Cursed Gambling to Help the Buckeyes" fund, please let me know.
What team wouldn't be good shooting 61%?
I really hope it keeps up.
Exactly what I'm doing. Parlay to minimize my loss. Betting straight up, not ATS.
edit: FYI, fsu, Bama, miss st, and TCU to win parlayed to +300. That's my bet.
Miss St won't get in because 1. they won't win their conference and 2. head to head result vs. Bama.
The CFP committee evaluation criteria specifically emphasizes both of those attributes. There is no way 2 SEC schools get into this playoff if all other Power 5 conferences produce one loss champions. It is not something we should be concerned about.
Don't worry guys, I got this.
My simple solution: I will bet on Bama, FSU, and TCU to win this weekend. Trust me when I tell you what a curse my gambling can be.
I found 2 cases of Great Lakes Christmas Ale. I'd bring that.
Stranger things have happened in this game.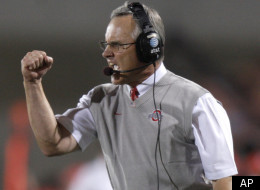 There's been more threads about fake punting than actual fake punts.
At least this had a more descriptive title...so maybe we are getting better. Or, more likely, this is just another sign of the glitch in the matrix.
I tried to be as careful as possible so that I did not question anyone's fandom. I do not doubt the loyalty, fandom or knowledge of younger fans for the exact reason that you all are the future. Please take what I posted in the context of this article.
BUCKABROAD said it best:
I know what you mean. I don't eat much or sleep well during Hate Week. I just pray that our Buckeyes play with energy, discipline and controlled fury for the full game. The payback is not even close to adequate for the years of crap we lived through in the 90's.
It's a nervous, churning energy, like going to the doctor or dentist, knowing that you'll be either proclaimed healthy or pronounced dead.
I love the trash talk going on in the B1G.
It is but it isn't. I think execution is a generic term for this game, almost along the lines of "This game is all about points, whoever scores more wins."
I don't think I should have said it's all about heart because you are correct. I think a more proper statement would be its all about heart channeled into focus resulting in execution.
And it would be nothing against the younger generation when I say that you all don't fully grasp the rivalry because you have been so spoiled with the results. It's a big game because you were raised to believe this, because you've seen the traditions and effort put into this game. You hate them because you are told to. You think we'll win because we are supposed to, because we're the better team and because we have been beating them.
In my opinion, the main difference between this younger generation and the older generation is that you guys are excited for this game. Maybe I speak for myself, but I don't get excited for this game because I've seen all of the cliches come true in this game. I get scared, nervous and dread this game every year because I've seen some of our best teams, who were light years better than them, lose this game. Our hate is brought forth by these memories, memories of ruined seasons.
The success we've enjoyed over recent years has been phenomenal. While I hope you never have to experience it, you really will never quite understand this rivalry until you experience both sides, and not just losing, but losing when you had so much to gain. That's what this rivalry is all about, but its just words to you right now.
The headline says it all. A lot of the younger group here don't understand this. Records, rankings, talent....out the window for this one. This one is all about heart.
I've got a feeling that this team will struggle against decent competition unless they can solidify their defense and work the ball around and low on offense. Right now, it's men vs. boys out there.
We know that Hoyer is bad enough to get this team to 7-4 and to lead them down the field for a game winning FG with 0:45 to play.
If we're 4-7, then maybe we see Manziel, but you're under selling the fact that we're in the middle of a wild card fight. Manziel was great at the college level, but I don't know how far that talent will reach in the NFL. He's not faster than defenders anymore and he doesn't have the talent gap luxury with his WRs vs college DBs.
If I were a player, I wouldn't want to come here considering some of the comments posted after mistakes have been made.