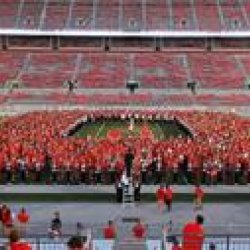 OneOfOver475000
---
Member since 11 July 2013 | Blog
Helmet Stickers: 182 | Leaderboard
Favorites
SPORTS MOMENT: Cie Grant singing Carmen Ohio on a blustery January day in the 'Shoe.
COLLEGE FOOTBALL PLAYER: Mike Doss
COLLEGE BASKETBALL PLAYER: Aaron Craft
NFL TEAM: Cleveland Browns
NBA TEAM: Cleveland Cavaliers
MLB TEAM: Cleveland Indians
Recent Activity
Easy mistake to make, but it is Conner . . . Not Connor.
If the school wishes to avoid the NCAA penalties imposed on that coach, the college must send representatives to appear before the NCAA's Committee on Infractions, and "show cause" (i.e., evidence) as to why it should not be penalized along with (i.e., for hiring) that coach.[1] The penalty is intended to prevent a coach from escaping violations that he/she had a role in committing or allowing -- which are generally applied to the school (e.g., lost scholarships, forfeited wins) -- by merely resigning and taking a coaching job at another, un-penalized school. It is currently the most severe penalty that can be brought against a U.S. college sports coach.
Taken from Wiki, assuming a school hires a coach with a "Show cause" looming.
I live just south of Charlotte in Rock Hill, SC. I usually go to the season opener at Strike City (HUGE following there as it is the home of the Charlotte Buckeyes.) Like CharlotteBuckeye said above, it is in the epicenter (right next to Time Warner Arena - Where the Bobcats/Hornets play) Get there early for big games or you will be standing by the bar, which isn't too bad considering you are hanging out next to 400 fellow Bucks.
Funny side note, they hold raffles every week and the big prize is a flight into Cincinnati. Always found that comical.
Enjoy your move, you will be pleasantly surprised at the number of Ohioans you will be around and the fact that in two years, I have only been shut out of two games on local tv (because I don't get the B1G Network)
McD is very similar to Urban in the "My way or the highway" routine. If he made the decision to keep him around albeit allegedly suspending him, then he sees something in him that can be salvaged. Meyer is allowing the young man a chance to learn from his mistakes and grow if what you're saying is true. I'm all for it. Thanks for the update.
Good get
He doesn't have anger issues at all. He's a good kid with great grades and a mean streak on the field. There are some reasons he has not been offered to this point, none are in his control and not for discussion amongst us. Glad to hear he did well at camp.
Unless I am reading this wrong, he drank a beer and was sitting in his car and probably smelled of said beer. When they brought him down, they realized he was fine and let him go. There is nothing to charge him with... Why is this even reported (Not here, I mean anywhere)?
Playing for Cleveland is.
Cold blooded young man.
Edit: Silly, but oh so cold blooded.
If only Stanford had played Jayru football...
"We're going to play Michigan State football," Dennard said
Thank God, I thought they were going to play Stanford Football. In this case, I've got the Bucks by 30.
In all seriousness, it will come down to the things the Buckeyes can control, effort and execution. They are prepared, they understand they are playing for something larger than themselves, and as long as they leave everything out there, I am proud of these young men.
Still would be nice to be able to say "The best part about being 25-0 is ..." Guess we'll just have to wait until Saturday night.
Dantonio actually downplayed Michigan State limiting Michigan to minus-48 rushing yards because so much of it came on sacks. Said Wolverines had around 60 pure rushing yards.
My math skills must be betraying me. Doesn't this mean they were sacked for -108 yards?
If so, that's even more amazing than Baxter eating the whole wheel of cheese.
In reading "Buckeye Rebirth" it mentions Meyer's philosophy he picked up when working on a group project. They came up with 4 pieces of motivation that we all share as human beings. He stated he uses fear, hate, and love with his teams. The fourth being survival, which he may or may not have used on Black Tuesday at Bowling Green. Anyway, point is he tries to motivate through love or fear. He believes if a player truly loves someone, they will go to great lengths to work hard for that person. As a former coach, I believe fear is a great motivator in short bursts as well. Finally, if all else fails, that's when you see guys getting called out and making them want to show the coaches that they are wrong... or hate. Either way, its been proven he is a master motivator by the results on the field. These young men are buying in and when you have talent + buy-in, you get something special.
Fantastic analysis. Why couldn't the replay officials see what you just saw?
"Wilson said IU could use as many as 13 guys on the defensive line."
Running the 13-6-5 may finally put IU in the top 50 nationally with respect to total defense.
I need a refresher on the Gamble incident. Manningham graduated H.S. in '05, Gamble was drafted in '04. Maybe Arrington?
Funny story, true story.
A buddy of mine had a sister who got married in the late 90's at noon, on the day of The Game. Her father refused to attend the ceremony. Sadly the marriage did not work out. Obviously pissed at her father, her next marriage was scheduled about 5 years later... on the day of The Game.
Her father did not attend again.
Tiger Proofing