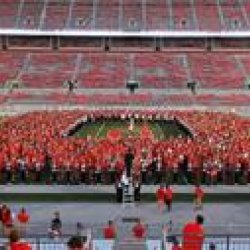 OneOfOver475000
---
Member since 11 July 2013 | Blog
Helmet Stickers: 157 | Leaderboard
Favorites
SPORTS MOMENT: Cie Grant singing Carmen Ohio on a blustery January day in the 'Shoe.
COLLEGE FOOTBALL PLAYER: Mike Doss
COLLEGE BASKETBALL PLAYER: Aaron Craft
NFL TEAM: Cleveland Browns
NBA TEAM: Cleveland Cavaliers
MLB TEAM: Cleveland Indians
Recent Activity
Playing for Cleveland is.
Cold blooded young man.
Edit: Silly, but oh so cold blooded.
If only Stanford had played Jayru football...
"We're going to play Michigan State football," Dennard said
Thank God, I thought they were going to play Stanford Football. In this case, I've got the Bucks by 30.
In all seriousness, it will come down to the things the Buckeyes can control, effort and execution. They are prepared, they understand they are playing for something larger than themselves, and as long as they leave everything out there, I am proud of these young men.
Still would be nice to be able to say "The best part about being 25-0 is ..." Guess we'll just have to wait until Saturday night.
Dantonio actually downplayed Michigan State limiting Michigan to minus-48 rushing yards because so much of it came on sacks. Said Wolverines had around 60 pure rushing yards.
My math skills must be betraying me. Doesn't this mean they were sacked for -108 yards?
If so, that's even more amazing than Baxter eating the whole wheel of cheese.
In reading "Buckeye Rebirth" it mentions Meyer's philosophy he picked up when working on a group project. They came up with 4 pieces of motivation that we all share as human beings. He stated he uses fear, hate, and love with his teams. The fourth being survival, which he may or may not have used on Black Tuesday at Bowling Green. Anyway, point is he tries to motivate through love or fear. He believes if a player truly loves someone, they will go to great lengths to work hard for that person. As a former coach, I believe fear is a great motivator in short bursts as well. Finally, if all else fails, that's when you see guys getting called out and making them want to show the coaches that they are wrong... or hate. Either way, its been proven he is a master motivator by the results on the field. These young men are buying in and when you have talent + buy-in, you get something special.
Fantastic analysis. Why couldn't the replay officials see what you just saw?
"Wilson said IU could use as many as 13 guys on the defensive line."
Running the 13-6-5 may finally put IU in the top 50 nationally with respect to total defense.
I need a refresher on the Gamble incident. Manningham graduated H.S. in '05, Gamble was drafted in '04. Maybe Arrington?
Funny story, true story.
A buddy of mine had a sister who got married in the late 90's at noon, on the day of The Game. Her father refused to attend the ceremony. Sadly the marriage did not work out. Obviously pissed at her father, her next marriage was scheduled about 5 years later... on the day of The Game.
Her father did not attend again.
Tiger Proofing
The wonderful thing about being a fan at a place such as The OSU is the fact that we always will have the next man in line who can get the job done. Regardless of the past with people such as Bauserman, Zwick, etc. there are plenty of athletes who have just had their opportunity opened. To play at Ohio State is a privilege that very few get the opportunity to experience, I have full confidence these young guys will not only step through that door, but they will kick the damn thing down. Have faith in our student-athletes, believe that those who are left wearing scarlet and gray will grow together because of the adversity, and do not lower your expectations. You know DAMN well those players will not. If nothing else, a lot of our 'pups' just got hungrier.
They will be fine because they are a team. Not a collection of individuals. Those who come through that tunnel understand all they have put into their season, and they will not let the bad decisions of few bring down the collective whole.
For those of you who just felt your world end, go play outside or something. I promise, the sun is going to come up tomorrow. It will be at its height at high noon on Aug. 31.