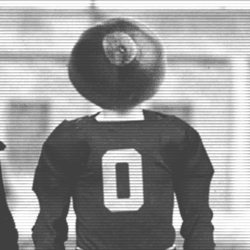 Oneida54
---
Member since 25 June 2011 | Blog
Helmet Stickers: 43 | Leaderboard
Recent Activity
Looks like Tarzan plays like...TBC
He was a nice BACK UP his Jr and Sr years! He did not cure cancer, he did not win the NC. He is given way to much credit...
Actual football content versus angst over commitments. More Ross..
Hazell = Beckman that is all
If and when someone throws for 400 yds or tOSU gives up 35 points ..we will see how things work..last year the defense seemed to spiral down ...! Talk is cheap..SHOW ME! In the fall...I.m not falling for the SPIN being spouted Now!
Perry was late to every screen Boyd threw..hopefully Lee/Worley will be quicker to the perimeter.
This is Meyers third year..I am in show-me mode..the hyperbole over this team from observers the last year was wrong. For example, our passing game would improve a lot, Grant and Roby would shut down receivers. Watkins and Abberderis over 400 yds, and even scUM threw all over them. The proof is in the success of the Whole Defense not just one unit,they need to compliment each other,
He was 0-8 from 3 his last two games ..he needs to increase his range accuracy on ball defense strength. Other than that hes perect.NOT!!
Thads best teams have one and done's(though Sully stayed two years)..Jabari or Wiggins make this team a #1seed
Craft and Ross ran a two man game the last 3 possessions Craft missed a 3 and two FT's Ross split two ft's, Ball Game! We got killed in the half court..should have pressed more in 2nd half..thats how we ended the 1st half 21-9.
UFM would not say Spence was in or out even if he knows. Everything he says to the media is for effect. Thats college coaches way!!
This team reminds me of some of Coach Knights teams aI IU and come April that could be a good thing. Shooting can come and go but the D is there every night. Without that go to guy the team is moving and passing better than last year. Having seniors like Craft and Smith doesnt hurt either.
On field Leadership( Ownership) Who is it on the D? The O is full of them?