One Bad Buckeye
---
Columbus, Ohio
Member since 18 April 2012 | Blog
Helmet Stickers: 3,982 | Leaderboard
Favorites
SPORTS MOMENT: 2011 Wisconsin game at Ohio Stadium. Game winning TD pass from Braxton Miller to Devin Smith.
COLLEGE FOOTBALL PLAYER: Tedd Ginn Jr.
NFL TEAM: Cleveland Browns
NHL TEAM: Columbus Blue Jackets
NBA TEAM: Cleveland Cavaliers
MLB TEAM: Cleveland Indians
Recent Activity
came across just a little too much like....
EDIT: The double post strikes again!!!! Sorry guys!
The Crest is also pretty good, you can try Nancy's, Wildflower, Mozarts (although, they're pretty far north now same goes for North Star), Harvest just opened where Mozarts used to be, El Vaquero isn't too far, Las Palmas is a decent mexican restaurant and is close to other restaurants like Giorgio, Mama Mimi's, and Gatto's Pizza. Lots of good places north of campus....also if you've never been to Alana's you're missing out.
Agree with others too, you can't go wrong with Adriaticos, Tommy's, Eddie Georges, Cazuelas, Hound Dogs, Buckeye Doughnuts, etc. If you're looking for more upscale go south on high street towards the snort short north....you'll find lots of awesome places that make columbus unique.
Pharaohs pizza is one of the cities best kept secret pizza places.....try their ham and chicken pizza or spinach, feta and chicken pizza. Mmmmm.
Planks is awesome, but pretty far from the shoe.
This season is turning out to be a lot more fun to watch than I expected. We're a mere 2 points out of first place AND a mere two points out of 6th place. Hopefully we can finish strong like we did last year, only this year actually make the play offs.
I'm not happy about what the Blackhawks did to us the other night though.....that team is just plain nasty.
Man! Look at his gut!!!!
I told you guys it was a weight vest.
SHHHHHHH!!!!!! Don't brag about Columbus publicly!!!!! That's when all the a-holes start to come in and try and ruin the place. When people I don't like ask me how I like columbus, I just say "Yeah, it's not bad".
Best kept secret in the country if you ask me......I love living in C-bus.
Ok, but we all see it
Thank you for pointing out something I couldn't notice on my own. I was just making conversation, no need to be a jack ass my friend.
This is a weight vest, Google is a very powerful tool. I have no other explanation....I wasn't aware one was owed to thee your worship.
I've met RDS, he was carved out of wood. All I'm saying is, there's no way anyone could skyrocket to a 42" vertical leap with a michelin tire around their waist and that it has to be a workout vest. I'm not really sure how else to break down my previous comment.
No way thats his gut.....there is no way he's getting any kind of sick vertical with a gut like that.....it's gotta be a weight vest of some kind.
Just curious, why '15? We're going to have a new starting QB, whereas this year we have a 3 year starter returning at QB.
Why start some shit with Russia though?
Tackleberry was one of my favorite cadets in Police Academy, I had no idea he was a fellow Ohioan....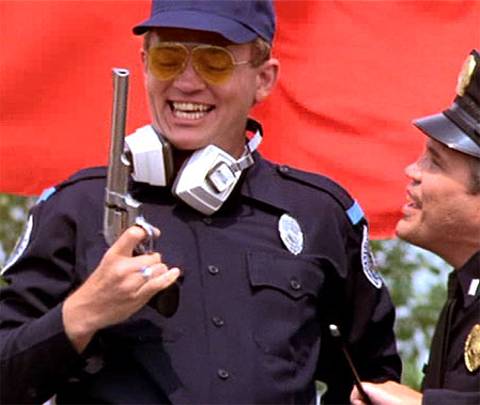 LOL! I edited from "would have chose" but obviously forgot to edit that word.... touché.
I love me some Dontre, but I gotta say that if it were me in this situation (rumors about struggling with academics) I think I would chose to use much better grammar in my response, no?
Ahhh, the H.O.F.N.A.R. strikes again!.....(Hard On For No Apparent Reason)
I'm a pretty fit 32 year old man (I lift weights, play soccer, etc.). On the rare occasion that I envision a scenario where I have to defend my wife/kid/self from a high schooler or even a couple of high schoolers....I come out victorious by a large margin. I grew up wrestling and boxing, i can hold my own.
However, I take one look at these two freaks who are just out of high school and thank God I'm a lover not a fighter. LOL! I'd definitely take the more diplomatic approach to resolving the situation.....or frisk my wife for her pepper spray.
I've been posting less, but thats because I'm all like this guy....
Or better yet, this guy....
Even though I've posted less, I'm still constantly on here. The longest I wait to hit refresh on average is about an hour....the new site is just so damn sexy!!!
I've lost about 40 pounds in the past year going from 207 to 165. More importantly my body fat went from 29% to 17%. Zero supplements. I eat a lot of chicken, fish and veggies.
Besides the mirror, I like to use the 300 workout as a fitness measuring tool. It really is a good gauge for "am I getting stronger and faster?". The first time I tried it over three years ago, it took me 76 minutes to finish, I can now do it in 23 minutes. No supplements.
I never set out to be huge or slender. I just want to be fit and around for my kids when they have kids. I think the best way to get cut up is by doing it naturally. I do resistance training on Monday, Tuesday, Thursday and Friday which includes 30 mins of vigorous resistance followed by some form of cardio (15 mins of interval training, burps, etc). Wednesday is set aside for strictly cardio, which for me is running 4 miles in under 30 mins if I can swing it (some days I'm faster, some days I'm slower). However, I try and do 3 sets of 10 pull ups every single workout.
If you're trying to cut down on body fat, drink a gallon of water a day and really take time to analyze your diet. Don't go on a diet, CHANGE your diet. Everyone is different, some people process carbs better, some people process proteins better. For me, I have to stay the heck away from processed sugars....it turns straight into belly fat.
Of course I say all of this while hypocritically drinking a glass of Woodford Reserve....but I'm 773 calories under my daily calorie allotment according to my Lose-It App. :)
Good luck man.
A little bit of this....
Mixed in with a little
But ultimately I expect a whole bunch of.....
Can we all just agree that Lewan, friend-of-my-friend (Mewhort) or not, is a walking bag of dicks? I can't think of anyone I'd put further down on my list of "people I'd have a beer with" than Taylor Lewan. I'm sorry, but I can't stand this guy....."Oh yeah, sorry I tried to break your neck by cranking on your face mask, can we still be buds?"
Let alone for somewhere Bert obviously has great disdain for like Ohio State, mwah-ha-ha-haaaaa!
Second that, I usually keep it to 2-3 beers after my evening workout (I know, sometimes I really do feel like I work out so I don't feel as guilty for drinking :/). Tonight....I'm gonna have to make it 4.
He'd make a splash for sure, but I'm not sure if he'd be the Tsunami that Urban was.....Harbaugh's a great coach, but does he have any rings for Superbowls/NCG's to flaunt in front of recruits?
Ehh, I'm kinda with you about the "guys a gamer" theory, but when competition is that stiff you'd better be running every practice route/run block like its the national championship game if you want to earn the right to start. This is the sort of competitive environment our coaching staff is harboring, and I absolutely love it. Can't wait to see the results.
This is a great question, I think we'll know more after this season. Way too much talent competing for starting spots now, I don't think anyone can say "it's lack of talent/depth at WR" if our passing game isn't lights out this season.