One Bad Buckeye
---
Columbus, Ohio
Member since 18 April 2012 | Blog
Favorites
SPORTS MOMENT: 2011 Wisconsin game at Ohio Stadium. Game winning TD pass from Braxton Miller to Devin Smith.
COLLEGE FOOTBALL PLAYER: Tedd Ginn Jr.
NFL TEAM: Cleveland Browns
NHL TEAM: Columbus Blue Jackets
NBA TEAM: Cleveland Cavaliers
MLB TEAM: Cleveland Indians
Recent Activity
I guess I'll be the first to say it....#firestudrawa.
We always #fireeverycoach eventually, right? :)
Gross
I noticed Dontre almost committed the illegal block too. But on the replay from the oncoming angle, you notice Dontre sort of pulls his hands back to keep from making contact. He knew what he was about to do and held back.
That dudes jockstrap is laying on the 42 yard line from that spin move!
The unsensored version is even better. Awesome clip.
Apple was thinkin' 'bout that interview, but also thinkin' 'bout them tit-taaays!
So let me get this straight...
At WR a defense could be looking at covering any combo of Clark, Brown, Smith, Marshall, McLauren, Wilson, Miller, Thomas, Gibson, Hill or Dixon (I'm sure I'm forgetting someone).
And AT THE SAME TIME as having to worry about the above receivers, you have to worry about (Insert QB), Miller, Wilson, Elliot, Samuel, Dunn coming out of the backfield?
My goodness.
Haha! Anything to get an advantage I guess. I thought maybe Ronda Rousey had been hanging around the team a little too much as of late.
Even funnier still is how the guy who trucked El Guano (#90) reacts to Braxton getting the score. He's so bummed out! haha!
Cant figure out why Conley is wearing MMA gloves. Is it legal to punch receivers in the face mask?
What was going on in the first video? I was way too busy minding the gap. ;)
Michigan is our rival and we'll always consider it "The Game", but the match up versus MSU has carried a lot more weight in recent years.
I was in East Lansing last year to watch the Buckeyes go postal in the supposed "no fly zone", can't wait to see a similar whoopin' first hand this year in the shoe. Really hope its under the lights.
Go Bucks!
"Daily, I go to my office. I've got a picture of Bo there's a picture of Bo and myself when we were at the Rose Bowl in '87," Harbaugh said. "And, yeah, so it's to have his work ethic, to run the program like he ran it, yeah, those are things to aspire to."
For the record Jim, Urban's teams would have kicked Bo's teams asses. Might want to aim a little higher.
Im going to move to Montana so we have representation there on the next map graphic.
Your comment was even funnier because after I read it I glanced at your icon....good stuff.
I'd love another crack at LSU in the playoffs....we owe them one.
Urban's all like: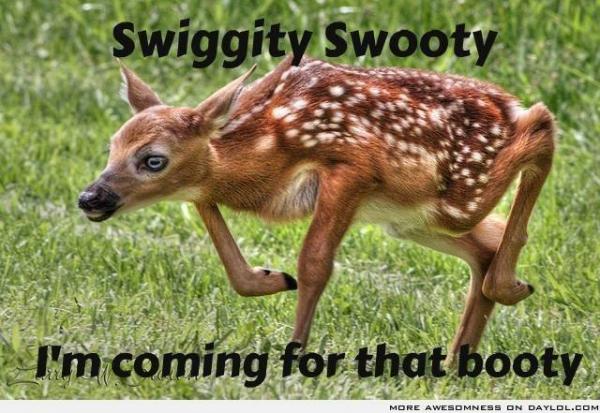 Any second now DJ is gonna be all like: