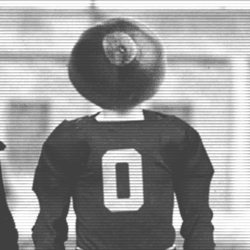 okiebuck
---
Member since 30 September 2012 | Blog
Helmet Stickers: 1,315 | Leaderboard
Favorites
COLLEGE FOOTBALL PLAYER: Eddie George
COLLEGE BASKETBALL PLAYER: Jim Jackson
NFL TEAM: NY Football Giants
NHL TEAM: NY Rangers
NBA TEAM: OKC Thunder
MLB TEAM: NY Yankees
SOCCER TEAM: None; can't stand soccer.
Recent Activity
That apple (Dino) didn't fall far from the Tressel tree.
T-minus 33 days till Buckeye liftoff!!
OU's program is real good but actually, I'm pretty sure the other OSU; Oklahoma State is a tad better. My daughter who is smart like my wife was recruited by both of them a few years ago. Although the Stoops boys have good ties in that area, I've got to think a kid from St. Clairesville is destined to be a Buckeye
Someone mentioned "common sense" earlier, and clearly there is a major lack of it in America these days with these moron, SFB people who leave kids in hot cars!
Same deal for any of the top teams; Florida State if Jameson gets hurt, Baylor if Petty gets dinged, Oregon if Mariotta goes down and on it goes. The position of QB in college football is THE most important in any team sport IMHO.
The key for the Buckeyes this year is for the OL to protect, and Braxton to pitch it more then keep it on the option, throw it quickly and run out of bounds instead of putting the shoulder down for a few extra yards. Six weeks from tomorrow until kickoff; can hardly wait!!
As my teenage daughter would say, AJ was and still is the Bombdiggety! Always a proud Buckeye love that he's sporting the Scarlet & Gray on the links!
He's living alright. just bought a $1.2 million; 5500 square foot house in Jacksonville.
Just hold you're tongue and enjoy the beach and seafood AND next year when you go proudly wear your Buckeye National Championship gear!!
Fireworks...really michigan? This is supposed to be big time college football, not Single A baseball; what's next clowns on motor scooters throwing candy to the fans?
They did in the Rose Bowl, that's for sure!
I guess the kid wants mediocrity; not excellence; later gator.
The Gophers defense has not seen anything like Braxton and Company; no matter how cold it will be in the Minnie Apple, the Buckeye offense will light that place up!
I worked with Mark Stier when we were both with the steel company started by the late great John McConnell that's based in C-Bus. Mark is one of the finest human beings I've ever had the honor of knowing. One note on that Rose Bowl game, Mark caught and made a touchdown saving tackle of OJ, that might have changed the outcome of the game had the Juice scored.
Sports Illustrated has become the National Inquirer of sports rags; a POS publication for that UFM picture.
DJ, you just have to train her; my wife knows not to schedule anything on a Saturday from September to early January; period. Oh and give her a nice pair of Buckeye earrings!
Trust me, there's plenty of "wood" being sported on the OU campus with all of the hotties strolling around Norman; and they ain't wearing turtlenecks either!
Back in the day I worked a few summers at the old Westside Dodge; and the owner was a big OSU supporter who knew Coach Hayes. A few Buckeye players worked as, wait for it, used car salesman during the summer. Pete Johnson ( big teddy bear) and Ray Griffin were two of the guys one summer and they drove used cars as part of their job; nothing fancy like the Bama Boys, just basic transportation. And they did show up for work, pretty sure Woody made the dealership take attendence.
Throwing some love out to the Buckeye Lady Golfers who qualified for the NCAA's, which will be played in Tulsa next week. Go Bucks!
Proof that having a Doctorate does not equate to having one iota of smarts!
Whether it was Shawn Springs falling down or Jim Hairball pullling it out of his ass; I'll never forget walking out of the Shoe, and even the Pig House, in stunned disbelieve during that awfull Cooper era. Never forget guys!
Browns fans might want to know that Johnny Boy has NEVER played in a game where the temp was below 50 degrees.
Lebron's Miami Heat vs MJ's Bulls; no fricken contest Bulls would sweep them. You could also throw in Magic's Lakers, Bird's Celtics and even the Issiah Bad Boy Pistons; no way the soft Heat beats any one of them in a series.
No question about it; the Ohio High School Athletic Association needs to turn the boys and coaches loose with spring practices. Big disadvantage, and not only that, in Texas and other places, during the summer they have 6 on 6 games and tournaments that are a big plus for the QB's, WR's and RB,s; that's where I saw JT Barrett for the first time.
Unless 11W waives the rule about not making political comments; I will have to hold my fingers, because this union issue is most certainly political. I have had enough dealings with the USW to know that it IS political. So all I will say is Go Bucks!
Kind of like the Pirates; playing for years in that beautiful stadium but nobody ever went to the games; until they started winning. Winning usually solves the attendance issue.