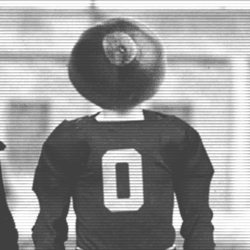 Ohio1St81
---
Blacksburg, Virginia (via Akron, Ohio)
Member since 30 November 2011 | Blog
Helmet Stickers: 357 | Leaderboard
Favorites
NFL TEAM: Browns, Packers
MLB TEAM: Indians, Cubs
Recent Activity
I have seen a lot of fireworks displays in a lot of different places across the country, but nothing beats the vantage of Columbus' display from a canoe where the Scioto and Olentangy meet downtown.
I was surprised to read a few of those Buckeye confessionals from a couple of weeks ago that mentioned not being crazy about the O-H-I-O at landmarks and different events. I love how they show how far and wide Buckeyes can find themselves, and always take a moment during a special occasion to remember their OSU pride.
I think the takeaway here should be that it's something to create excitement for a game against our team. That would be a good thing.
- I used to hate Columbus and campus. I'm not sure why I ever even decided to attend OSU but it ended up being the best decision of my life.
- I can't stand the GIFs on 11W and think they're all stupid and pointless.
- I would sell my soul to have won the 2006 championship against Florida.
- I don't think I'll ever witness a national championship in basketball.
- I make a point of being extra nice and reasonable to fans of other teams when I meet them because I feel like I need to compensate for some of the less nice and reasonable among us.
You couldn't smooth a silk sheet if you had a hot date with a babe - ! ...I've lost my train of thought.
I'm about to start graduate school at VT and I'm already proud of what the school represents and stands for... but obviously I'm rooting for the Buckeyes this year and next. I'll be the jackass walking across campus in my Ohio State Alumni shirt the whole week leading up to the games.
I second Baltimore and Norfolk. Richmond and Milwaukee have some scary parts too.
I don't consider myself much of a hockey fan but that's the most intense, exciting game and atmosphere I've seen in a while. What a great win for the Blue Jackets.
How important is it/should it be for the man to be born in Ohio? Jesse Owens was born in Alabama and lived there for his early childhood, but his greatest achievements took place as an Ohioan.
I was a sophomore at that NIT game - it was one of the most exciting basketball games I ever attended.
I'm sure it has been mentioned somewhere around here in the past few days, but today's Big Ten Tournament Championship game is only the second in the last nine (dating back to 2006) that has not featured the Buckeyes. Let's hear it for consistency.
To me a selfie says, "I don't have any friends to take a picture of me."
All right good just checking. It just seemed so shady, there were a few words changed here and there and it didn't seem right. Sorry to start something out of nothing.
Am I missing something here? Kyle, you posted this article at 7:47. I just read an article on Yahoo posted by "The Sports XChange" posted at 9:00 pm that is very, very similar to yours. I call bullshit. Someone is plagiarizing you. Has this happened before and I just never noticed or saw comments about it? Is this a typical thing in sports journalism? I don't want to start something if there is nothing to start, but this is fishy to me...
The game is obviously not over when they storm the court. Remember that whole revelation we learned after the Cal game, about how they're winning in life because they actually learn things at their superior institution? At least we can count.
...he had a look? Is there a reason he didn't shoot?
That link to the Sooners blog cites the infamous "trusted sources". I'll believe it when someone is convinced enough to tell us their name.
It is just infuriating to listen to this - the double standard and circular logic is just appalling. Jesse Palmer says it's hard to ignore recent history, and uses that to justify giving an SEC team the benefit of the doubt with one loss. Yet his argument that recent history can't be discounted stops short of giving Ohio State credit for a 25 game win streak. Meanwhile, the lack of ranked teams on Michigan State's schedule is eviscerated, while FSU's opponent's ranked wins (Virginia Tech and Miami) are now unranked. Just come out and say it: 7 years later you still are penalizing Ohio State for a bad game against Florida. Your justifications are a farce.
I've done a good job keeping myself composed these last several weeks and toning down the tin-foil hat "everyone is out to get us" mentality but something just snapped in me listening to that drivel tonight. I hope our defense burns Lucas Oil Stadium to the ground next week because it sounds like that's the only outcome superior to a 21-35 loss to LSU.
This is so creative, well done.
I can't say I disagree with this. The University might not have officially sanctioned the event, but they tacitly allowed it to take place on state property. Every year I jumped, I always ended up back home that night wondering, only 95% sarcastically, if some particularly drunk person I had seen ended up surviving the night. The last thing we need is outrage against Ohio State's negligence, whether this is actually the case or not. There are going to be a lot of people upset by this but I think it's important to keep in mind people's safety, and on a larger scale the university's best interests. Imagine the public records colonoscopy (and subsequent state lawsuits) into OSU's knowledge of the danger while still allowing it to go on.
I for one always took it as a personal challenge to jump stone sober, except for the time I jumped in during May after our senior bar crawl, when I was the opposite of that.
Speaking of Oklahoma State - how about that big scandal?