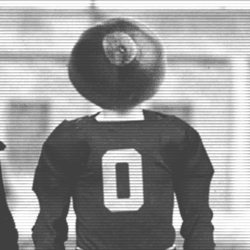 Ohio Guy in Jersey
---
Member since 20 March 2011 | Blog
Helmet Stickers: 206 | Leaderboard
Recent Activity
Great job by Craft! IMO should be three time winner.
Good stuff. Gonzalez is the real deal.
Just an editing point, St. Peter's Prep is in Jersey City, not New Jersey City. Easy mistake to make.
I thought the same thing. Kyle whiffed on that point IMO.
As you said, OSU never gets blown out. That plus OSU's ability to win ugly is why higher seeds do not want to see the Buckeyes.
But OSU's scoring droughts keep lesser teams in games. That makes them vulnerable to a first round loss.
You gave the winning formula. Will they execute it consistently or will they get away from what they do?
They don't have grit? That's how they won today.
Completely nailed it. Fans grew frustrated because these two couldn't become what we wanted them to be. Let's appreciate who they are and what they accomplished. Thank you Aaron and Lenzelle.
Quick fact check - I don't think they played with Evan Turner. That would have been a team with Turner, Lighty, Buford, Diebler, and Sullinger. I like the odds of THAT team winning it all in 2011.
I thought that, for the first time all season, OSU tried to play possession football, and the team looked completely uncomfortable trying to do it. What the offense did that hurt the defense was turnovers and 3-and-outs. If OSU used more tempo, I think it gets tougher for Clemson to play the kind of defense they did. And even if the drive stalls, you can win the field position battle with a couple of first downs before the punt...which reminds me, great job again by Cameron Johnston.
Ross - Do you think Meyer/Herman regret not using Hyde more in the 4th (again)? And were more throws to the TE available given that the LBs and safeties were crashing the LOS so aggressively?
St. John's Arena? No, St. JOHN Arena. Named for long time AD, Lynn St. John.
In game adjustments are different than core philosophy. His point, which Ross Fulton has made several times, is that the Fickell/Withers defense doesn't seem to have a single core philosophy to build on.
As bad as the lack of in-game adjustments are, the lack of a consistent base defense is the true issue. You can play vanilla and still be successful. DCs like Jim Heacock and Norm Parker made careers out of that.
Fickell may need to go, but I honestly think he has better years ahead of him. IMO it was a matter of too much responsibility too soon.
No. When you're down athletes, you do not rely on your athletes. You use scheme to take away what the offense wants to do. When you get screen after screen, you must take that play away. As for leadership, leaders emerge when you put them in a position to make plays.
Fickell may not deserve to be fired, I defer to Meyer on that, but your explanation makes no sense.
FWIW, as bad as this defense played, OSU had a chance to win both games at the end and had the ball in plus territory with time to score. Add four second half turnovers too.
My point...the offensive players and coaches need to look in the mirror too. They did no favors for a defense they knew was shaky anyway and played without Spence and Roby.
Furthermore, bubble screens are supposed to be a constraint play that only works when the defense is misaligned or cheating toward the run. In Ohio State's case, the bubble screen was a play Clemson was able to exploit all night long, essentially becoming Clemson's base play.
The inability to deal with screens and other misdirection has been a persistent problem over the last two years.
Nicholas - Other than the five hours after the game part, this reads to me like an endorsement of major staff changes for the defense.
You're right...but...the offense flooded the zone play after play. And there was no adjustment by the staff to Clemson's approach. A defense must first take away the thing the offense wants to do.T
he math is simple on that play, two guys can't guard three guys. That means you need a big play by your DBs every time to defeat the blocks and get to the receiver. And this was a backfield without Roby. Reeves beat his block a couple times. Bell did once. But that's too much to ask.
Anyway, the numbers advantage SHOULD be with the defense on most plays. OSU did not adjust and got both gashed and slow dripped as a result.
Can't wait for the game tonight! Doors open at 7 pm and I will be there with mini-me to cheer on the Bucks! First time I've gotten to see them live in a couple years and I'm really looking forward to it!
The question with Q will be whether he will play defense and rebound when his shot isn't falling. That was a big a big area of maturity for DT last season. Will Q take that step?
After a game like this, it's easy to talk about Craft's defense. Q's shooting, and Sam's dunking, so I'll point out the areas the team needs to keep working on.
1. Defensive rebounding - the biggest culprit was Amir Williams. One rebound in 28 minutes? No can do. I don't care if that guy doesn't score a point, he needs to own the defensive glass.
2. Dribble penetration - OU got to the hoop. Wyoming got to the hoop. And Maryland got to the hoops. For as athletic as this team is, they have to do a better job of simply keeping their own men in front of them and then playing help defense. When they did, Maryland couldn't do anything.
3. Individual FT shooting - it's easy to focus on the team, but there are a few guys who really hurt them last night - specifically, Ross and McDonald. Ross is too good of a shooter to be in the low 60% on FT, and McDonald will get fouled on every layup until he shows he can turn it into a 3-point play and knock down the FT.
That said...this is a fun team and a likeable team. They seem to enjoy playing together, and like all Matta teams, they will be even better in March.
I would consider going small with Powell. Cam Williams is not ready for prime time.
Agreed. Spence should not be in coverage.
True. I specifically trace Miller's trouble to the Illinois game. From my perspective, he started throwing the ball much harder in that game to compensate for the wind. And it seems to me that he has thrown the ball too hard on intermediate and short passes ever since. Playing in the dome might break him of this.
I know it sounds badass to say how cool it was for Marcus Hall to leave the big hole with both middle fingers raised...but it's not. OSU got suckered and lost a starting OG for its trouble. That could have derailed the OSU running game, which was the one thing they did really well Saturday. Was he protecting Brax? Yes (let's not debate how stupid it was for the starting QB to get involved in that). But you do that by pulling your QB out of the "dust up."
Ross - You have a great ability to take a fan's focus off the ball, where TV naturally puts it, and opens it up to a play as a whole. Then, when you show us these GIFs it becomes obvious just how good this offense is. Wilson's decoy route on the long pass to Smith so obviously pulled the safety in and left the corner all alone with no inside help.
Great, as usual, Ross! You've alluded to this in a few posts, but Herman, as good as he is, occasionally gets tunnel vision in his play calling. He went too heavy to the vertical passing game against Illinois and seemed to go too run heavy in the second half against Wisconsin.
What's the reason for this tendency?
If OSU had run Hyde as much as I wanted, El Guapo would have had 300+.
Yes, Vico misread the statement. Rutgers doesn't currently charge $3 a ticket. That would be an easy explanation for their athletic department's financial woes.You can buy tickets for their games for as little as $20, but they also have tickets that sell for over $100.
I agree, Ross. The game plan looked to be about everything other than Miller running. That said, I hope he continues to make good reads when he plays better defenses.
Yeesh? Nope. With all their flaws, that team was a couple of possessions from the Final Four.
Thomas was not a very efficient scorer as the season progressed. He was a volume shooter. And I don't think Ross will be the same kind of scorer, but I also don't expect Thompson and Craft to score at the same rate.
Instead, we'll probably see incremental improvement from several guys. The most intriguing for me is Thompson because I agree with Matta...if his skill ever comes close to his athleticism...wow.