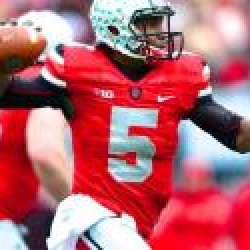 ogama843
---
Member since 19 October 2013 | Blog
Helmet Stickers: 255 | Leaderboard
Favorites
SPORTS MOMENT: Holy Buckeye!
COLLEGE FOOTBALL PLAYER: Jayson Carter
COLLEGE BASKETBALL PLAYER: Craft
NFL TEAM: Browns
NHL TEAM: Jackets
NBA TEAM: Cavs
MLB TEAM: Indians
SOCCER TEAM: HUH?
Recent Activity
I blame our poor secondary play in that game on Fickell.
BTW, MMan, i sat down and had cocktails with Bobby Morrison while on vacation in Northern Ontario a few weeks ago. He saw my Ohio State shirt and gave me shit. Anyway, interesting and fun to talk with.
When i first glanced at Penn State's cover I read "Unravelled".
Wow! I didn't realize it was possible to have longer arms than Alonzo Spellman!
I LOVE successful "walk-on" stories. Bobby Olive comes to mind having re-watched the 1988 victory over LSU. He was not on anyone's radar, not even close. Like gold, some valuable nuggets are hidden deep and where you least expect.
Tom Tupa had a great NFL career. As a buckeye he could slam that ball off his foot for 70+ yards. Doesn't he have the record for longest punt?
Oh yea, almost forgot... Ability to orchestrate an AMAZING comeback; Greg Frey. That balding guy made one of my all time favorite games to watch. I can watch it over and over again.
dropping back into the pocket and standing there; Jim Karsatos
YAY!
No matter how he progresses or how good he gets he will never be a 5 star athlete in ESPN's eye because he will not be going to and SEC school.
Yes!
This me watching his highlights. Sharp, smart, and even willing to block downfield!
Craft is my kind of nerd.
Which is exactly why KG would make a GREAT NFL quarterback. He has a great presence on the field and is a good leader. On top of that he is a skilled passer. I have always thought he is pro caliber. I hope he is the diamond in the rough. He deserves it.
I remember getting manhandled by Fickell in high school. I had to resort to tackling him and holding onto his ankles so he wouldnt get to my quarterback every play. He complained to the refs about it, but they didnt call me on it. Prolly because they felt bad for me. Anyway, much respect for Luke and I do not pin all of last season's defensive woes on him. I think there was a lack of player leadership in the backfield (among other things) with a very talented Roby who just wanted to make it through the season injury free while counting down the days to the NFL draft.
Younger minds a more "teachable". Urban will have him playing as close to perfection as one can play by the end of his eligibility.
Wow, he looks REALLY good! On a side note, I think we need to look at some of his receivers as well. Some VERY nice grabs in that video.
Welp, time for bed. Good night
Good luck in the rose bowl Sparty.
Ball game. It was a nice run.
Forgive me, but im starting to think Kenny G. Would uave been a better match-up against this defense.
Those great punts dont mean shit when they get 20 yards on first down.
Need to pressure cook. Cmon d!