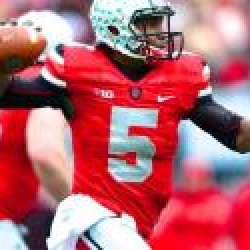 ogama843
---
Member since 19 October 2013 | Blog
Helmet Stickers: 508 | Leaderboard
Favorites
SPORTS MOMENT: Holy Buckeye!
COLLEGE FOOTBALL PLAYER: Jayson Carter
COLLEGE BASKETBALL PLAYER: Craft
NFL TEAM: Browns
NHL TEAM: Jackets
NBA TEAM: Cavs
MLB TEAM: Indians
SOCCER TEAM: HUH?
Recent Activity
I will havemy lucky Teddy Ginn Jersey on! Keep an eye out!
Never put money down on a college game in my life. Think I will try this. Thanks!
Gotta beat Indiana first. Then it's THE GAME. Don't forget, Indiana bit Mizzou in the ass. Not that Mizzou is anywhere close to TOSU, but they arent slouches either. Gotta lot to worry about before we turn our attention to whomever we face in B1G championship game. Keep your eyes on the ball!!!
Gonna be in Vegas for Saturday's game. Anyone know of a place to watch the game? Please help me?
I liked the idea of airing it out though.
I liked the idea of airing it out though.
I liked the idea of airing it out though.
The same is not true with the sport's second-best coach, as Meyer's team cuts through a hollow shell of a conference.
Ummmmmm, excuse me? Urban is not second best to ANYBODY! The guy who wrote that piece is the biggest SEC hack I have ever seen. I call bullsh$t on the sec being the best in HISTORY. The guy acts as though that is fact, not opinion.
I love these! Nerd alert though, as I read them I picture and hear Admiral Akbar in my head.
The big win makes this morning's hangover sooooooo worth it! Go Bucks!
JT BARRETT BACK IN HEISMAN CONVERSATION.
also... Quiet performer of the night goes to ZEKE!!!! 154 yds? Did not realize that til stats were disclosed near end of game! GO F$&@ing BUCKS!
After a shaky first 20 minutes..... THE BUCKEYES TOOK CARE OF BIDNESS!!!!
Last year I commented that Michigan St. Was the snake hiding ready to strike if we were not careful. It turned out to be true. Don't have same feeling this year. We will be the ones to strike early and fast. Get ready to chew your fingernails off and drink heavily though. Gonna be an epic battle of which Ohio State will end up on top. The defense will make some key stops. Buckeyes 35, MSU gets 3 touchdowns and 2 field goals for 27. My blood is already boiling... Pacing about like a caged animal... How many hours left til kick-off?
Havent you guys seen us running the wildcat here and there the past two games? It is all part of the big plan. Next year we will have BOTH of the best quarterbacks in the B1G. BOTH will be used in the Wildcat and with the stable of Quarterbacks we have, and are about to have, we will own the BEST Wildcat offense for years to come.
Not only is he talented (stuff you cannot coach) it looks like his team executes EXTREMELY well which points to the fact that he has been prepared nicely by his highschool coaches! Wow. Just wow.
If he does end up in an OSU uniform, I will let his Duke fandom slide. Still VERY YOUNG, but certainly has the physical attributes to become GREAT!
I don't think that reciever was anywhere close to the first down marker. Maybe 5 yards down field? He was likely Hackenberg's last option in his progression. His first read for that play was obviously to the right.
You are correct, he was WIDE open. Fortunately he was the last resort for Sackenberg and he likely would have not gotten the first down as he was set up at or just behind the line of scrimmage. Even if he was the first option, though, i still don't know if he would have gotten the pass away. Bosa was in there pretty quick.
edit: now that i look closer, it looks like that reciever may have been about 5 yds down field. But I still stand by the rest of the comment.
We were a long shot before this game. Now we are a tiny bit further on the outside looking in. We need other teams to lose. the team didn' help themselves move up in the national conversation. But just like 2002, a win is a win is a win.
How in the sam hell does the color of the uniform help recruiting? You people who keep saying that need to stop. WINNING brings in recruits. That being said, if the players want to wear them, LET THEM! Hell, they dont get a whole lot of perks.cant sell their Golden Pants if they want to, cant trade autographs for reduced price tattoos. Least they could do is let them wear what THEY think is cool.
I liked that too... Til I remembered Cobra Kai were the bad guys. I like to think we were more like a rabid Daniel Laruso, who, even though he was injured (think Vagina Tech for us), came back to win it all with a swift Crane Kick to the face.
His stats are real no matter how he does in the next games. He will be fine, though. Trust me. He may not put up the same numbers, but his maturity in the pocket is unbelievable for a freshman, who at the beginning of the year, hadn't played in a football GAME for over a year and a half. This kid young man is special.