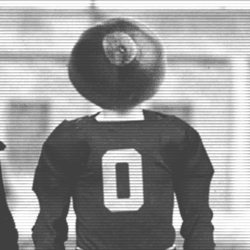 O-H-I-Owe-U
---
Member since 29 September 2010 | Blog
Helmet Stickers: 561 | Leaderboard
Recent Activity
Good luck, Luke Duke.
How about grades for the coaching staff?
I know they are doing great work on the recruiting trail with the incoming classes which we're all pumped about. But it seems Thad is missing a true shooting coach. Paulus worked with Aaron this past off season--not the answer. Our team free throw % is awful. It's time to bring in someone who can get these kids to shoot up to their potential.
Good luck to the kid if he opts to go.
Now about the future. The success of this team depends on having kids who are warriors. The teams that are making a run in this year's tourney have them.
Where is that fire on this team? Maybe some of this year's group felt entitled from the recent NCAA runs. Or they caught up in the hype. Either way, it's time for every guy in that locker room--including coaches--to feed off the disappointment of a 1st round exit and recommit to being a champion.
Great headline, DJ. This is the salve for my Dayton rash.
It worked for Evan Turner, but something definitely fell short with this groups shooting development.
He looks big, fast and shifty in that clip. El Guapo dos.
Wish we had employed it more throughout the season, but my guess is Thad doesn't think we have the horses to run every game. But, I'm with you, keep the motors running boys.
This has to be worst free throw shooting team in Buckeye history
AC needs his own tv show...Big Bang Theory Cbus
Congrats on fine careers. The way this season has unfolded, I wouldn't be shocked to see them add one more Sweet Sixteen to their list.
It could be costly on some timing fronts, but this year's WRs must run better, more crisp routes. Having young QBs makes it even critical that they make sharp, explosive cuts.
They should really check out the concrete memorial we started piecing together in 1920 in honor of our big wins. It's affectionately known as the Horseshoe.
Espn is offering $10K for a picture of Gene Smith Te-bowing in shame before the NCAA
Can we nickname him 'A Game'? It's not a cliché when you live it every day. Just so thankful my boys have been able to root for #4 the past four years.
Amir is a riddle, wrapped inside an enigma, wrapped up in a 6'11" nba frame.
Urban multitasking: showing off his UC pride and getting his team angry.
Good to hear your account and glad things worked out for your friend. It's good to know the future of the program we love so much is being entrusted to young men of such high character. Keep up the great work!
You know, you're right. Misplaced frustration. Schoenhofts are family friends and he's a great guy. It's all Meg's fault.
Getting tired of how some fans deride our former players. Most don't turn into stars, but they still chose to be Buckeyes and should be granted some respect, especially years after their playing days are over.
Size isn't everything. Clemson's Vic Beasley is listed as 6'3" 225 lbs. He's a hell of a player.
If we couldn't get MM, I'll trust Coach Johnson's opinion that Slade is the best defensive end he saw this year and welcome him with open arms. Actually would be happy with this given how concerned Malik's parents have been about his maturity.