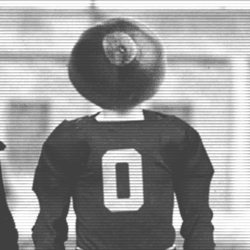 O-H-I-Owe-U
---
Member since 29 September 2010 | Blog
Helmet Stickers: 614 | Leaderboard
Recent Activity
I expected to see U of M's trophy room in the decaying Cold War pics.
I was there, too, with my dad in the closed end of the shoe. Byars finished that shoeless touchdown run right in front of us. I knew at that moment I was a Buckeye for life.
Excited to see all of these guys rotating in so we can stay fresh and keep attacking.
Buckeye waterfall, annually replenished with wolverine tears.
With Troy's talent, the only thing that makes sense to me is he was written off by NFL owners because of his run in with Mike Singletary. Seriously, the guy is a better qb than half the guys on NFL rosters. He was 3-2 as a starter on a 49er team that finished 6-10. As a lifelong Browns fan, makes no sense why they didn't give him a shot.
Hoping he kills in Canada this year and gets one more chance. Warren moon was 28 when he went to the Oilers. Troy could still have a good 5 year run ahead of him.
Edit: Just caught Troy on tonight's espn top 10 highlight making a play. Baller.
Yes! Looks to have great eyes and instincts for how plays develop.
I guess I'm an average Joe. I have three kids and there are just so many other things that demand our discretionary income. Hate to admit but I haven't been able to afford to get my family to a game. Going to bite the silver bullet this year and make it happen.
One factor for UM that Mr. Bacon didn't bring up is population. Ann Arbor only has around 115k residents.
I so respect how he has represented the university these past 3 seasons. If anyone has ever deserved a great final campaign, it's him. Hi-yo, Silver!
Marcus Baugh has had a couple run-ins and he's still around. You have to consider him a pet project at this point. There may be a few others that we don't know about.
I've never seen so many 40+ yard runs. Un-freaking-believable.
Seems like NFL teams got scared off by the sideline argument he got into with Singletary. Hoping like crazy that he lights it up this year in Canada and gets another shot.
They need Carlos in that backfield rocking the tear-away Greg Pruitt #34.
I hate the Steelers, but Shazam. Great pick. Good luck RDS. Enjoy your time with Coach LeBeau. Can't wait to watch him go against El Guapo and the Browns.
They may be trying to make up for that game day experience at Neyland Stadium. Zero crowd energy, crumbling facilities, tired announcer, lame scoreboard.
Good luck, Luke Duke.
How about grades for the coaching staff?
I know they are doing great work on the recruiting trail with the incoming classes which we're all pumped about. But it seems Thad is missing a true shooting coach. Paulus worked with Aaron this past off season--not the answer. Our team free throw % is awful. It's time to bring in someone who can get these kids to shoot up to their potential.
Good luck to the kid if he opts to go.
Now about the future. The success of this team depends on having kids who are warriors. The teams that are making a run in this year's tourney have them.
Where is that fire on this team? Maybe some of this year's group felt entitled from the recent NCAA runs. Or they caught up in the hype. Either way, it's time for every guy in that locker room--including coaches--to feed off the disappointment of a 1st round exit and recommit to being a champion.
Great headline, DJ. This is the salve for my Dayton rash.
It worked for Evan Turner, but something definitely fell short with this groups shooting development.
He looks big, fast and shifty in that clip. El Guapo dos.
Wish we had employed it more throughout the season, but my guess is Thad doesn't think we have the horses to run every game. But, I'm with you, keep the motors running boys.