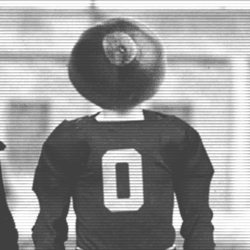 NYCBuckeye
---
Member since 28 August 2012 | Blog
Helmet Stickers: 337 | Leaderboard
Favorites
SPORTS MOMENT: Singing "We don't give a damn for the whole state of M*chigan" in the Big House with my fellow Bucks during The Game in 2007. Classic
NFL TEAM: Philadelphia Eagles
NHL TEAM: Columbus Blue Jackets
NBA TEAM: Cleveland Cavs
Recent Activity
Looks like the RNC didn't consult Joakim Noah on this decision
I don't follow recruits on twitter, and obtain all of the recruiting information I ultimately ingest from this site - but I've not once seen a recruit mention anything to the effect of "I chose (school) due to the amount of love grown ass men were showing me on twitter! shoutout to my followers #(school)nation!"
Fans do have a significant role in recruiting, though. Strong showings at games, frequenting OSU affinity sites like 11w, having a wide geographic footprint,etc can be positive reinforcement for a recruit without fans acting like assholes.
Krenzel was the perfect QB for that system - did not make mistakes, made plays when it mattered (4th and 14 vs Miami, Holy Buckeye, etc) and was an integral part of an unforgettable team.
With that said, under Krenzel, the offenses were anemic (put down your pitchforks - Krenzel was a great representation of OSU football and embodied everything Tresselball could be when executed correctly). This could be due to conservative play calling, or simply the coaches acknowledging the limits of Krenzel's abilities, or having a defense that alleviated the pressure on the offense to be overly aggressive.
Interestingly, Braxton gets a terribly unfair shake from a sizable portion of the fan base who clamor for a "pass first, run 2nd QB." All the while, he's been the best player on two of the best offenses, statistically speaking, in OSU's history (not to mention the 2 B1G POY awards...). That Braxton has 1 (ONE!) game in his career with multiple INTs (2), and also has a knack for making huge plays makes one wonder the possibilities of putting that 02 defense (or most of the Tressel-era defenses, for that matter) with last year's team (Sigh).
A random screen shot of a facebook post from a random guy on twitter with ~150 followers?
Yeah, seems legit.
Always nice to see the stampede of message board Mother Teresas riding in on their high horses to pass judgment on a high school kid (Gibson, Crawford, Glover-Williams) that very few (if any) actually knows personally. But hey, keep propagating that phony Freudian Psychoanalysis, because it's very obvious that anyone with two eyes and half a brain that even the simplest of derelicts can gleam some semblance of truth as to the nature of a kid's character based on a tweet or libelous internet story. Gotta love the internet right?
Until Mindy Drayer reviews the tape I won't even consider its legitimacy. Never trust a video of a fight until you get the full Drayer analysis
Oh yeah, Remember when Vrabel and Urban got in a fight?? Gotta love the internet.
And when a kid from the South goes all the way to Ohio? (Vonn Bell, Raekwon, Dixon).
Yeah, SMH. OSU boosters must operating
As Urban said when he was hired, the SEC is hot right now. Great campuses, stadiums, facilities, traditions, rivalries, etc. People here who cant give Saban/Malzhan/Franklin credit without accusing kids of accepting money is reminiscent of petulant, envious Big 10 fans who get upset when OSU flips a recruit or gets one previously thought to be a long shot.
And other times, you're not meant to use proper grammar.
and ESPN covers it like it's news! Gotta love the offseason.
http://espn.go.com/college-football/story/_/id/10779334/braxton-miller-ohio-state-buckeyes-insults-michigan-wolverines-spring-game-attendance
A well written article with a number of fair points, but I think this (as many OSU fans have done) undervalues Braxton's playmaking abilities. How quickly we forget Braxton "dancing" his way to back to back 2000 yds passing, 1000 yds rushing seasons, along with back to back Big Ten POY awards? His "dancing" has carried us to back to back undefeated seasons. His "dancing" has already rewritten a number of OSU quarterback records and will continue to do so. The most under appreciated star athlete that I've seen in all of my years as a Buckeye fan.
Playing a contact sport hurt Christian Bryant. OSU lost to Michigan State because it allowed 400+ plus yards to an offense that had been anemic for much of the year. By all accounts, Braxton was running the ball better than Hyde during the MSU game (YPC, longest run, TDs). If Heurman (sp) makes a block on that play, it's a different story. Why not run what had been your best running threat, with a 230+ lb running back as a lead blocker? OSU lost to Clemson because similarly, its defense couldn't stop a nose bleed. That it was the first time in school history OSU had lost while scoring 35+ leaves the assertion that it's somehow the fault of OSU's offensive coaches (who have broken almost every OSU offensive record over the past two seasons), Braxton's "dancing", or Hyde not receiving the ball more is dubious at best.
The play calling could have been better at times, yes. But in many instances Hyde would have - and should have - gotten the ball more if we weren't engaged in shootouts, instances in which Miller's ability to run and pass for larger chunks of yardage were of higher value.
Refreshing to see a recruit with the foresight to know that the highest level of Football is played in the cold, in the heart of winter. Gotta embrace playing in the cold early!
A scenario: If Duke pulls off the unthinkable and beats FSU, and Mizzou beats Auburn.....Bama or Mizzou??
The announcers just will not admit that neither team looks good at all. Over/under on how many times Danielson passes off a poor play/execution as "miscommunication" between (X player/position and Y player/position)??
This is such an awesome gif, haha. What is this from?
Clooney also won an Oscar as a Producer for Argo
From what you gather - between Dixon and Brown (Trevion Thompson as well, though he doesn't seem like as high a possibility) which is higher on the big board?
2014 (and beyond) backfield really could be thunder and lightning personified.
Smith, Dunn, Ball bringing the power
Samuel, Wilson, Elliot, Campbell with the speed
Wow, great time to be an Ohio State Buckeye
Dude, it's a shirt. If my shirts from 20 years old defined who I was as a person?? Oh god. The thought alone scares me
Agree with you here, citrus - which is likely why the coaches have focused so much on defensive line depth and secondary depth. If it is the case that we are breaking a number of big plays and we lose the TOP battle (which I think is an overrated stat), I'm fine with that. If last year's Michigan State game is any indication, I think OSU is very capable is grinding down the clock late in the 4th if need be.
And Johnny Football hasn't behaved like a "prima donna" since day 1??
Let me put it like this, between the two, one was in trouble with the police, and has been described as having drinking and anger issues. Yet somehow, he's a victim of an unfair system.
The other? Academic all big 10 (http://www.dispatch.com/content/stories/sports/2010/12/02/1202-academic-all-big-ten-football.html) , no legal issues, and is a "thug, cheater, thief, etc"
It's not a form of overt racism or perhaps even racism at all. But perception here is shaped, in some part by race. Ignorance to this fact just shows how innate the bias is.
This was an interesting take, but with respect to the point made about privacy one has to ask – is the majority of the lack of privacy not self imposed? The prevalence of social media can be a double edged sword. On one hand, it provides us recruiting and football insights that those who did not have a premium membership at a recruiting site or ESPN couldn't retrieve. On the other, athletes who seem to aimlessly tweet about whatever is on their mind (non-football related), have to keep in mind that many people are watching (and none of this is a surprise, as they see their number of followers/friends).
I am not active in social media, but when I was, I knew not to post anything incriminating for fear of a potential employer seeing it. If they were to judge me based on this, I would be in no position to complain because I said/posted it into a public domain. Johnny Manziel seemed to embrace the spotlight until there was backlash. He chose to post the tweet about leaving College Station, drinking in clubs, etc. It's not like a newspaper source wire tapped his phone or hid in the bushes of his home. Without twitter/instagram/facebook, privacy becomes far less of an issue, particularly that which is self imposed.
Once a Buckeye, always a Buckeye.
3-0 against Michigan, helped get the SEC monkey off our back (screw the wins being "vacated" I enjoyed every minute of those games and the NCAA can't take that away)
He was an incredibly hard worker, did nothing illegal, and left the university before throwing it under the bus. If we are willing to root for MoC (as I am), we should root for TP, especially considering he's the only Buckeye QB currently in the NFL. Wishing nothing but the best for him
You have to love the cohesion and pride this class has been showing over the past few months. Excited to see them recruit and welcome in the next wave of commitments!
When did TP ever get caught stealing, or caught drugs or weapons? When was he disrespectful to women?