NYBUCKEYE
---
Member since 12 November 2011 | Blog
Helmet Stickers: 664 | Leaderboard
Voting Record: 23 / 7
Favorites
COLLEGE FOOTBALL PLAYER: Braxton
COLLEGE BASKETBALL PLAYER: Craft
NFL TEAM: Raiders
NBA TEAM: Lakers
MLB TEAM: Reds
SOCCER TEAM: Crew
Recent Activity
He looks like Joffery from Game of Thrones.... Cant root for that face...
I am an acupuncturist living in New York. I played college football and after breaking my leg my senior year started using acupuncture to recover. My healing rate increased 10 fold. So I decided to move to NY when I graduated and pursue a masters in Acupuncture instead of attending OSU for a masters in strength and conditioning. Acupuncture treats back injuries very well. Acupuncture treats bulging discs in a few ways. 1. when a needle is inserted into a muscle is can release said muscle which if you have a bulging disc is typically spasmed. 2. It increases blood flow which helps to push out inflammations. 3. It releases endorphins in the blood stream, which are the bodies natural pain killers. 8-10 treatments over the 5-6 weeks should calm your symptoms and have you back to living a normal life.
Steve Kerr/Steph Curry taught him a few things.
This happens all the time. I don't understand why its a big deal. What about Notre Dames RBs they just lost their coach. You commit to the school, the teammates. This is a part of the game.
Eddie George would be a nice hire as the Running Back Coach....
What that tells me is he can throw the 18 yard out to the other hash with ease. NFL throws are deep outs, you need a strong arm to do that. Velocity helps, you don't see very many elite quarterbacks with pea shooters for an arm.
The NFL does allow development when you get drafted by a good team. Since he is a "project" no team with an immediate need will draft him. He's more than likely going to a good team with an established qb. Which does allow him the chance to develop, just like Ryan Mallett did in New England.
Honestly I'd rather play a few years in the league vs risking not starting for the next two years. He won a national championship at Ohio State. He will always have a job in Columbus when his playing time is done.
Stop taking his post literally. He's joking but Mia isn't hard to look at... I don't think there is a guy in this world that would argue that FSU attracts more 5 star girls each year then The Ohio State. They also don't walk around in Parkas for 5 months like they do in Ohio. Pretty tempting offer if you ask me!
I think you just found Webers nickname... "El Segundo"
Unless he commits to Michigan then hopefully he drops
Its the Chin Strap, when not properly fitted it makes the helmet loose and can slide up the face and the way he was hit was jarring to the neck causing the whip lash action to fling the helmet up over his face.
They talked about it during the game.
Wow people don't like sarcasm around here. lol
It would be hard. He is living in California, he has a great Qb camp the recruits come to him he doesn't have to chance them. And I'm sure he makes a ton of money.
I honestly feel like Josh Perry should make the move down to weak side end opposite of Bosa and we could plug in Booker into his spot.
Man EZE burried that defender into the end zone on Jalins second carry on that drive. and I love that he let him know about it in the end zone. Hence the booing by the fans! LOVED IT
If we were ever to make a permanent change I think it should be the very first pro combat white Jersey we wore.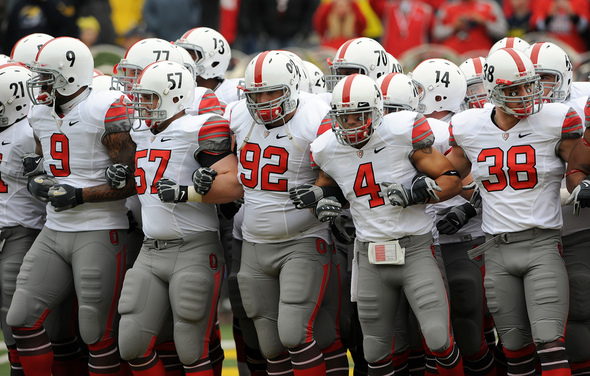 Want Bad! From the first time I saw his film. Doesn't play great competition in the Saginaw Area. But speed is speed.
Im bringing about 15 of the biggest partying OSU fans out to Lansing. Went to Saginaw Valley State for college so I have a few buddies in Michigan I'll see if I can get an answer as we also need to be where da party attt. "Where dey at doe" MSU girls are good looking scUM girls are smart thats pretty much how it goes. Its for sure true
Watched his highlight tape from 2014, His line does him no favors. He has little to no time to make plays. Misses the outlet which is often the case with super athletic QBs after that first read they are out the backdoor running. Has great arm strength. Often throwing off his back foot due to a lack of line play. When he runs the zone read its beautiful. He has a lot of Nick Marshall in him. Runs like TP but cuts like Braxton.