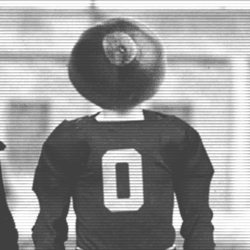 NYBUCKEYE
---
Member since 12 November 2011 | Blog
Helmet Stickers: 548 | Leaderboard
Favorites
COLLEGE FOOTBALL PLAYER: Braxton
COLLEGE BASKETBALL PLAYER: Craft
NFL TEAM: Raiders
NBA TEAM: Lakers
MLB TEAM: Reds
SOCCER TEAM: Crew
Recent Activity
THAT BLOCK AT 1:27 tho!!!
Heres a question what ever happend to Devoe Torrence
He's anti Adidas and I dont blame him... Nike wins championships! Unless your Oregon...
And with that A Legend was born.
Dont forget that if a coach leaves maybe certain players will reconsider their recruitment ala Dontre Wilson...
Getting caught smoking weed in the hotel for camp, causing the fire alarm to go off, and the entire hotel being evacuated...
How is Curtis Grant looking?
I cant tell but that looks a hell of a lot like Planet Fitness.... Judgement Free zone
People forget that Urban tried to get numerous other Wideout coaches before settling on Smith.... Including his former wide receiver coach at Florda, Gonzalas
Stan "Dont hate the player hate the Game" Drayton
Mickey judging from that tape is a basketball player... His QB film is Average at best playing in a low division.
Burke was elite out of highschool. Unless you went and watched him play you cant really judge his skill level. He dominated Columbus like no point gaurd since Drew Lavender did.... it was a poor job of recruiting sites that left him down on rankings. Ask Sullinger about that...
I'd go to jail for his girlfriend tho.....
Wait a football player got in a fight? No WAYYYYY!!!!! Imagine how many D-Bags screw with college football players everyday. Liquid courage plus a superior athlete equals a butt whippin.
Thad is a great coach. If we can lock down some high level recruits to go along with the two 4 stars we signed during the early period this year we will be looking good for years to come. Another dominant big man would certainly help.
Hope hes good on special teams because i dont think he will every see the field with the guys we brought in.
I think its a good time for him to come out. Another factor is his good friend Sully being hurt by coming back for a second season... Strike while the irons hot. Trey was underrated coming out of highschool and he apprently is still underratted after a great season at scUM. But in all reality I guess we should look at what point gaurds would push him down in the draft.
The first PG taken will probably be
1. Austin Rivers (probably a SG)
2. Damian Lillard (Weber St)
3. Kendall Marshall
4. Marcus Teague (if he leaves)
5. I think Burke could fit in here With Tyshaun Taylor being his only real threat and I think he will be a better bro then Taylor.
Lets not fool ourselves maybe its the homer in me but Burke was a monster, he led TSUN to some victories including against OSU, where he outplayed Craft.... Burke is a better PG then Craft which is why he will probably be a first round pick. And Craft wont play in the NBA. I think he is a better creator/passer and scorer then Craft. Craft is a better defender/hustler/student.... Burke can get better at defense and had he been at Ohio State he would have been a much more significant part of our rotation compared to Scott and we probably beat Kansas by 5 or 6... Its a huge loss for Michigan and Im very happy to see Burke take that next step Im happy for him, hes a Columbus kid who loved Ohio State they just didnt show it back.