NYBUCKEYE
---
Member since 12 November 2011 | Blog
Helmet Stickers: 609 | Leaderboard
Favorites
COLLEGE FOOTBALL PLAYER: Braxton
COLLEGE BASKETBALL PLAYER: Craft
NFL TEAM: Raiders
NBA TEAM: Lakers
MLB TEAM: Reds
SOCCER TEAM: Crew
Recent Activity
Wow people don't like sarcasm around here. lol
It would be hard. He is living in California, he has a great Qb camp the recruits come to him he doesn't have to chance them. And I'm sure he makes a ton of money.
I honestly feel like Josh Perry should make the move down to weak side end opposite of Bosa and we could plug in Booker into his spot.
Man EZE burried that defender into the end zone on Jalins second carry on that drive. and I love that he let him know about it in the end zone. Hence the booing by the fans! LOVED IT
If we were ever to make a permanent change I think it should be the very first pro combat white Jersey we wore.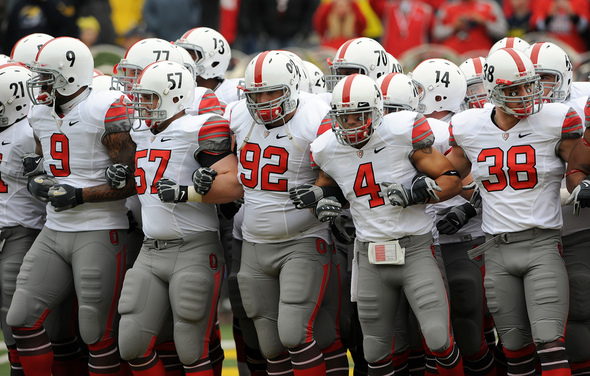 Want Bad! From the first time I saw his film. Doesn't play great competition in the Saginaw Area. But speed is speed.
Im bringing about 15 of the biggest partying OSU fans out to Lansing. Went to Saginaw Valley State for college so I have a few buddies in Michigan I'll see if I can get an answer as we also need to be where da party attt. "Where dey at doe" MSU girls are good looking scUM girls are smart thats pretty much how it goes. Its for sure true
Watched his highlight tape from 2014, His line does him no favors. He has little to no time to make plays. Misses the outlet which is often the case with super athletic QBs after that first read they are out the backdoor running. Has great arm strength. Often throwing off his back foot due to a lack of line play. When he runs the zone read its beautiful. He has a lot of Nick Marshall in him. Runs like TP but cuts like Braxton.
What time did Mike Gesicki die? Just curious lol
Section 7 row 3 behind OSU there will be like 8 of us next to the student section teaching them how to party...
Jason Sehorn is one of the fresh faces on ESPN he tells it like it is and keeps it real. When he spoke on Winston and got in an argument with the other broadcaster basically saying chill out he's 19-20 years old winning a heismen doesn't make you mature it makes you the best football player in college i gained a lot of respect for him. Because its true I did some dumb dumb stuff when I was his age. I played college ball I did dumb stuff. Sehorn is refreshing. When the BIG earns the right to play in it Im sure he and everyone else will say and admit they are worth it.
Its funny how wins shut up everyone. Beat UC and lets keep the train rollin
Doubt it will be Washington I hope its a Corner for shutting down their receivers due to the high volume of passing it will be hard for a DT to win.
Kill them all!!! Let the paramedics sort out the bodies.
I agree he would be an amazing hire we won't fire Herman tho he is here until he gets a head coaching gig, which I think he will succeed in. He's a good football coach, this system just requires a powerful offensive line which we don't currently have.
I think that has long been the rule must use solo cups.
THAT BLOCK AT 1:27 tho!!!
Heres a question what ever happend to Devoe Torrence