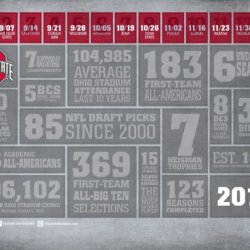 nvbuckeye
---
Member since 12 September 2010 | Blog
Helmet Stickers: 167 | Leaderboard
Voting Record: 0 / 0
Recent Activity
T - 60 and counting, GO BUCKEYES!!!!!!!!!!!!!!!!!!!
This proves that Buckeye Nation is alive and well in all times and all places.
My deepest sympathy to the family.
Remember the Akron game and saying Tyrell who? What a short, painful feeling that was.
Because I have lots of Scarlet and Gray decor in my man cave, my then 4 year old granddaughter began calling it the "Brutus Cave." I raised my two daughters to be Buckeyes and my two granddaughters are being raised right, too. Go Buckeyes!!!!
P.S. how many of you outside of Ohio have a Governor that is President of the local Ohio State Alumni Association? Nevada does and he gave me the O - H sign yesterday.
Screw that community college on the Ohio River. I have hated them since 1961 when they stole the NCAA Bball championship from the Buckeyes. My hate for the skunkcats isn't as intense as my hatred for aa community college, but really, really close.
Its 3:45 p.m. in Nevada and ttun still sucks
Can't wait for September 7 and the beginning of Chase Redo. Go Buckeyes!!!!!
Slice it anyway you want, Ohio State's free throw shooting has been embarrassing for years. If you look at all the close games the Buckeyes have lost over the last ten years, my best guess is better free throw shooting would have won a vast majority of those games. FT shooting was the one part of my game that was the hardest to practice but I always spent extra time at the line because I knew it could pay dividends. It is by far the easiest shot in basketball but for this team it is the hardest.
It is 10:25 am PST and _ichigan still sucks. Go Buckeyes!!!!!
If someone else posted something like this, please forgive me.
Grown up folks. Sure it may be shaky for Coach Drayton to leave so quickly after getting Weber to commit and sign with Ohio State. The outrage seems really childish to me. Did anyone react like this last fall when Weber dumped _ichigan as soon as scum dumped its head coach shortly after Weber committed? I don't remember a lot of outrage then.
This is a business and Coach Drayton needs to do what is best for his family and himself, not what is best for Ohio State and the football team. Urban Meyer preaches family first and then the school and team next. If Weber wants out so bad, let him go and "next man up" for the Buckeyes. I have always been suspicious of _ichigan guys playing for the Buckeyes anyway.
It is 11:59 a.m. and ttun STILL SUCKS!!!!!
Being a Buckeye since 1957 (watched the 58 Rose Bowl on a 17 inch screen, black & white TV with my dad and brothers) my favorite year is still the 1968 National Champions. Still 2014 will always be a huge favorite for all that the Buckeyes overcame, suffered, struggled, steamrolled and proved all true Buckeyes right in believing. By reading all of the comments through out the season I am beginning to think of being in the huge minority of fans that knew this team could and would achieve greatness. I never doubted (even after the VT game) that Urban Meyer and his staff would mold this team into National Champions. My mantra has always been "if they stay healthy and play to their potential, the Buckeyes can beat any team." For the most part the 2014 Buckeyes stayed healthy and really played above and beyond their potential. Now and forever the team can claim themselves as the best of 2014.
Now lets concentrate on 2015 and repeating. Go Buckeyes!!!!! It is 9:05 am PST and _ichigan still sucks.
Flash back to Nov 2011 and tOSU announcing Urban Meyer as the new head coach. I was skeptical that he would be this good this soon and if he would stay for very long. I dutifully eat some humble pie now. I truly hated UFM for the 2007 disaster in the desert but now I would run through fire and hell for UFM.
While watching the Late Show video I wonder "what is that lapel pin UFM is wearing?" If anyone knows, please enlighten us. Thanks.
Anytime the Buckeyes play an away game during non-conference time it should rightfully include a trip to Toledo or BG or Athens or Kent, or even Oxford. I purposely left Akron off this list because I don't like the idea of the Buckeyes playing there with JT trolling the sidelines. That would the the "trap game" of all trap games. Still, leaving lots of Buckeyes dollars in these towns would be super publicity for TOSU that would pay forward for thousands of years. Go Buckeyes!!!
Forgive me for getting late to this thread, but I know something about cereal and beer that many of you might not know:
"There is no beer value in food, but there is food value in beer."
Thus, adding beer to any cereal increases your nutritional value of that bowl of morning goodness.
Also, creamy peanut butter is better. Just my humble thoughts on this sunny Wednesday morning. It is 11:07 PST and _ichigan still sucks the big one.
The younger Buckeye Nation is growing up right. It is 11:00 a.m. PST and _ichigan still sucks. Go Buckeyes!!!!!!
Although 1957 is really foggy in my 66 year old mind, I do remember 1961. How much you ask? I began my hate/grudge for 'bama that year when the AP & UPI voted an undefeated 'bama number 1 at season's end instead of Ohio State. It took 53 years to soothe my hatred when the Buckeyes clobbered the slobs from Birmingham in the Sugar Bowl. I rewatched that game last night and enjoyed every minute of the Buckeye's total beat down of those dogs. All is right in the world again.
Go Buckeyes!!!!!!!
1954, 1957, 1961, 1968, 2002 & 2014: what a great way to enjoy my life as a Buckeye. Thanks for the great article, Ramzy. I hope all Buckeye fans just now experiencing their own first Ohio State National Championship get to live to see as many NCs as I have. Go Buckeyes.
Just a few comments: 1. It is a super time to be a Buckeye Fan; 2. Saying B1G Champions and Undisputed National Champions will make 2015 a fabulous for all true Buckeye Fans; 3. All the "Fickell haters can hide now because he did his best coaching job this year: jralvarez is always entitled to his opinion but is wrong about Coach Fickell, just like all the other posters, who apparently do not know a thing about coaching and developing players. Coach Ash was a great hire for the Buckeyes and he worked together with Fickell to make the defense better. Coach Meyer's best decision after last year was to get rid of Everett Withers (I know, he quit - but probably only before Meyer dumped his worthless butt); and, 4. Winning it all again next year will make 2014 legitimate and put Ohio State back in the pantheon of college football where it belongs. It is 11:10 am in western Nevada and _ichigan still sucks.
My suggestion is to watch your DVR of the game fast forward through the commercials so you can truly enjoy every minute of this total beat down. GO BUCKEYES!!!!!
Can I open my eyes now? Happy New Year Buckeye Nation. This was an unbelievable way to begin 2015. Congratulations to the Buckeyes and all of Buckeye Nation, from my man cave couch, you looked alive and loud in N.O. One more game for this incredible team. I harken back to five years ago today when the Buckeyes met the ducks in the Rose Bowl. A game where the Buckeyes didn't belong on the same field as Oregon. Buckeye Nation remembers that game and will be looking for a similar outcome on Jan. 12. Go Buckeyes and bring back the National Championship. O - H!
I just returned from five days in ATL. On Thursday night I wore my colors while at dinner with some friends (both OSU grads from the early 70s). We got several looks and some comments. Yesterday while checking out thru the airport TSA checkpoint an agent told me about my Ohio State sweatshirt, "in a few weeks you will have to burn that shirt!" My response: "no way; win or lose I always wear my colors with pride." He had nothing more to say.
There was an ignorant FSU fans at the gate who had to tell me how much he hates Urban Meyer. Whenever traveling I wear my OSU color.s with pride and class. Unlike lots of other "wannabe" fans of schools so jealous of the Buckeyes. O - H
What a boring Saturday w/o tOSU playing. Did anyone get surprised by close games that were changed by a kickoff return for a td? It happened at least 3 times in games I was watching, including NW/MINN. NW finally got it going, tied the game and then bazinga, they lost. Thank goodness the Buckeyes know how to cover a kickoff.
Going to "neutral" games is fun. I have been to Tucson several times in October and went to watch Arizona play long before RickRod showed up (including Ohio State in 2000). Fans west of the Mississippi are so different from Midwest fans. They show up "whenever" and stay until at least halfway into the 3rd quarter. My wife and I went to a U of Pacific once back in the day when they still had football. When we asked the ticket seller where were the good seats, he said "sit anywhere you want, it doesn't matter. The Cal game last year was a perfect example. Their fans mostly left before the 4th quarter started, even the students.
We had U of Nevada Wolfpack seats for 25 years and it was great. The students and locals turned out every game and were loud and supported the Pack. It was a great small college experience. Its too bad more people don't get to feel that. GO BUCKEYES!!!

My wife and I were sitting just to the right of the press/luxury boxes, wearing our Scarlett & Gray amongst a horde of yellow ducks. It was the best football game experience of my life (even better than Ohio Stadium back in the 60s). The best part was watching oregon fans drone on and on about their great offense and then choking when Ohio State smacked them around. I remember telling one duck fan that "they don't play defense in the pac 10 (or 12 or 14 or whatever it is now) like Ohio State plays defense."
Personally I can't wait for the Buckeyes to play in Pasadena again so I can watch them live. Whatever the reason for being in the Rose Bowl, it is still an awesome experience, IMHO.

As a lifelong Buckeye living in the west let me weigh in on this discussion. I attended Nevada football games for 25 years and beer has been sold there since the early 80s. It has never been a big problem: fans being overly obnoxious, fans being thrown out for being too drunk, or more fights because they bought beer in the stadium. (Mackey Stadium hold 30K fans). It has not been a big money maker either but fans get a choice. Nevada cuts off beer sales at the end of the half time and you can only buy one beer at a time.
Ohio Stadium allows alcohol in the luxury boxes, Right? But not in the rest of the stadium. Isn't that a bit ridiculous?
I agree with the "nanny state" comment in that responsible adults will drink responsibly no matter where they are. And most fans will take care of those idiots that try tO spoil the game for us. In 25 years I never has to tell another fan to behave because he or she was drunk. Just my two cents.
GO BUCKEYES!!!!!!
As a former student at THE OHIO STATE UNIVERSITY, a life long Buckeye fan, and a former enlisted member of THE UNITED STATES AIR FORCE, I find it really hard to root for Navy. However, as a U.S. military veteran I do root for our service academies in every other game that they play in (especially against that prep school in South Bend). This Saturday will be a great challenge for the Scarlett & Gray just because of who they play and how Navy plays. I hope the Buckeyes are as ready as they say because each and every player will need to give his best on Saturday. Like all the comments here, it will be a great game, a great atmosphere and a great opponent.
GO BUCKEYES!!!!!
How is it possible in "American Cool" not to have a pic of Steve McQueen? He was the ultimate "cool' for guys growing up in the 60s and 70s. Love the 70s pic of Debbi Harry, too. db