Nutty
---
Member since 25 June 2013 | Blog
Helmet Stickers: 262 | Leaderboard
Favorites
SPORTS MOMENT: It is somewhere in the future, when Urban wins his first NC at THE OSU.
COLLEGE FOOTBALL PLAYER: AJ Hawk
COLLEGE BASKETBALL PLAYER: Evan Turner
NFL TEAM: Cincinnati Bengals
NHL TEAM: Blue Jackets
NBA TEAM: Indiana Pacers
MLB TEAM: Cincinnati Reds
SOCCER TEAM: The Crew
Recent Activity
So a UK commit is giving us the privilege of a visit?
What changed? I thought he was refusing to camp to get an offer.
Why the DVs? Conrad has been arrogant about his commit to UK and lack of interest in OSU. That is the truth. If he wants to visit and admit an interest in OSU then so be it.
I agree that Waters was the one who suffered the consequences after decades of wrong doing. But who should they punish? He was the one caught in time. From what the OSU president said,and others, he really didn't do much to correct the wrong, he actually did very little. He certainly wasn't the only one to blame but he was to blame and the only one who could be punished.
But this whole thing is purely political. Absent the Title IX crusade of the last couple of years coming right out of the Department of Education, I say this story never happens. Period.
So you think the average guy doesn't think sexual harassment is wrong unless we have some politician/law telling us so?
Or maybe the investigation had it right. Regardless of what the culture was when he took over he knew about all the wrong and let it continue. Conspiracy theories get old. If he didn't want to suffer the consequences then he should have stopped all the wrong.
There is a generational and/or political dichotomy with this case, and all others like it. The younger Obamabots are saying, "Well sexual harassment is completely intolerable." And older conservatives are saying, "Wait just a minute; who actually complained a bout any harm in this case? What harm?" Casual fans will say, "Zero tolerance! We must aspire to the highest standards of behavior!" Alums with real experience in the bands will say, "Give me a break."
Nothing like stereotyping which is the basis of ignorance. There is so much wrong with this I can't even begin.
I agree. There are way too many defending the culture. TBDBITL shouldn't be a fraternity where you have to accept humiliation or be ostracized. If even one student gave up the opportunity because he or she didn't want to simulate sexual acts is one too many.
camp counselor Jordan Palmer, the former NFL quarterback and Carson Palmer's brother
Really? Jordan is selling himself as a NFL QB? Technically speaking he is correct but in real life I find that hilarious. The Carson's brother part says a lot more about his qualifications.

Forget the ignorance about the Buckeye leaf. Where is it legal to search someone's car because they are wearing a marijuana hat?
So there are rumors Auburn, and maybe Tennessee, have quit on him. If so, why? IF Sec teams have stopped recruiting him shouldn't we all be alarmed?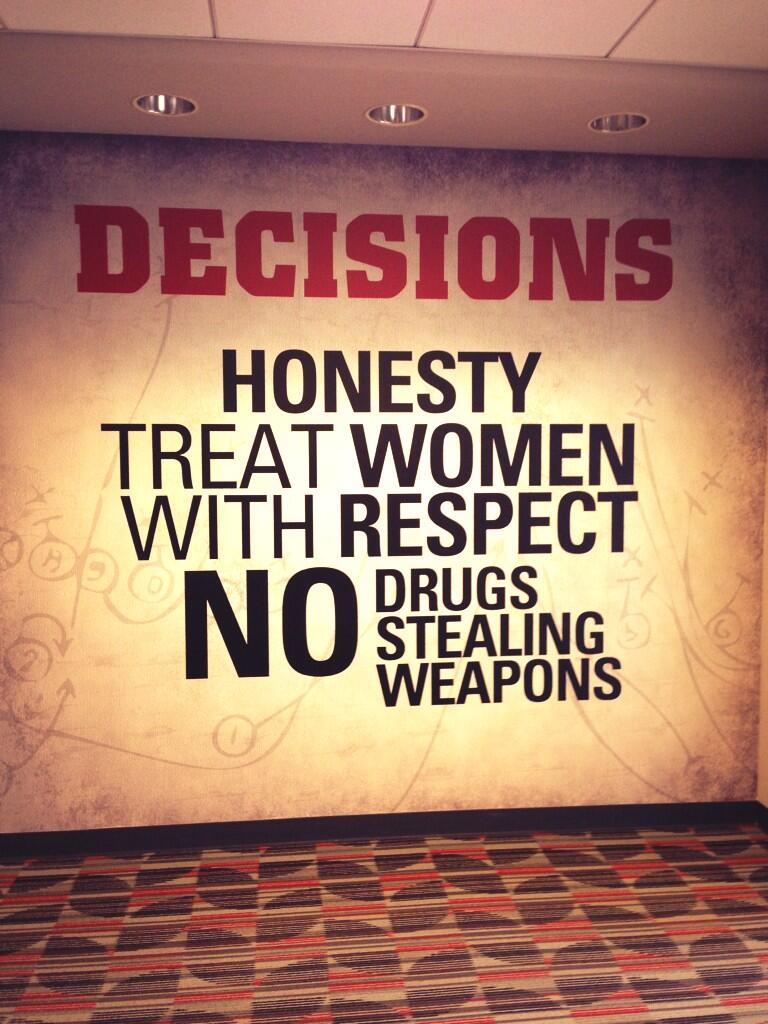 I'm not convinced it is just the success. I don't see Saban, Golden (although not as successful), Miles or many other coaches who have had more than their share of problem children getting the same PR.
The dog leash was the giveaway?

WhoTF could downvote a comment about Dave Thomas? This place is ridiculous. The man was an incredible humanitarian who lived his life to promote adoption, especially of children with special needs.
There's an obvious, and almost self-destructive, chip on his shoulder right now
What is that about? There are so many rumors about schools backing off but no real news. Isn't he still one of the most recruited players in the nation?
I don't think you're missing much but he is.

Once a Buckeye, always a Buckeye.
Agree Hayze. I don't think he will leave Texas. Nothing to see here.
It means that someone put drugs in the back of the police car.
It is standard, meaning VERY basic, police procedure to check the back seat after every "suspect". Sure it could mean sloppy police work but it would have to mean extremely sloppy police work. Not saying that isn't possible but it isn't likely IMO.
I don't think Matta had a slow start. Mitchell and Harris have been committed for awhile now and Grandstaff for a few months. Basketball involves a lot less players so it is hard to compare.
Agreed. The parking is a major pain in the arse. On campus is even worse than downtown. If you want a thriving downtown you have to provide a way for people to get there easily.