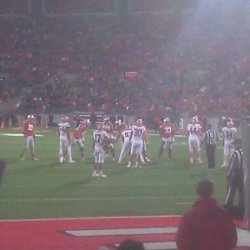 Nuts4Bucks13
---
Member since 20 November 2013 | Blog
Helmet Stickers: 85 | Leaderboard
Favorites
COLLEGE FOOTBALL PLAYER: George Gordon #46
COLLEGE BASKETBALL PLAYER: A-A-ron
NFL TEAM: New England Patriots
MLB TEAM: Boston Red Sox
SOCCER TEAM: USMNT
Recent Activity
I started doing that to mock them when Ohio State scored. It was so fun to see their reactions.
Yup. I'm still a little salty over the way the way some elements of the 11W staff handled this story. I demand a formal apology in a handwritten letter for being told to "take a walk around the block" (I actually don't). It was disappointing though, especially the "if you don't agree you are an idiot" mentality.
I really think it will be something like a 35-24 type game.
Hey, my most important allegiance, my alma mater, is all that matters. But thanks for sparing me haha.
Exactly. I grew up in New England and as a Patriots fan, well, I learned that sometimes backup QBs can come in and do quite nicely ;).
I agree with this point. I think what they should have done is put Waters on administrative leave until the results of the independent investigation are released. That way the university would either (1) have multiple reports to back up their decision to terminate or (2) be able to say "we've done due diligence and we think the band is heading in the right direction." Really hard to go back now that he's been fired, especially given Ohio State's reputation over the last 10 years.
Completely agree, I was very disappointed with the "you either agree with the firing or are an idiot" attitude floated around on the site.
I'll get this joke out of the way: If Hang Over Easy put him over the top, how will he react when he has [insert favorite campus establishment]?
And the follow-up: "He'll recoil in horror, because that place sucks"
I'm a recent graduate of the OSU School of Music in orchestra and I can honestly say that no one that I interacted with, faculty or students, in or around the orchestra had anything but genuine pride in the marching band. We did completely different things and nobody had it out for the band. Occasionally their (frankly well-deserved) pride would annoy us but I can definitely tell you that the last thing on our minds as non-band people was what the hell the band was doing. I can't speak for concert band people but fairly frequently I saw the head of the SOM (a concert band person) on the sidelines supporting the band. I know that the person talks of "factions" but from my experience I do not know what he or she is talking about. I spoke to my professor to make sure I wasn't crazy and he didn't know of factions either. Again, however, I'm a string player so it could be that the wind people had a different experience.
Not that it really matters for this nickname since, like you said, we are English speakers in the good old USA but I'm pretty sure that "boot" is even pronounced "boat."
As long as we keep as many Ohio guys from Michigan as possible, I'm fine with it.
Raekwon the chef! I almost had a heart attack when he picked up the 'Bama hat.
Without sounding too uninformed, does anybody know his family situation? What's the money like for a second day draft guy?
That's the only thing I could think of. Maybe he believes that he can be successful...and make a little money immediately to help his family out. I honestly don't know, beyond that I can't imagine how he would think leaving now is a good idea.
SPURRRIEERRRRRRR!!! DO YOU THINK VISORS ARE COOOL?!?!?!?!
Got to be honest, I prefer calling them the "Corn and Blue"...more connected to the pretentious color they call it and feels a bit more insulting. But..ya know..they can go to hell either way.