nrobinsonpe
---
Member since 24 July 2013 | Blog
Favorites
COLLEGE FOOTBALL PLAYER: The D Line
COLLEGE BASKETBALL PLAYER: Titus
NFL TEAM: The Browns
NHL TEAM: :P
NBA TEAM: The Cavs
Recent Activity
Proud to say I'm one of the 0.6% of ESPN fantasy league teams to have Pryor. I just don't have the balls to start him...
Percy who?
My crazy prediction: the starting QB is Braxton Miller in the BuckWild formation. A nod to the elder statesman. Oh, he's taking it to the house, too.
I'm putting the over/under for margin of victory for a Hawaii moral victory at about 70.
Is Earl O'Bannon related to Ed in the same way Cliff Paul is related to Chris?
I think all my cards would have some scratch on the back that was supposed to read, "BAR".
Sounds like it was played in Columbus. Maybe they're heading back to Des Moines because they won't be welcome in Iowa City.
Unless you're going to make the NCG a day game, it doesn't make sense on a weekend. The die hards will always show up/tune in (i.e. giving up weekend plans.) The Monday decision is about ratings. Who has anything else to do on a Monday night? That being said, the semis on NYE is complete idiocy.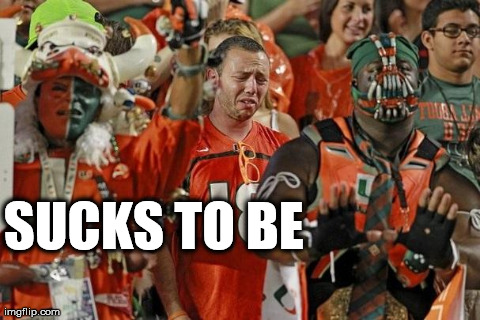 I logged in just to upvote this.
Know why UW would win? Because tOSU wouldn't be there. We beat them the first time by enough points to win two games.
100% correct statement.
EXCELLENT HIRE, JUST ONE QUICK QUESTION WHO IS MIKE RILEY

— Fake Bo Pelini (@FauxPelini) December 4, 2014
Like the Kirk Ferentz coach contract of the year award?
Fixed that for you.
If we beat Minnesota convincingly on the road, does that lend us any favor over TCU beating them 30-7 at home?
You'd think with that transcription spelling of "demeanour" that we'd be talking a different brand of football...
Why not get excited? I'm a Browns fan. I pump myself up every year knowing there may yet be a letdown.
So they'd have to vacate a 37-15 record, a national championship game shellacking, and a fake girlfriend? Has anyone looked into whether this academic fraud is an intentional ploy?
Okay, stats question: has any player ever won national titles at two different schools?
+1 to Tressel for still claiming the 2010 B1G title on his CV.
Right on. We need to stop using the word "allegedly" in this case. Aaron Hernandez "allegedly" killed a man (or three.) This kid absolutely power bombed that security officer. That's really not the question. Whether he's guilty of a crime is still up in the air (but I personally believe he should be.)
I don't know all the details, but I know UM expelled him in December in relation to the incident. Expelling him four years later (and immediately after his eligibility expired) reeks of corruption.
Njoku's HS has the worst uniforms ever. We need to put him in scarlet.