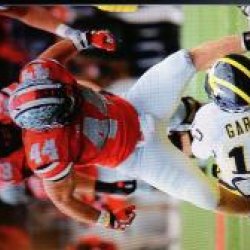 nrbuckguy
---
from New Riegel, Ohio
Member since 18 September 2013 | Blog
Helmet Stickers: 183 | Leaderboard
Favorites
SPORTS MOMENT: Ohio State's 26-21 win over Michigan last year. Watching John Simon walk across the field and hug coach Meyer was overwhelming. There was no way we were ever going to lose that game. That win really started off what I think is going to be the greatest era in buckeye football history.
COLLEGE FOOTBALL PLAYER: James Laurinitas
COLLEGE BASKETBALL PLAYER: Evan Turner
NFL TEAM: Browns
NHL TEAM: Blue Jackets
NBA TEAM: Cavaliers
MLB TEAM: Indians
SOCCER TEAM: Crew
Recent Activity
5 star C Daniel Giddens for 2015, we need to get him along with Bragg
So awesome, this was looking like a "bridge the gap" type season, but with Lee's presence inside we should contend for a B1G title. Shannon Scott, Anthony Lee, and Sam Thompson, those r 3 really good pieces for us to build around. Hopefully Amir, Marc, Kam, Trey, and the freshmen can provide adequate support
So it kind of looking like he will be competing with esa ahmad for a spot in this class. If Bragg decides to go elsewhere...
I really hope D'Angelo Russell reads this article. He needs to show up with confidence as a frosh. Kam and Marc should probably take a look at it too, we need scorers!
I think Mike Bennett is going to show up as a leader for this defense with both his play on the field and as a vocal leader. He seems like a guy that I would love take cues from as a player and I believe he ends up as a 1st rounder in next season's draft.
How are you feeling about OSU's chances with Tim Settle and Terry Beckner Jr.? I saw that you included them in your forecast earlier today, but could you maybe give a few details about how each of their respective recruitments are going? Thanks!
I really see no evidence that Mike was unhappy here at all. Why would his younger brother ever commit here if he knew that Mike was having a miserable time? That just doesn't make any sense to me.
I sure hope the staff likes Jerome Baker at running back because with Kilby-Lane and Conner favoring OSU as well as us possibly leading for Justin Hilliard and Ricky DeBerry, we should be absolutely stacked at linebacker for this class!
Maybe there are some facts in your post about Fickell not meshing with Meyer and making mistakes with his personal, but one thing that I am sure of is that all of the players you mentioned weren't playing, were all true freshmen! Maybe they simply were not ready to play, we won't ever truly know. What I do know is that Fickell has been a valuable recruiter, the players still want to play for, which to me is by far the most important thing. I have faith that Ash will be able to patch up some of the play calling issues.
Welcome back Meechy! Sorry to hear about what happened to Daniel, I'm sure if OSU used a true fullback then Coach Meyer would have flipped him long ago, but I'm glad to hear he found somewhere to go and play football. I can definitely understand now why you were considering that trip to UCLA. Good luck to you at OSU!
Reminds me of Kevin Garnett, could be a really special player
Same situation here so it must not be.

Looks like a taller version of Braxton to me with similar playmaking ability as well as kind of poor pocket presence at this stage. If he can learn to consistently step up into the pocket instead of immediately trying to get outside on the edge he could be an outstanding college player.
I just can't see our secondary not being elite within a year or two, we have so much talent there. It is up to the coaches now to deploy it effectively, I do have a lot of faith that Chris Ash is the man to do that.
Give me "Jap anUs Relations" Alex, my goodness I love those sketches!
Can't wait to see him in the S&G. The announcers mentioned it during the game, Chris Gamble 2.0!
Crazy, until our defensive backfield is solidified I say we take as many top 200 db's as we can get our hands on.
Matthew Thomas, I'll never forget that dude made my day with that play
Congrats, Coach Withers! Hopefully we find a solid replacement for him that meshes better with Fickell's defensive philosophy while at least coming close to Wither's production in recruiting. Excited to see if this secondary can take a step forward next year (Give CB a medical redshirt!!!!).
Well you also probably get fairly depressed, I know I do!
Sucking for that long, with their "Michigan Man" mantra, it has to kind of be expected. Anyone with a bunch of complaints about 24-0, well they have their own problems. It's great to be a buckeye!
I definitely agree that OSU has the upper hand in this game and should win by more than one score, but the improvements of the Spartan D and Buckeye O have been very nearly equal statistically. The Spartan D is allowing 28% percent fewer points than they did in 2012 while the Buckeye offense has been scoring about 23% more points per game than they did in the 2012 season. Any way you put it it's a great matchup between two outstanding units, I think the silver bullets step up though and force some turnovers to get OSU out to a big lead.
The 64 and 85 are the number of solo tackles they each had. The numbers over 100 were total tackles they had and Shazier led that category by like 20 too.
Welcome to Buckeye Nation Jamel!
Huh? I can see where you are coming from concerning Urban suspending him, but I see no scenario where this ruins his NFL career. The dude has been playing great football and NFL scouts aren't going to just ignore that.