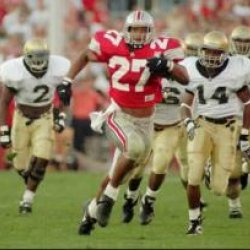 northwest_buckeye
---
from Wauseon, Ohio
Member since 22 July 2013 | Blog
Helmet Stickers: 136 | Leaderboard
Lifelong Buckeye back in Columbus. Spent 4 years in the heart of SEC country. It was awful. But the women were beautiful.

Been lurking on 11W for awhile... Decided it was time to make a commitment.
Favorites
SPORTS MOMENT: January 3rd, 2003
COLLEGE FOOTBALL PLAYER: Eddie George
NBA TEAM: Detroit Pistons
MLB TEAM: Detroit Tigers
Recent Activity
Mike Bianchi... Bringing butt-hurt to a whole new level since November 28, 2011.
Philly sports teams are horrendous. Speaking of things I wasn't alive for... A championship for the Eagles, Flyers, or Sixers. The Phillies have one in my life... So let's do some math: 4 teams, 30 years, one title. That's 1 combined championship in 120 combined seasons. That's a sports hell.

It's ok to be a fan; We're all fans. It's not ok to be blatantly wrong about dominance of a city in athletics. And I hate to be the bearer of bad news... But Pittsburgh is whooping Philly in sports titles. We can talk about sports history of the US pre-1983, but then Cleveland would still whoop Philly. Because that's all. they. talk. about.
Best of luck to ET. Glad to see him get a legit chance at a title.

As for Danny Granger... Like Happy Gilmore's coach said after final cuts...

http://www.youtube.com/watch?v=9hmg_fJ6A4k
Dude, Eagles fans threw iceballs at Santa and Phillies fans throw D cell batteries at opposing players.

Oh, and there was a jail and attending judge at The Vet. Case closed.

(Pun)
Oh wow, Michigan being scummy again. I guess they were due, it's been almost a week since they last acted like dicks.
Pretty bold move, even for a holier-than-thou Michibilly.

This is the same university that covered / is still covering up a football kicker's raping shenanigans, right? Glass houses, man...
Like the article mentions, the East Coast has a bunch of young talent coming in the next few years... I have to believe that LJ is going to keep us relevant there. And with the B1G expanding to Rutgers and Merry-land, I really like OSU's chances on snagging at least a few big-name dudes.

However, I don't want to diminish this year's class. Looks to be a solid haul from all over. Good work, fellas.
I'd say the obvious one is Penn State, and the other being one of the two Indiana schools. Both have mediocre football and respectable basketball programs, which fits the ACC narrative rather well. Not to mention the obvious ND connection.
My point exactly. Why we steer away from the ground game when our QB is basically a functioning cripple is beyond me. I can't really blame Brax too much for the picks... He looked a zombie out there from those hits he took, and someone on that staff should've noticed.
I mean, it was pretty goddamned apparent.
To the fans tweeting at players following a loss... Really? You're pathetic. I can't understand how that benefits anyone, let alone makes the original author feel better about a loss. It makes us look like 'Bammer fans.

To the players taking this criticism seriously... Come on. Do you take everything written on message boards or other websites seriously? If what some 15 year says on twitter rattles you to the core, life is going to get a lot harder.
Ignore Carlos Hyde late in the game, and this is what happens. This is what happens, Larry...
A lot of our staff members should be bracing themselves for a shakeup. That was an unacceptable performance from our coaches and they should face the consequences. Urban has his work cut out, that's for sure.
And for the people sending death threats to Philly via twitter... Grow up. Philly did commit a major fuck-up that turned the tide of the game, and he knows that (at least I would assume he has the cognitive functioning to realize that). Keyboard cowboys piss me off to no end.
While I don't agree with everything DJ said in the article, a good amount of it is true. Like it or not fellow Buckeyes, but he makes some good points.
While the media's perception of Ohio State and the B1G may not be reality, it certainly helps to shape GenPop's impression of tOSU. And that impression gets to recruits eventually, which is what concerns me.
I don't give a rat's fat ass what that empty-skulled dipshit Paul Finebaum thinks... Or any other talking head on the four-letter network, for that matter. But giving those people more ammo to slam tOSU as weak and a non-factor is a problem. Winning tonight solves that problem.
I'm really starting to not look forward to Friday night...
Downvoted because the Browns suck? Cool story, bro. Go beat your dog and yell at your mom some more this morning. That'll ease the pain.
"Recovers fumble caused by William Gay's illegal hit"
"Weeden did what he does, Heyward lucky recipient"
I thought this was an Ohio State forum, not a place to piss and moan about another loss by the Browns to the Steelers? Get off the butthurt, and be happy for OSU guys in the NFL playing well.
Is "space-time continuum" Michibilly slang for "powdered donut in his right hand?"
For the most part, his show is awful and he comes off as a dreadful excuse for a human.

But he nailed that segment. Good on him for using a major television outlet to discuss this "controversy," and especially for highlighting NCAA stupidity. I feel like it's 1996 again and part of me wants to like him.
Somewhere in Arkansas, Bert is taking out his frustrations the only way he knows how. And a Waffle House franchisee is damn glad.
It's easier for Penn State fans to claim that the cards were stacked against them from the outset than to claim that their team is just a dumpster fire.

To each his own, I suppose.
I love reading the comments on the Penn State message boards where their mouth-breathing, basement dwelling fans refer to Ohio State as "O$U" or "Ohio $tate." I get it, they're referring to Tatgate and the fact that a few of our players sold some of their possessions for a bit of cash and some free tattoos. And yes, our former coach covered it up. We know that.
But really, Penn State fans? You feel the need to bring moral superiority into this? That's why I despise their fans. Your University allowed a pedophile to operate for decades and JoePa was fully aware. But you still have this moral high ground bullshit in everything you do. Stop. Seriously, just stop. You look worse than the football team your University puts on the field. Go away.
Eight year olds, dude.
I'm with you on Kirk. He has a job to do... And in most cases when it comes to OSU, he's in a no-win situation regardless of what he says about the Buckeyes on national TV. If he felt that OSU wasn't capable of beating a certain number of teams after the Sugar Bowl, then so be it; That's his job. He isn't on local radio, stumping for the Buckeyes every week and playing sound effects and using nicknames and regional slang. He has a national audience and gets paid to play to a national crowd. Provide a fantastic life for his loved ones or have some keyboard cowboys and local radio "talent" angry at him? Oh hell, let me think about that for a second.
I'm not saying I agree with everything that he's done towards OSU and our fanbase... But I also don't agree with everything that's been done to him by OSU and our fanbase.
P.S. - Also, he clearly moved to Nashville for several *cough* tax *cough*reasons. He used the "Ohio State fans" as an excuse because it isn't politically correct to say "I moved to the nicest city in the nearest income tax free state because I can save $100,000/yr by doing so." Look at the facts... Nashville is 4 hours (or less, depending on how you drive) from SW Ohio, so he's still close to his hometown. Nashville is a young, modern city with great amenities (schools, restaurants, shopping), very much like Columbus. The cost of living in Nashville is very reasonable for a city of it's size. He can live in a beautiful mansion on a lake 30 min from town that is in-season 9 or 10 months out of the year... He can also live in a trendy suburb or a rolling estate. He also had that whole "burning down my house isn't a tax write-off" issue... So moving to a state with no income tax from one with a 6% top rate makes incredible financial sense... Especially when you've got a rotten taste in your mouth from the taxman. Assuming he makes $2 mil/year all-in (broadcasting, endorsements, etc), it's a savings of well over $100,000... In the first year alone. If he really wanted out and away from Ohio State fans, as he and others claimed, he would have moved to Bristol, CT. But he didn't. He could have easily afforded to move almost anywhere. But he picked the closest income tax free state to Ohio... That is not a coincidence. He just couldn't say he was doing it to save major coin because this class-warfare society would have MF'd him up and down for "not paying his fair share."
Just my theory. Poke holes in it if you'd like... I'm sure there are plenty in my logic.

I wish hypocrisy actually caused physical pain. The butthurt kind of pain.
That way all of these assclowns would wince in magnificent pain every time they were about to say something for ratings or fake outrage.
"Johnny Manziel deserves to be compensa--... *wince* *groan* *whimper* ... Uh, I mean Texas A&M deserves the death penalty. Next topic, please."
You're right... How could I have missed that? This has all the marks of the widespread Meyer Malfeasance conspiracy theory. ESPN should be all over this in 3... 2... 1...
Somehow, this is Gordon Gee's fault.
Kenny G and his sweet heroics. Love that dude.