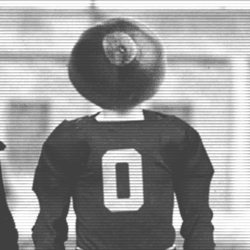 Northbrook
---
Member since 30 August 2010 | Blog
Helmet Stickers: 2,886 | Leaderboard
Recent Activity
That was cute but not really the point.
If it is Amanda Furrer, I know I never would have survived having a girlfriend that was that good of a shot.
Here is my totally inexpert analysis...
QB: Done with Burrow. If Gibson wants on board fine but with the understanding he comes in as an athlete with a look at QB first.
RB: We don't actually need one but would take a great one like Harris.
TE: With Hubbard moving here no need this year. Get two next year.
OL: Get 4 which means 2 more. Lots of options here and new offers may be made.
DT: I think Cornell projects here but we need one more strong recruit here. Looks like Wilkins, Gallimore or ?
DE: Here we might possibly take two more. Sweat is option A. Maybe they project Cornell to DE and would only take one more DE but two DT. Regardless, I'm thinking five DL.
LB: I think we are probably done.
DB: I'm not hearing a lot about DB recruiting but I'm thinking 5 so one more if you count Glover-Williams as a DB.
Receiver: If they slot Glover-Wiliams here probably only one more but I think GW is a DB and we get two receivers. You know the most wanted men but if they pass I'm not sure who is next on the list.
Add all that up and it is probably more than we can take. I think 20 minimum and wouldn't be surprised to see it higher like 22.
I'd like to see this topic deleted before it gets out of control when we are reminded the US Navy shot down an Iranian passenger jet.
Without going through and comparing names I have the same number. Two available if Frazier is not on scholarship, one if he is.
I thought Frazier already had one.
So Moore will probably still have a 'ship, just not one that counts against the football totals. Hasn't this been done with other guys who had career ending medical issues? I show us one below full now. Who will be given the open spot, Greene? Oh, and fuck Biddle.
I didn't see a one armed man.
Chief needs football, STAT!
No, my guess is based solely on height, weight & speed.
I think he is destined for DE.
One of the recruiting gurus here said DeBerry is a guy between positions. I agree with that and would be surprised to see him pursued.
If they want another LB in this class there are plenty of other great options. Jefferson for example.
Will Sunderland will be there? Nice.
Oh is "people of color" out of favor these days? Whatever.
Well there you go, you had a bad experience with WOW and I had a good experience.
I'd love to have Google fiber too.
I've heard complaints about every provider choice. Of all the ones I've had Wide Open West was the best. My only choice now is Time Warner and while everything works nearly all the time they do enjoy sneaking things on my bill that I do not have. They are crooks.
I've been there and it is no big deal. Actually it was weird, all the people of color sat in one section.
He left town and went full Sprinkle. You never go full Sprinkle.
What if you are from Marion? I understood that getting arrested at least once was de rigueur if from Marion.
Linebrink may have been told wrong.
Some cops would charge you for rioting for talking loud and raising a hand above your waist.