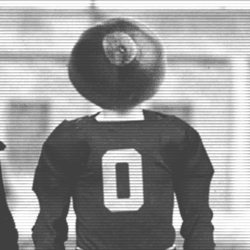 Northbrook
---
Member since 30 August 2010 | Blog
Helmet Stickers: 2,476 | Leaderboard
Recent Activity
Exactly. Why would he continue the character?
Ton of OL visiting this Spring.
That video shows a nice catch but nothing worthy of the strutting and boasting afterwards. Mike talks a good game, now he needs to deliver. We'll see.
"...no disrespect to him at all..."
Are you serious?
Guidelines? Shut 'em down. The only good they do brings attention to themselves. All that good could be done quietly and by another Brutus.
'Bout F'n time we offered a guy named Dwayne.
2. EGW: is is spelled thoroughbred
Looks and navigates great. I'm enjoying it.
Knox
Thompson
Holmes
Webb
Hooker
BOOM!
I like what is brewing between us and MSU.
Who is the nasty bastard who downvoted a muppet?
Good read, Chris. Thanks.
And you can never have too many top flight kickers on scholarship.
To me our O depends on if we see good Brax or bad Brax. Brax is one of those guys who keeps me alternating between WTF and THAT WAS AMAZING. Need amazing Brax tomorrow for a win.
Who knows on D with two DBs playing new positions and a new starter at DE.
Yeah I think so. Can't decline or 1st down.
Time for a soul crushing drive Sparty.
Had ACL surgery and is still faster than anybody in the B1G
Oh good lord, turn the game on.
Comes back to the ball? Come on Herby