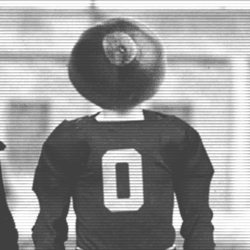 nmaxwell
---
Member since 28 April 2012 | Blog
Helmet Stickers: 573 | Leaderboard
Favorites
SPORTS MOMENT: Being in attendance for the 2011 Michigan-Notre Dame game under the lights.
COLLEGE FOOTBALL PLAYER: Jeremy Gallon, Charles Woodson
COLLEGE BASKETBALL PLAYER: Trey Burke, Caris LeVert
NFL TEAM: Atlanta Falcons
NHL TEAM: Buffalo Sabres
NBA TEAM: Chicago Bulls in the 90's. could care less now
MLB TEAM: Atlanta Braves
SOCCER TEAM: n/a
Recent Activity
i'm a michigan fan, and that was pretty good, albeit depressing at the same time
i don't think it's as much that michigan didn't recruit well in the RR years, because they were okay. schematically, they were probably not ideal. that's still workable. the biggest issue was the attrition suffered during the RR years and into the early Hoke years. gardner's recruiting class (true players graduated last year, redshirt seniors this year) took a huge hit. very, very few even made it to their upperclassmen years on the team. those players you look to for leadership, accountability, etc were nowhere to be found.
how would osu have fared if players like hyde, smith, spencer, heuerman, bryant, roby, grant, mewhort, etc did not develop or stick around? just as an example. osu definitely weathered the change they endured really well, and landed an absolute home run for their JT successor. but i think (if hoke can manage to get through this year) that 2015 and 2016 will show a very, very competitive michigan team. that will probably be towards the end of nussmeier's tenure there, but his system should be well installed, and the zone blocking scheme that nussmeier wants is actually the one that their OL coach funk (who i think probably should have been fired last year too) prefers...so we'll see if he can earn his salary. the defense should be top 25 year in and year out by that point
i think they actually have a great chance to get KLS out of california, considering they've been consistently in his top 2 basically his entire recruitment, without the benefit of a visit. i think UCLA is his top school now because of comfort level, but if/when he visits michigan for an official, he will be blown away. there are certainly prospects that don't come away loving ann arbor, but generally with the type of kids michigan goes for, they definitely impress during visits. if KLS were to get out to michigan for a second, unofficial visit as well, i think they win by a long shot. i also think they land rosenboro over NC state, as he visited for almost 4 days earlier this year and seemed to really, really enjoy his time there.
still think it's dumb backing off on cornell, even if they didn't think they had a good shot. he is elite, and i would have liked them to get one interior linemen in the class. i thought that was going to be hjalte frohold before he committed to bert and the razorbacks, seemingly out of nowhere. and the fact that cornell has ohio state and michigan state so highly ranked means that losing out on him could directly cost michigan in the future.
while i agree that bosa's backflip is definitely more impressive, the 100m dash by peppers isn't exactly a great comparison. granted, there are a lot more 5'11"-6'0" 200ish pound people running 10.5 100m dashes than 260ish?? defensive linemen doing backflips, but that's one of the premier examples of bosa's athleticism, while you have peppers handily destroying the field in a straight line race. great, sure, but something plenty of people in high school do. the things he did against pretty good competition on the football field were ridiculous. flat out embarrassed almost everyone he played against. there's a reason he was as highly ranked as he was. i think the two are close in athleticism, which is saying a lot for joey bosa. he's been a stud for osu and will be until the time comes for him to make a tough decision - to go pro or to stay? he'll definitely have the option. just a stupid all-around survey by the BTN, and another reason for me to curse the summer months until fall camp starts up again
noticed that...probably because their arm-punts and debilitating mistakes look so similar, it's making one or both writers nostalgic...ace because regardless of how denard played, everyone loved him, and johnny, obviously because of how denard played
as a michigan fan, i'm not a fan of the legend patches and changing of numbers. but not sure how you think gardner is looking for cheap publicity if you take off your scarlet tinted glasses. most of these players are given notice that they are going to receiver the number, from what i've read, but the coaches don't ask "who wants #98?" and i doubt devin was pushing for it. he, like denard before him, seems like a well-rounded young man who just happens to play for the team you all hate. you can hate him on the field, but i don't see where he's done anything non-football related to make people think he's a POS attention whore.
as said in the breakdown of the uconn game, gardner is a decent QB which above average athleticism that is making some TERRIBLE decisions. some of that is on the OL, but plenty of that is on him as well. his confidence is shot, and he's playing about as terribly as he could (please let this be rock bottom).
i am happy the defense has survived as well as it has, and hope jack miller, who routinely blocks no one at all, is sitting on the bench against minnesota. i'd rather hoke's perfect record at home not end until The Game, where it is very, very likely to happen, barring some ridiculous OL turnaround similar to wisconsin's from last year, and gardner turning into russell wilson or dan persa with his decision-making. neither seem likely
the only thing that's nice about playing in evanston is that it's barely an away game. when michigan played there 2 years ago, they started off slowly, but pitched a shutout in the second half while scoring 28 points to beat dan persa and NW pretty easily. osu fans definitely travel well, so the away environment will not be nearly as hard to deal with as many other places
speaking as a michigan fan....yeah. dammit that is really cool [sigh]
what makes you think peppers isn't solid in his commitment? usually the kids that waver are not the ones who are spearheading recruiting as commits. 11+ win season or not, i don't think peppers wavers unless something drastic happens (hopefully it won't) like a bigtime coaching change, NCAA violation, or scandal. all signs point to brady hoke running a pretty tight ship, so i doubt we'll see that
agreed. unlike what many could say, hoke's recruiting has nothing to do with his waistline, his making up words, or anything like that. he's a geniune, passionate guy and that resonates with recruits. he is also extremely family oriented, and that goes well with recruits, especially if they have parents with them. and despite the embarrassing slip-up when he called berger alex (anzalone maybe?), he is typically very good at not only remembering names, but things that come up in conversation with the kids. you hear all the time about him following up with kids about how their younger brother's wrestling tournament went, or how their relative is doing, weeks after the original conversation.
meyer's recruiting seems more business-oriented, but equally effective. some kids will like hoke's recruiting style, some will like meyer's. each school will continue to get a high level of talent.
peppers has been to ann arbor once....same week as his osu trip. i think michigan gets him at the end, but i believe he's going to take a visit to stanford, the last school on his top list, over the summer. if that visit wows him too, i'd expect him to take officials to both, and maybe a few of his other top schools. if that summer visit doesn't wow him, i could see him committing shortly after to michigan. still, i worry about stanford. beautiful campus, top notch academics, recent success on the field, and a great coach in shaw
i haven't said a single thing about winning in this entire thread....so not sure what you're talking about. i said he had an athletic opportunity at michigan, which he does. think of the tennessee situation. everyone in the country is scratching their heads at the recruiting class they're putting together, but long-time fans of tennessee might look at that as an opportunity to return tennessee to relevance. maybe some of the top targets on michigan's board feel the same way. michigan used to be a nationally elite team year in and year out. due to the RR disaster, decreased talent, and loads of attrition, michigan was left with memories of it's former self, but not much more. they're on the way back up, due in no small part to hoke. nobody said a thing about michigan winning, or winning vs. osu, because it hasn't happened much in the last 10 years.
michigan does have more (47) between their undeclared/general studies, but not by a lot (osu has 45 between exploratory, which is essentially general studies, undeclared, communications, and sports leisure combined). after that, we get to the 'real' majors, and each team has a small handful of engineers, afro american studies, etc. the original chart hanging up in the woody hayes athletic center conveniently forgot to show the 29 osu athletes either undecided or exploratory. the numbers are very similar.
i would imagine with the time commitments division 1 football has, most schools in the country look like that
with a lot of kids, i definitely think you're spot on. makes them sound more mature if they talk about stressing academics...peppers, however, has a 4.0 gpa i believe, and has gone from making bad decisions in his life to making good ones. i want to believe him when he talks about academics being important. otherwise, i don't think stanford would be as high on his list.
and as far as football majors go, michigan has plenty of general studies, but osu has a similar number of 'exploratory' majors as well. same difference
was osu looking at him as a safety? he could definitely do either at the next level, but seems more valuable to have a corner that size than safety. i think that's where michigan is recruiting him
yes he did. initially that was reported, then it was said to be kind of overblown...something along the lines of he played as michigan in ncaa football video games. later clarified that he was a legitimate fan growing up, but said he didn't want that to factor into his decision. that could definitely have given michigan a leg up on how much more he liked the visit. i know people here probably could care less about schembechler hall and the big house, but to a lifetime fan, probably a pretty great experience to see them firsthand like that
i don't think peppers is scared to compete. he said flat-out [in a bleacher report interview] that he thought he was the best player in the country, and intended to prove it. hoke and meyer seem to have different feels about them (having met neither of them, but reading quite a lot about them). both stress the family dynamic really well, which resonates with recruits, but urban seems to me to be more business-like as a recruiter, and has his record that can speak for itself. hoke is obviously passionate about michigan, and that might be an understatement. in his intro press conference he said they would have walked to michigan if they had to, and i believe the guy (would have definitely showed up to AA a little more trim if he had). some recruits like urban's personality more, some like hoke's. peppers happened to like the combination of athletic opportunity, academics, and coaching staff better this go around. i am confident osu will win it's share of battles
on that note, i can't believe jim delany ever thought those names would fly...
i would be surprised if he wouldn't. hoke's brother jon was/is the DB coach of the bears, so he worked with lovie for awhile. and as vstheworld said, it was for one season.
but they are one of mattison's. i'll reserve judgement of borges until i see how his offense works with 85 kids that the current coaching staff deems to have the talent level (especially in the trenches) and fit for scheme that they've clearly lacked the last few years. that having been said, i agree with many on here that his play calling in the past has been very predictable, and gotten michigan in trouble. if you can't score against osu, for example, you can't win. even a solid defense (which michigan has, and will continue to have) will get scored on. the offense has to give them a chance. FWIW, i don't see osu putting up 40+ points on michigan regularly. the rich rod era is over.
i don't actually worry about the defense specifically, with the exception of a couple games (osu, maybe nebraska). nobody else figures to have the explosive offense to strike quickly on michigan's defense.
the pass rush generated specifically by the front 4 seems to have upgraded some (can't get much worse than it was), i think LB is the same as last year (because i think ross will be better at WILL than morgan was last year, and demens really played like crap for half the year or so at MIKE, and morgan seems to have done well there). cam gordon is obviously not jake ryan, but i think he's played pretty well and his health and conditioning are where they need to be. the secondary should be better, i agree, as long as countess finishes healing well (i'd imagine starting countess, taylor/avery, wilson, gordon with avery/dymonte as the nickel back).
as guys above said, michigan's defense is consistently upgrading their talent. i worry about keeping gardner healthy, because besides solid tackle play, the OL needs to gel fast. they were confused quite a bit by stunts of the DL in spring games, and one nasty sack can have michigan seeing brian cleary coming off the bench (something i hope to never have to see)
haven't been registered on this site for long, but have been reading it for a few years now. always enjoyed your content, alex (as well as everyone elses!). best of luck to you. we're obviously on different sides of the rivalry, but news is so often overlapping, i get great information here no matter what i'm looking for.
i just wish michigan football had a website half as well run as 11w. that's a testament to alex and the rest of the 11w staff. thanks for tolerating us michigan fans that want to come onto an active forum and discuss the game and rivalry we're all passionate about!
props to craft to end the game on his terms. had to be frustrated after those missed front ends and turnovers. very uncharacteristic of him. biggest play (besides the final shot) was his drawing of the offensive foul where his hell hovered over the restricted zone but never touched down. great defense
and thanks to the recent recruiting classes, he'll have plenty of time to get that work in before he's needed, which is great. having too much talent and depth on the D line is a great problem to have