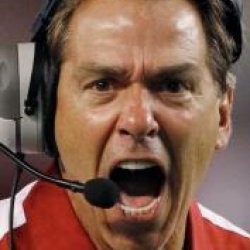 Nick_Satan
Newark,Ohio
Member since 13 February 2013 | Blog
Helmet Stickers: 220 | Leaderboard
I'm Adam I bleed Scarlet and Grey. I have been fortunate enough to attend many great buckeye games throughout my life. I have a lot of fond memories of the shoe it really is true that that place is my sanctuary. There is no better feeling to me then being in the stands and seeing the band come out of the tunnel and knowing the game is getting ready to start and hearing the beat of the drums and the roar of the crowd.
Favorites
SPORTS MOMENT: Crowd surfing after the 02 OSU/Scum game.
COLLEGE FOOTBALL PLAYER: Rob Kelly
COLLEGE BASKETBALL PLAYER: Lawrence Funderburke
NFL TEAM: 49ers
NHL TEAM: Blue Jackets
NBA TEAM: Do i have to.
MLB TEAM: Indians
SOCCER TEAM: Any German Bundesliga team.
Recent Activity
Is this a serious post or trolling? Because after yesterday who knows.
There has been a ton of QB talent to come out of PA over the years example: Montana, Marino,Namath,Unitas,Kelly, Many many more some of those are all time greats. and back in that era a lot of school kind of ran about the same thing pretty much. Not sure if they all had the same exposure though as the kids do now coming out of high school. So i'm Sure OSU maybe could have tried to recruit one of them and missed..
I'm not sure how to embed a tweet but Pat Forde from yahoo! said something about it. I would post if i knew how lol
Arkansas is really reaching for this one lol
I actually think it would be pretty cool if urban and the bucks were to some how show up in my home town. and start to practice on the high school field. I know Tress took a trip to Kenyon College. Nothing like changing it up a little bit.
One of the only places i know of that you can get them is through the osu athletics auction website. But i haven't seen anything up for auction in quite some timeon there. http://ohiostatebuckeyes.cstvauctions.com/gallery.cfm. they used to go for not too high . maybe you may see that site pick up again as the football season starts up who knows.
I did the exact same thing. I think it shows my age lol. Thats the first one who came to mind. caught me off guard for sec lol.
I have one Terrelle Pryor story I can share. My wife and my son were up on campus just walking around like we do once in the spring time and we parked at the parking garage near where the student union is now. my son who was i think about 6 at the time had to go to the bathroom so i took him to the next building over not sure what building it was. But he went and as we were walking out in was walking terrelle pryor.. Pryor came out of his way to come say hi to my son with out being asked my son asked him if he could sign his hat but he didn't have a marker so Terrelle pulled out a piece of his own note books and signed his name for my son on it. and gave him a high five. My son still talks about it he thought that was the coolest thing ever.
He should just make them listen to Hail to the Victors over and over that would get me pissed off after a while. It would also give me Nightmares of tim biakabutuka.
Mrs. Stoops you are Awesome. lol
You really only have 2 a few options 95.5 the game in the morning has a local show and 97.1 the fan is what i would go with. Some fans Don't like some of the guys style but hey its buckeye radio. But i would try the 97.1 the fan website and see what you find.
Just a crazy opinion or thought but if Tom Herman were to take a head coaching Gig Some place after this season maybe Applewhite could be a guy urban would look at? I really don't know i'm just talking out of my as really. lol
Thanks for the link i'll check it out.
I'm so ready for football season
I loved all your Stuff
on here Kyle. Thank you.
I was reading the post from you guys and thinking if Gibson comes to OSU. Do you think if he doesn't beat out the other QB's on the roster ,he would be used how Urban used Trey Burton as a freshman? In Special packages at QB and also moved him around a little as a decoy. I was wondering because of Gibsons athletic ability. Urban I'm sure would want to try and find a way to get him on the field.
I don't get the BTN with the DISH package I have. I see on ESPN U that they have college football media days today. will that be the same thing? or will it be a replay of other leagues? I wasn't sure if only the BTN had the TV rights to show it.
Birm, with recent commits from Liam McCullough and having having Sean Nuernberger coming in and Cameron Johnston established. Do you see any other "specialist" for this class or maybe the next. I know this group sometimes gets overlooked. But we maybe somewhat thin at punter if something freak were to happen. My concerns were because Cameron Johnston being rock solid. I wasn't sure if he may go early in the draft but thats a few years away. Or if something were to happen to one of them we may be a little thin. Thanks
Here is what I would do but only if you had the extra cash to do so. I would try to secure 3 tickets to a decent section in the stadium. some time between now and then. So you know your at least in the gate. If for some crazy reason we happen to lose before the date of the game. Unload them quick. so you can keep the value of them because you will notice how value will start to drop. But assuming were still undefeated.Keep your eye out on craigslist in the columbus area and maybe cleveland and cincy area. and see if any one are getting rid of the tickets you need getting closer to the time you need for that game you want sometimes.You will really be surprised the deals you can find. And then if you get to the stadium with your other tickets. And you got them for a good price you can unload them for a small profit or break even and have some spending money. Just my opinion. I have done this a few times I usually don't really care where i am as long as i'm not in B deck behind something though.
Jason, 1.I also remember the old site had like an 11w dictionary. Like when terrelle pryor was referred to LIC on here you could just look up what that meant and it would say LIC-Lebron in cleats/Terrelle Pryor. Because sometimes I have no idea what the hell people are talking about when they use different names for things on here.
2.Also I don't know many of the other big ten blogs and besides 11w and Michigans could we get links to some on the site for the upcoming season to check them out to read up on them.
3. I have also saw that some peoples profiles you can private message some users maybe that could be explained a little more.
4. maybe a section why did my forum topic disappear for new users. when they possibly could have doubled posted a topic on accident.
5. I know its kind of an unspoken rule but the politics stuff on here. maybe just a warning about it or something. that this is sports not politics.
6 advertisements you see on here are based on your viewing habits and not the choice of 11w. thats why some see michigan stuff sometimes or other random things.
and just a general when to upvote when not to. sometimes the privilege gets abused based on someone doesn't like someones opinion.
Man we are so lucky to have Coach Warinner. I wish he would get more national respect. But thats fine with me keep him off everyones elses radar. But after the brutal years of the walrus coaching the offensive line it was one of the best changes meyer made when he arrived.
lol if kiffin is still there in 2016. I think he is a short stay at alabama. 1. He probably jumps at the first half decent job. or 2. Saban gets rid of his ass by then because the offense isn't getting and production. Just my opinion.