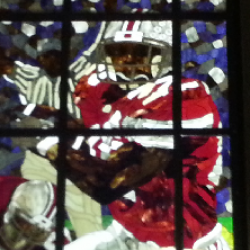 Nick
---
Columbus, Ohio (via Columbus, Ohio)
Member since 30 August 2010 | Blog
Helmet Stickers: 2,671 | Leaderboard
Favorites
COLLEGE FOOTBALL PLAYER: Ted Ginn
COLLEGE BASKETBALL PLAYER: Ron Lewis
NBA TEAM: James Harden (Yes he is a team)
MLB TEAM: The Reds
Recent Activity
That's probably what got her the job.
That is is right, the broadcaster always paid for it before.
Wiggins looks like a star in the making, I wouldn't trade him. The T-wolves will get desperate in Feb. and take Waiters/Bennett and a 1st round pick.
Maybe because they cry the most?
Guess I'll watch some more NBA games now
Any convention bringing 1000s of people is good for the city. Hope the DNC has theirs in Columbus.
At least it's not Detroit!
I wouldn't say sweltering heat is a plus. If your going to have that heat at least live near the beach. Not in hickville.
They search their car after someone was in it and after their shift, like they did when they took Sprinkle out. If he was in there alone he is going to be stuck with it.
You can already get OSU wireless outside the stadium. Plus the wifi doesn't have to be for the whole stadium, just for students that have a dot username.
Just install some more routers in Ohio Stadium since most of campus is covered already. It's faster than the crappy cable in town anyways.
Sounds a lot like Bradley Roby. 3 star WR with smaller offers then gets the big offer to play CB at OSU. Congrats.
Only if for some reason the B1G was going under and we needed a place to land. Although I'm sure the SEC/ACC/AAC/B12 etc would fight over us.
There are thousands of Ohio high school players that would kill to be a Buckeye but haven't even gotten a glance from the coaching staff. We can't take all the kids so we have to be super selective.
WOW RDS is huge now, he has come a long way since his freshman year.
Yeah I'm thinking 2016 as well, lots of talent in Ohio and it's already off to a good start. Plus with the success I think we'll have this season it'll make recruiting easy.
Alabama is a pretty decent place. Just a lot of ticks...
Fortunately for Harding, Woodrow Wilson was once president.
Weird seeing Roby in 25 in that gif
The coach is just trying to talk about the uncommitted players to find a place for him. If Williams is committed to a school and likes it there is no reason to talk about him in a recruiting pitch.
Yeah it was probably just hand timed. BMiller probably runs a 4.5
Everyone is put into "exploration" until they declare a major which you have so much time to do. It isn't an actual major :)
If they get get over the circle jerk of getting a "michigan man" and not run good coaches out of town, then they can move forward. It is fun to watch their failure though.
Columbus has school option so they just have to live in the district and can go to any school they want. They are closing Brookhaven though.
I think with the issues football is having with injuries etc, basketball is in prime position to take over the #1 sport in the USA within the next 50 years. I think something that would help this along is to have universal rules for all levels of basketball.
I would like:
24 second shot clock
8 seconds to cross half court
Once advanced to front court cannot throw inbounds to back half of the court
Jump ball for tie ups

NBA 3 point line (23 ft 9 in)

4 twelve minute quarters

6 foul limit

4 timeouts for whole game (1 expires at end of the 1st half)

FIBA restricted area

Make court 1 foot wider

Can touch the ball over the cylinder
Anything else???