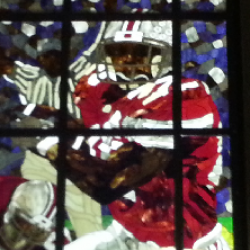 Nick
---
Columbus, Ohio (via Columbus, Ohio)
Member since 30 August 2010 | Blog
Helmet Stickers: 2,544 | Leaderboard
Favorites
COLLEGE FOOTBALL PLAYER: Ted Ginn
COLLEGE BASKETBALL PLAYER: Ron Lewis
NBA TEAM: James Harden (Yes he is a team)
MLB TEAM: The Reds
Recent Activity
I like Dials, JJ Sullinger, Ron Lewis, GO, Conley, Sully and AC.
Idk, imo, the KKK is a group that probably (don't really know what they stand for nowadays) wants another group of people to die. So wanting them to die is stooping to their level? Anyways, I think if people just ignore them long enough they will eventually go away.
Wishing a whole group to die in a fire is worse than racism.
Jones can run too. Read the 17 carries for 125 yards? I don't think he'll ever have the 30 and 40 yard runs, but he is the body type that can run over a few players and get you 10-15 yards.
Only Collier is eligible to redshirt which is pretty much a given already.
While I wouldn't do either, dropping a pass that would have won a primetime top 5 game is different than underage drinking and public intoxication.
Think they are going with the established program idea, instead of the underdog that upset goliath.
While not the best defender, I think he has really stepped up this year and when he is even on centers in the paint he steps up and plays great post defense. He is weak on help defense then blocking out (needs more strength) but his quickness has led to a lot of strips of bigs 1on1
All this craziness about paying players is getting pretty out of hand. They are already paid beyond the scholarship with stipends and per diems. Should some of the poor players get a little more to cover the cost of attendance? sure. But I think that is it at most. Another way for the players to save money is to make them all live on campus during their whole college career.
Actually we use tempo at select times. For example in the first two drives against Buffalo last year we snapped it before 30 seconds 3 times.
I'm curious to see who wins the starting spots in the secondary and LBs this coming year. I'm assuming no one has a spot saved so the competition should improve all the players.
Well it's not a great shooting team, so help yourself out and don't shoot 20 threes.
Sounds like he wants to be a leader of this class, kind of like Damon Webb for 2014.
I think Wisconsin while not a top 10 job is still a good job, especially right now with all the recent success. If I was an Ohio kid coming up and didn't get offered by Ohio State, I'd would probably go to Wisconsin or Michigan State.
There are gay men that were once married and have/had kids.
It was hard to give Wilson more carries when you have Miller, Hyde, and Brown being so effective.
It was hard to give Wilson more carries when you have Miller, Hyde, and Brown being so effective.
Tress's most important play is the punt, Meyer's is blocking the punt.
Only guarantee is the kicker.
This is terrible, destroying the sanctity of the snow day. Come on man!
I don't know the B1G refs have retained their worst of the country title again this year.
There isn't a reason to have an application for a webpage when you can just use css to style it differently and look exactly the same way an app would. Also apps are really expensive to make and upkeep.
You can change the font face and size on any website by yourself :)