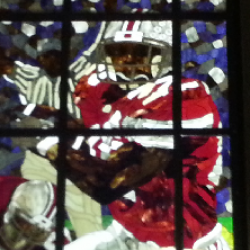 Nick
---
from Columbus, Ohio
Member since 30 August 2010 | Blog
Favorites
COLLEGE FOOTBALL PLAYER: Ted Ginn
COLLEGE BASKETBALL PLAYER: Ron Lewis
Recent Activity
Verizon has a long history of promises and signing contracts and not fulfilling them
How is Indy helping the Cavs? They got swept with George on their team. Getting two good players in return is better than nothing. I understand fans wanting to be petty, but as a GM you can't be. The only other deal I could see them getting would be draft picks if they want to blow everything up and start over.
Wouldn't offer more than Shumpert/JR or Shumpert/Korver
http://www.espn.com/nba/tradeMachine?tradeId=zwbeuom
Or go all out
http://www.espn.com/nba/tradeMachine?tradeId=y9ldg5jc
Starters would be TT, Melo, Lebron, George, Irving
Or my preferred just on player likes,
http://www.espn.com/nba/tradeMachine?tradeId=yamrrjz4
Love, Melo, Lebron, George, Irving
It is pure incompetence to fire your all time winning coach when you aren't even sure you have an equal or better replacement.
If this hire doesn't work out Smith should be gone as well
Probably same reason as Schiano if he takes a multi-year deal his payouts from previous employers would stop.
Pay Larry & Kerry a little more imo
True, I don't see him as an NBA player though. Could have a nice career overseas though, which is a nice life as well.
I would say because it is hard for them to leave the game so coaching allows them to stay in it when their body can't.
How to solve many problems in the NBA....
Get rid of teams. There are too many teams in the NBA.
Super teams not a problem, there is enough talent for every team to be good
Every team is good, you can't take nights off and make the playoffs or get a good playoff seed
Less teams = less the pie is split = able to play less games and make the same money since games are better quality (more viewed)
Allow teams to keep 15 players on the roster the whole year

Only question is how many teams do you get rid of?
Sucks for Lee, glad he didn't do anything because he would have taken the blame. Probably some drunk guy wanting to get hit so he could sue and make some money.
The more important story is who was his guide and where were they when this happened?
Welcome to the off season, it came a week earlier than a lot of people wanted or expected!
I have no problem with it if they got 4 years and they graduated or the medical staff actually believes it wouldnt be good for them to play anymore. There is a difference between that and signing players you know you wont have room for and cutting them before fall camp is over to get to 85, essentially having tryouts.
Couldn't have been worse than our last game
He might be the best player in the country, but Jackson had a better year than him and was more flashy. That is what wins awards.
According to the article, it says you can't promote the participation **beforehand** so that implies afterward is okay.
That's why taking that power away from the Education Dept and putting it back in the Justice Dept is a good idea no matter what your political beliefs are.
Everyone has a right to due process.
Then why not bring in Major Applewhite to be our QB/OC?
Just watch the MSU game last year
I think 6 is the best number
conference champs + one wildcard. Top 4 get a bye. First game b/t 5-6 is on campus of #5.
You'd think we'd use this position called the RB more in bad weather more
Ehh maybe. It's just the players... no offense to the guys we've had recently, but the guys in the past were more talented. I don't think we have any future NBA players on the roster.