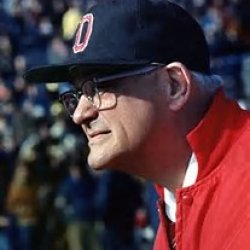 NEWCOMERSTOWN
---
from Newcomerstown, Ohio
Member since 04 September 2014 | Blog
Helmet Stickers: 162 | Leaderboard
Voting Record: 3 / 0
Favorites
SPORTS MOMENT: In the Shoe for the 1972 win over TTUN. Gradishar and Middleton were on fire.
Recent Activity
What I like the most is to see a Duke grad choosing tOSU for his graduate studies.
We have an all around great university!
Woody Hayes, from my home town.
I'm tired of the drama. Pining after Guarantano must send a terrible message to Wallace. Lock down Wallace and be done with it.
This is my favorite list, too. We must be Buckeye contemporaries.
I agree. I'm tired of the high school theatrics with Guarantano. Let's be thrilled we might have a JT clone on the way.
It worries me when I read that someone thinks we will waltz into Blacksburg and blow away VT in game one. I do expect to win handily, but VT is very well coached. They and their fans will be sky high. And we will be battling the over-confidence that comes with being the defending NCs. Makes me lose sleep already. And it's only April 6.
For so long as we have UFM at the helm, we can afford to let other teams flood the market with early offers and not follow down that path. He and his coaches have an uncanny knack for flipping the kids we want the most. Without UFM, I'd be much more concerned. Hopefully before we have to worry about that scenario, the rules will have changed to get this under control.
My family phone number growing up was 498-6686.
Reminds me of the discussion surrounding Curtis Grant this time last year. Would the former top recruit turn it around in time not to be overtaken by the new kid on campus? Grant turned it around and produced.
I'm hopeful for Schutt to step up. A year ago, we were having this conversation about the MLB, and the question was whether a former 5-start recruit who had disappointed to date could step up and have a strong senior year. Few at that time expressed the opinion that Curtis Grant would be able to do that. But he came on strong and contributed monumentally. Come on Mr. Schutt! It's your turn.
The intensity level. I love that.
I'd have to agree with you. Okay, I've calmed down now.
Now charges have been dropped against Taylor.
Has even Alabama at its highest point ever been loaded like this on the offensive side of the ball heading into a season? Yes they've had good system QBs with two great running backs and a great WR, but have they ever been over-stacked like this at so many skill positions at once? I doubt it.
Now Mark May. That's a whole different matter. Despise the guy. He's just about the only reason I want to see Lou Holtz continue on Game Day. Someone has to be there to balance the hater.
This means a lot to me. As I've mentioned elsewhere, I was blessed to grow up in Woody's hometown. To all of us there, he was a hero. Anyone who grew up in Newcomerstown learned to root for the Buckeyes before we were old enough to know why. As a student at tOSU (where else?), I had the good fortune to speak with Woody a few times. He was always gracious to me and took time to chat about the old home town and to ask about people he remembered. My most memorable and last conversation with him was a few weeks after the Gator Bowl incident. I was sitting in the old Student Union, in the area just off the McDonalds restaurant near 12th Street. He came walking through, alone, dressed in a trench coat and walking quickly. I assumed he was heading toward an unpleasant meeting of some kind. Still, I risked calling out to him. He turned toward me, and I was aware that he probably expected to be heckled by some student. I said, "Coach, I'm from Newcomerstown, and I want you to know we still love you there." That must have touched his heart, because he stopped in his tracks to smile and spend time with me catching up on things and inquiring about some of his favorite hometown friends. And then, he was off to whatever meeting he was facing. It couldn't have been pleasant for him. Seeing this video makes me remember it all, and brings tears to my eyes.
I love Izzo. If he can coach this lineup to a title, it'll go down in my book as the greatest BB coaching feat since West Texas vs. Kentucky.
I love listening to Cowherd. Anyone who can cause an Alabama (female) fan to melt down famously on the Paul Feinbaum show by questioning the omnipotence of Saban and The Tide will always have a warm spot in my heart. And so long as he acknowledges that Ohio State is great, it doesn't bother me that he needles the rest of the conference. (I do believe he's made a mistake in overlooking Sparty.) Maybe it will do some good.
Given how long it takes the NCAA to rule on anything, I'm guessing Braxton is sitting at the start of the season, because we can't risk playing him while the NCAA process grinds on.
Speaking of winning with people, I have a copy of "You Win with People," signed by Woody Hayes. My brother was a high school star injured badly in his senior homecoming game. He was rushed to University Hospital, where he stayed for many weeks. Coach Hayes came by to visit with him and my family twice. On one visit, he brought the signed book. Having grown up in Woody's home town, I had many chances to meet and talk with him. The little Gator Bowl thing notwithstanding, I have always loved the man like a super hero.
I know it's never popular on this site to say it, but we should hope for TTUN to be successful. The Game is only The Game because for long stretches, both teams have been relevant in the NT picture. My dream scenario every year is for our teams to come into The Game undefeated and for us win. Ending our regular season in a close game against a mediocre team leaves me feeling unsatisfied. I'm hoping Harbaugh is successful, except that he can never find a way to beat the Bucks.
It's always interesting to see how these "bubble list" players perform in a make or break season. Usually, they disappear. But last year, I remember seeing Curtis Grant on this list, and golly how he stepped up. Provided real leadership. Unselfishly embraced Raekwon and showed him the way. Let's hope even one on this year's list does as well. Thank you Curtis.