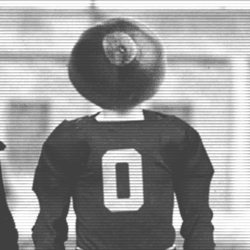 New alum
---
Sunbury, Ohio (via Mt. Pleasant, Michigan)
Member since 08 May 2013 | Blog
Helmet Stickers: 154 | Leaderboard
Just your run-of-the-mill college football fanactic who grew up in Michigan, is raising a family in Columbus, and became an OSU grad in May '13.
Favorites
SPORTS MOMENT: Taking two of my sons to their first games at Ohio Stadium.
COLLEGE FOOTBALL PLAYER: Curtis Adams, John Kolesar
COLLEGE BASKETBALL PLAYER: Ervin "Lightning" Leavy, Trey Burke
NFL TEAM: Detroit Lions
MLB TEAM: Detroit Tigers
Recent Activity
...and 1986.
Yes, 1998.
Points well taken. With regard to '90, I was thinking of UM being ranked No. 1 at time Sparty came to the Big House, and won late a controversial no-call when Desmond Howard was tripped in end zone late resulting in incompletion. Also, Bucks needed late heroics from Bobby Olive to get past Iowa. That, coupled with OSU's final record probably caused me to underrate them. '97 was a complete toss-up, both teams were fantastic.
Another parallel I see in periods of malaise for two schools: (1) Woody Hayes dies in spring of '87, OSU has a bad stretch of games that fall, and Bruce is fired before the end of the season. Bo Schembechler dies on the eve of The Game in '06, Mich opens '07 with embarrassing home losses to App State and Oregon, and Carr retires (perhaps in lieu of firing) at end of '07. (2) After being fired, Bruce leads underdog Buckeye team into Ann Arbor and beats Mich in his final game. Players carry him off the field. After announcing retirement, Carr leads Mich into Capitol One Bowl to play UFM's Gators, and comes out with an upset win in his final game. Players carry him off field. (3) The era of an outsider, John Cooper, begins in '88 with a losing record, including a 45-7 loss to a good Indiana team. The era of an outsider, Rich Rodriguez, begins in '08 with a losing record, including a loss against Toledo.
Of course, there the narrative changes. Cooper remained in Cols for 13years and did return the program to national prominence, even if that was slipping away again in '99 and '00. Rodriguez was gone from Ann Arbor after three years, with a losing record, no less.
Still, I see parallels. Bo and Woody were associated as heavily with their programs as any college football coaches I can think of. Still, their programs were running on fumes when their disciples were removed and replaced by outsiders with new ideas, and both programs struggled for awhile thereafter.
I do, however, agree with your assessment re no guarantee Mich makes it back to national prominence.
I disagree that OSU always had the better team after '89. I think UM was clearly better in '90 and '91, '99, and '00. It was a toss-up in '92 (tie) and '97. Only games Cooper clearly should have won and didn't were '93 (28-0), '95, and '96.
That is an excellent point. Though Cooper always struggled against Mich, he definitely returned the program to national prominence after the dip in the late '80s, early '90s. After down periods, programs like ND, Neb, etc, haven't made it back. Still waiting for someone to get Mich back there.
From what I read, It seems like Damon Webb is serious about bringing more Cass Tech players into the OSU fold. It will be interesting to see where this goes. I have lived in Cols since '02, and I can only remember five players from Mich who played their full-careers at OSU; Krenzel, Vernon Gholston, Aaron Gant, Taurian Washington, and Reid Fragel. Mich and MSU get about that many Ohio kids per recruiting class. With Mich breaking bad, it will be interesting to see if OSU does lure more players south.
Michigan has rosters for two Big Ten schools to fill, and Ohio is a hotbed of talent with only one major college football program (I do realize UC has had some great teams of late). The math works. :-)
Very true. I thought it ironic that three players from U Mich and OSU won the Heisman in the 90s, and the only one that wasn't from Ohio was the one that played for OSU. Of course that is a small sample, but obviously both Mich and MSU have benefitted greatly from the high school football talent from Ohio. Now that I have lived in Ohio for almost 12 years, and graduated from OSU, I have learned something of the mindset of some Ohioans to all things Michigan. With that in mind, I have wondered, what is the Mich-MSU rivalry like for all those Ohio kids playing in it? :-)
Dammit, where are the italics!!
As a Mitten-state native, I always thought the Michigan-MSU game was played so kids from Ohio that had chosen to play for Mich could fight with other kids from Ohio that had chosen to play for Sparty.
Very true re expectations after '11. I must admit I was one of those who got caught up in the success of that year. '93, '94, '96, most of the second half of Carr's tenure featured teams that were once considered mediocre. The program has been in a death-spiral since '08, and was losing altitude long before that. I hoped '11 meant all was "back to normal," but that was a silly thought.
Taking the schedule game-by-game, 7-5 seems most likely. Overachieving would be 10 wins or more, especially since it would mean winning one of the rivalry games on the road, and that seems unlikely. Best chance for that would be beating ND, since that is the one game that has been consistently winnable (and usually won) during this awful stretch. I don't even want to contemplate underachieving; '08 and '09 taught me not things can always get worse.
It is a testament to the history of The Game that it is the hottest ticket in college football this year. I love Michigan football, but i have long since made peace with the fact that UM hasn't truly been OSU's peer since '07. I hope this trend (finally) changes course, but for now it is pretty amazing that it still generates so much interest.
I like both additions. I think joining the B1G improves Rutgers in terms of both football and basketball. I already think of Maryland as a terrific basketball school, though I realize they have not been as good the past seven, eight years as they were in the late '90s, early '00s. I have been a traditionalist as far as college sports have gone in the past, but times are changing, no benefit in fighting it. I may not have thought of NYC or DC as places to take in a B1G game, but it actually sounds pretty cool.
I would be surprised if Morris overtakes Gardner. Then again, I didn't believe it when my brother told me Robinson had "narrowed the gap" with Forcier between '09 and '10, either.
Oops, my iPhone is eternally frustrating. I was intending to reply to. Buckeyepastor
When I think of college football in the 90s, I think of Florida State and Nebraska. Nebraska's dismantling of Florida in the de facto '95 NC game was about the most dominating performance I can remember.
I have wondered for awhile if UM might take a path such as this during realignment. Kind of like the University of Chicago in the '40s, albeit less extreme.
I've always thought the same thing. If there is a moment that crystallizes the new direction of the rivalry it was Ted Ginn taking a punt up the Michigan sideline...a la Howard and Woodson. At the time I thought, "how ironic." Had no idea how the next decade would unfold.
Amazing how fast the narrative related to PSU has changed. A couple of years ago they seemed buried for years to come. Now they are becoming the darlings of the message boards.
Though I was not yet born, looking strictly at records I think UM had a somewhat similar time period in the 50s, early 60s. That was certainly the last time MSU had the upper - hand for the state. UM came back from that, but no guarantee now. Somebody mentioned Nebraska; Notre Dame comparisons seem to fit, too.
Last week this team looked like an early - round exit from the NIT. Now you they have you wondering if this was just another mid - year slump like the last couple years. This team lacks star-power, but they are again demonstrating they can get it done away. Terrific effort and win.
Could be. If more wins follow, probably qualifies. If not, it was a brief respite. Either way, a very good win. Still need to figure out where points are going to come from.