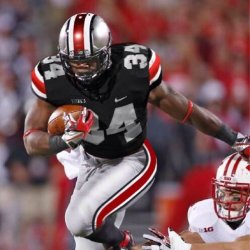 NatiBuck
Columbus (via Cincinnati)
Member since 05 June 2014 | Blog
Helmet Stickers: 170 | Leaderboard
Favorites
SPORTS MOMENT: Storming the field at the end of the 2012 season
COLLEGE FOOTBALL PLAYER: Adolphus Washignton
NFL TEAM: Bengals
MLB TEAM: Reds
SOCCER TEAM: Manchester United
Recent Activity
Yes, shame on you for not being well versed in the latest prepubescent recruiting news
@DSWelt In addition to Ohio State football related tweets you will get all the witty brilliant insight that comes with a third year Ohio State student, and for free no less!!
I understand the difference between red and scarlet as colors, but are you sure the end zones are technically red and not scarlet? Also what's the point?
How the hell does Purdue Pete have 113000 votes. That could legitmately be the worst mascot in history. This poll is bad and the Chicago Tribune should feel bad.
If this assclown is the head coach at Michigan how am I not the dean at Ohio State's law school?
That stadium is huge! And I wish Americans would catch up to the rest of the world when it comes to supporting your team at athletic events. The songs and the chants nonstop are too cool. That being said I think OSU football games are probably as close as you can get to that atmosphere in America unless you are at an MLS game
Would you rather beat UCF 72-0 or Notre Dame 36-7?
If we played Notre Dame I would rather do a 1 and 1 instead of play them at a neutral site... but I doubt this game will happen anytime soon.
Thats actually looks a lot cooler than you would think a grey field would look! Can you do the turf to look like my face... Ya know cause GoBucks and stuff
Waggy no :(
my jealousy will end in about 8 hours. The point i was making was it would be cool to see Ohio State utilize the amazing venue that is the Shoe for other things. Does anyone know why they don't host other events? I checked on wikipedia and the last non football event was a concert in 2003. I get that no one wants to do a concert when you arent going to be able to sell out a fraction of a stadium that big, but if you got 2 or 3 huge names to do a show together once every few years I think you'd be able to sell out most of the stadium.
By Area 51 he really meant Bill Belichick
Does anybody know who 185 in red was? He was wearing long blue sleeves and was a receiver??
Cardale. God Damn. Jones. Its tough to call I think we're in an era where because QBs do so much in college football, with dual threat talent and all, it would be extremely difficult for a player who is not a QB to win the award. Unless there is a paradigm shift in the way college programs run their offenses I think the next Buckeye to win the award will be a QB somewhere down the road... Maybe Danny Clark? But who knows, he is only 16 years old.
If this is the case than this is an amazing seat! You can put your feet up on the railings, no one is in front of you to block your view, you can lean foreward and rest your arms over it! If I wasn't in the student section I would love that seat
I don't really know if you count this as a change to the stadium but I think it would be pretty cool if they played Closing Time by Semisonic over the loud speakers in games the Buckeyes were winning during 4th quarter TV time outs or right at the end of the game. The whole stadium singing that would be pretty awesome if you ask me.
1. Football 2. Boobies 3. Wendy's
Huh... I don't know why I thought that. Thanks for making me a lot more excited for Joey Bosa
It's 2 seasons in college I believe. Johnny Manzel and Dave Clowney both just got drafted after their second seasons
Why would that not be possible?
Ohio State will have 6 sacks against Michigan
Joey Bosa will go late 1st early 2nd round as a sophomore and I will have mixed emotions of happiness and sadness
That is a sexy list you got there
I liked them too but I wish they would have worn them with the grey rivalry pants