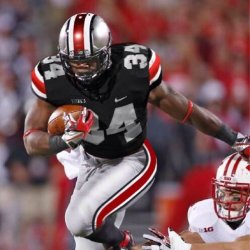 NatiBuck
Columbus (via Cincinnati)
Member since 05 June 2014 | Blog
Helmet Stickers: 117 | Leaderboard
Favorites
SPORTS MOMENT: Storming the field at the end of the 2012 season
COLLEGE FOOTBALL PLAYER: Adolphus Washignton
NFL TEAM: Bengals
MLB TEAM: Reds
SOCCER TEAM: Manchester United
Recent Activity
1. Football 2. Boobies 3. Wendy's
Huh... I don't know why I thought that. Thanks for making me a lot more excited for Joey Bosa
It's 2 seasons in college I believe. Johnny Manzel and Dave Clowney both just got drafted after their second seasons
Why would that not be possible?
Ohio State will have 6 sacks against Michigan
Joey Bosa will go late 1st early 2nd round as a sophomore and I will have mixed emotions of happiness and sadness
That is a sexy list you got there
I liked them too but I wish they would have worn them with the grey rivalry pants
If Ohio State wore grey uniforms I would be beyond excited
Cool just let me know dude

welt.9@osu.edu to get a hold of me
Because teams get better at football by recruiting well
One of my buddies is trying to get Block O South but got Block O North, I don't know if you would be willing to do a straight trade or if i could just buy your tickets off of you
I agree with this 100% as someone who is also a student I don't think there is very much competition between watching the game at The Shoe and watching the game at home on TV. There have been so many articles on here recently about how we have an attendance problem or that an attendance problem is imminent and frankly I just disagree we sold more student tickets this year than we've ever sold I haven't seen data on non student tickets but I'm sure we sold out every game. The problem with attendance that other schools is having is a culture problem that exists for students, one that ohio State is not having and one that I don't see them having. the hype machine that is attached to OSU football is out of control and not in a bad way. if you walk from Summit Street to high street on game day you're going to walk past at least 30 pregame house parties, when you go to classes on Friday students and professors are all talking about the game the next day it is nearly impossible to not be excited for football as a student. if you tell people you aren't going to a game or you don't care about football people look at you like you just smacked them with your third arm. people at Ohio State love their football and I see it staying that way for the foreseeable future. At the end of the day the culture at Ohio State is football
Hey Birm I dont know if you're still taking questions but I have a real quick yes or no. Is Tim Settle's renewed interest in Ohio State real or does he just want to say he's being recruited?
I'm not gonna go into detail because I don't want to step on any toes since a lot of people on here are from Cleveland. Suffice it to say Cleveland fans rub me the wrong way
I really want to root for the Cavs with Lebron but I know the Cleveland fans are going to make me hate that team too much
The UK guys are the worst, I think they are under the impression that crystal balls are to show who their favorite teams are
He may not be an intelligent person
Someone should let Josh Sweat know that now that Sprinkle is gone we MIGHT be able to squeeze him into our depth chart somewhere.
I hope they don't do this. I think Diesel was born to play tackle
These team names are ridiculous, it's like Phil Night has a wall of "super awesome words" that he throws darts at to come up with these names.
Read it on 247. Gibson said he had been talking to Pantoni about visiting. It would definitely be a shame to let that kind of talent go. I would rather the Bucks give him a shot and cut him if it doesn't work out than let him go somewhere else. But Urban probably doesn't want a reputation with recruits as somebody who cuts people from the team easily... Urban has a tough job
I think Ohio State has a realistic chance at anyone they want
So now it sounds like Gibson is trying to get up here or the staff are trying to get him up here. If he is as bad as everyone says he that makes me nervous, but he is such a good player. I say keep recruiting him only if we can get him at wide out and he doesn't punch anymore teachers. I know that's a tall order though...