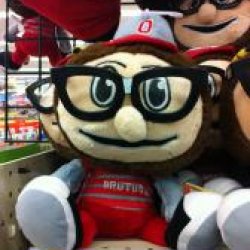 N8thegr8
Columbus
Member since 19 August 2013 | Blog
Helmet Stickers: 420 | Leaderboard
Favorites
SPORTS MOMENT: 2002 National Championship Game!
COLLEGE FOOTBALL PLAYER: Orlando Pace
COLLEGE BASKETBALL PLAYER: Aaron Craft
NFL TEAM: None of them
NHL TEAM: Columbus Blue Jackets
NBA TEAM: Cleveland Cavaliers
MLB TEAM: Cleveland Indians
SOCCER TEAM: Columbus Crew
Recent Activity
Wholeheartedly disagree. No more to be said!
I don't know if this is completely true. For starters I can't recall any other time that OSU was held to a strict timetable on when a position could be hired. Was the HC job posted before Urban was hired? I don't remember. Also Gordon Gee was famous for creating positions out of nowhere and naming whomever he wanted to them, best example I can think of was former Ohio Rep Joyce Beatty who was named Sr VP of Outreach and Engagement. A new position that there was never any job posting for, Gee just appointed her. In addition (and sorry for throwing out some legal junk here) Ohio Revised Code, Chapter 3335 is the law that gives OSU the authority it has and it makes no mention of any waiting period. ORC 3345 governs all other universities in Ohio with the exception of OSU. It's late and I have not read all of 3345 but from a strictly high level review it does not appear OSU would be violating any rules by hiring someone whenever they please.
Yes. Let's all criticize Ohio State for not suspending some players who got in a fight, with other football players, all while we turn our heads and think it's okay that a player from a southern team can keep on playing while being accused of rape. Sounds rational and reasonable to me.
Which I am good with. He certainly deserves to go to NYC at minimum
What's gotten into Herbstreit tonight? He's bringing up Brax for the Heisman now!
What a shitty headline for this. Sounds like ESPN. Even Herbie, HERBIE, said there is no situation short of OSU losing where he can see Auburn jumping to #2. Win against SParty and the Buckeye's are innnnnnnnnnnnnnn!
Can't totally confirm this yet, since the peeps that told me were shit faced drunk, but I have heard the whole "regulating" isn't really happening. The regulation plan was one entrance in only with many exits out and a wrist band needed. Word I am hearing is they aren't checking for wristbands and don't really care how you get in or out.... Anyone able to confirm?
It get's better.... When you go get your wristband, they put it on for you and you cannot remove it until after you have left the area Tuesday night.
This is a bit ridiculous to me, honestly. I'm all for safety and whatnot but just have the EMT's off to the side just in case like they have in years past. All this nonsense of wristbands needed, designated entrance and exit points... It's overkill. This is an amazing tradition that everyone who attends OSU needs to do at least once and the administration is going to kill it off. At the very leasst get rid of the whole need for a wrist band. That's dumb as hell. It's like you need to pre-register to jump in a damn lake. And if they are only giving out 4,000 of them what happens when they run out? You turn away the drunk 18yo's at the newly designated entrance only gate? Yeah. That will turn out fantastic.
Hyde is graduating and leaving anyways...
Also starting to feel a little guilty for all those times I would bash Boise State. Sure the level of competition in the WAC and their overall schedule wasn't the greatest but nobody, myself included, really gave Boise State the respect they probably should have gotten. Well I guess Pat Forde did but he's the kind of douche you don't want cheerleading for you.
I feel bad for the team. I really do. The team and the fans should be loving every minute of what's going on with season and the current win streak. Instead there is this sense of failure, of things not accomplished. Sure some people will say they do love every minute right now but the general mood is disappointing. If the team can leave Illinois after winning a game by 25 and feel a sense of dread something is wrong. They keep winning every game and yet keep being told they aren't good enough. I couldn't imagine the emotions those guys are feeling lately.
For a second while reading this article I thought I was accidentally on espn....
She clearly was partying with those damn catholics Gordon Gee warned us all about.
I think I am a closet Minnesota fan or something. I'm very happy seeing them ranked 25 in the coaches poll
I still can't wrap my mind around the dude's name being HaHa Clinton-Dix. It sounds like something Monica Lewinsky might have said to a friend
I can't bring myself to feel to bad for him when he runs in the direction of the truck. lol
Plus OSU's #s will improve a bit, too. When the morons on espn pretty much are in agreement that Stanford would not jump Ohio State, you would think it would stop the 50 comments about it tonight and the 15 topic posts on here all week. I don't like espn either but when 90% of their talking heads say it's not happening.... Yeah.
The whole video is hilarious!! http://www.youtube.com/watch?v=Of2HU3LGdbo
Oklahoma's offense is terrrrrrrrrrrrrrrrrrrrrrible but I think all the chicken little's should look at it this way.... Even if Baylor wins they will be no where close to their season averages in offense.
OMG BAYLOR (ONLY) 24 POINTS IN THE FIRST HALF! VOTERS WILL HAVE THEM JUMP OSU! LET'T START A POST TO SEE WHAT EVERYONE THINKS!!!!!
Almost as bad as TTUN's bball uniforms
This ref sounds like Dr. Phil....
Headline on espn college football page:
Slow It Down
Baylor's high-powered offense gets all the headlines, but the defenses are stealing the show