Mzungu_Buckeye
---
from Cincinnati
Member since 03 August 2012 | Blog
Favorites
SPORTS MOMENT: Watching Ohio State beat that team up north on Armed Forces Network.
NFL TEAM: Cincinnati Bengals
NHL TEAM: Columbus Bluejackets
MLB TEAM: Cincinnati Redlegs
SOCCER TEAM: Columbus Crew
Recent Activity
Any comments on Milkgate? What's your dairy poison? Skim? Vitamin D? Chocolate? Buttermilk?
Prediction: Both Herman and Tressel return to Ohio State after Urban retires in 5 years and several championships later. They forsake their names and only answer to Shake and Bake. Championships rain from the sky. Shake and bake. Shake and bake.
"This train is bound for glory, this train" -list of train songs not about Purdue
"Play a Champion" bold move for a hype video.
And little representation of people on the spectrum within the organisation.
Good for him. Though Autism Speaks is not without controversy.
By getting his name wrong, I fear this will hurt our chances with William Tell. I can't see how he would be receptive to our overtures after this.
This explains the stadium being lit up and a dude in a Browns jersey in Ybor. I thought he was just being ironic.
Your, you're and yore.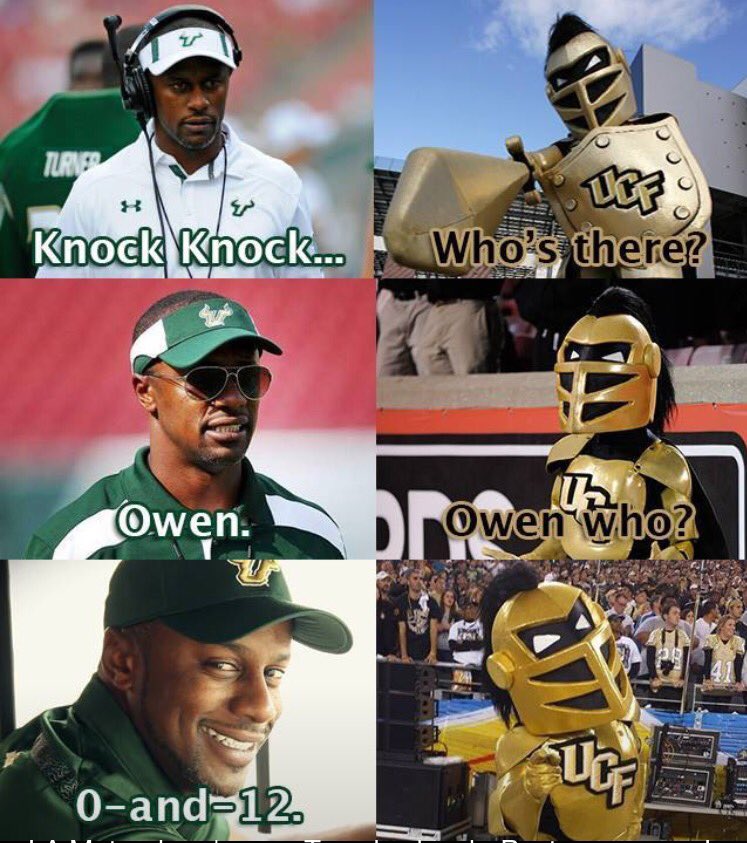 #GoBulls
#shhhhhh
You know what's legal? A crossbow. For when you want to keep it real and go medieval.
Tampa Bay has several Skyline Chili fine dining establishments, so you know the connection is there.
Fishigan is a plan for the weekend, not a university.
Uber everywhere, skrr skrr.
You need to cut it! Love it!
Don't forget Carlin Isles, proud son of Massillon, Ohio, aka the fastest man in rugby who had two tries against Spain in rugby 7s.
Waiting for Godot.
Skyline for everyone!
"I want a statue and I want it to be 100 times my height!" - Nick Saban
The University of Kentucky (sigh). Or more recently, The University of South Florida.
Just wait until the Pokébucks win a National Pokemon Tournament, you'll come around.
Which member of the football team is most likely to play Pokemon Go?
#t-shirtgeddon has begun.