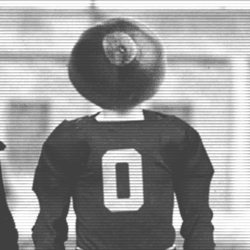 MuraliPatel
---
Member since 21 November 2011 | Blog
Helmet Stickers: 59 | Leaderboard
Recent Activity
I think the key is that he will get the *right* head coaching opportunity.
I for one wonder if Shazier is really, completely healthy. When he was dinged last year, he started running around with one shoulder down, almost as if he was protecting the (I think) right arm; I saw a little bit of that last Saturday.
... did we watch the same game last week? Outside of the 1st quarter, we DID struggle, and mightily at some points, offensively, defensively and on special teams. Four Sacks? Unacceptable. Soft coverage designed to dislodge balls from receivers but was unable to? Unacceptable. Philly Brown bobbling/muffing 3 punts? Unacceptable. In a small twist of irony, at least the punter looked good.
So, on the official nickname front.
"Flying Dutchman" for Curtis Samuel?
I loved 'Sharbait' for Dontre Wilson after Braxton's whole 'like a fish running from a shark' bit, but apparently nobody else did.
... to be fair, we're pretty dependent on one player also.
I think the lesson to be taken from what you're pointing at is that we should all try to be the bigger person. Be a better man (or woman) than you would be in that moment normally.
I keep looking for a 'lights out' type of defense, such as the ones we fielded in 2002 & 2005. In our two title game blowouts, I would argue that it wasn't our offense that let us down (to a certain extent, gameplanning did), but that our defenses being porous did, resulting in our teams being unable to generate significant pressure against Florida & LSU.
Here's to hoping this year's defense is up to par.
Actually, physical contact is not required to have assaulted someone - merely causing the apprehension of contact is sufficient. That being said - if she swung first, it becomes a case of self defense, and at that point, it becomes he said/she said.
I would liked to have seen William Sherman's visage on the quarter to troll SEC country a little bit.
I would say Alvarez/Bielema's teams are a better parallel. They ran more than power-O left/right and knew when to effectively use play action.
The irony of this is that Alabama uses more or less the same formula that Wisconsin uses, except with much, much, much better athletes.
If I was Jaleel White, I would be tremendously insulted by this comparison. Have you seen that guy lately? He is yolked. Not just a little yolked. All-Airport team level is what we're talking about. Mark May is an overweight has been who displays the mental capacity of a 12-year-old girl. White is neither overweight or unintelligent/unintelligible.
Or it would be Meyer being merciful and giving him a Video Coordinator job on staff.
That dog and child is about the most fuzzy, warm, adorable thing I think I've ever seen.
I think Bri'note may have played himself out of playing time with the way he performed late in the Cal game and in the game before that, by not knowing the play called in the huddle.
Buckeye Nation's willingness to accept mediocrity is why we continued to God up Jim Tressel. Now, Coach Tress delivered us a National Title in 2002 with John Cooper's players and I will forever be thankful for that, but, who can say that they were completely satisfied with a 'play not to lose' approach and instead of taking teams behind the woodshed and beating them by 70? Those schools we were supposed to crush, we'd beat by 4 on a late touchdown.
I can't stand Mark May because of his ridiculous and completely biased opinions, but you have to hand it to him on one thing - when asked why he didn't care for the Buckeyes, he stated that "I have yet to see this team in (after mid-2006) put forth maximum effort for four quarters." That statement may not be fair to the guys who are out there busting their asses for 60 min, but, when you look at the team as a whole and their inability to execute, it rings pretty true. Mental preparation and paying attention for 60 minutes is just as much a part of 'maximum effort' is as pushing yourself physically on every play; there are a lot of the shortcomings are between the ears right now, and it's driving me insane to watch this team squander their talent.
It's 100% Unacceptable.
Frankly, nobody outside of Braxton has played well enough to earn Buckeye Leaves yet.
IMO, the only way the SEC falls is if the Justice Department blows it up after some idiot who's bankrolled buying recruits ends up pissing off the other SEC, and sings to save his own ass.
The thing that breaks my heart is that during this SEC run, the Big Ten is slowly turning into the Ivy League at best, the Big East at worst. We're simply not able to compete with the SEC (or even the Pac 12 it would seem), and it's painfully obvious.
Am I the ONLY person on these boards who thinks that our defense hasn't really been 'stingy/nasty/national championship caliber' since 2005?
Look at EVERY game we've played since then against a top-flight opponent, and realistically, we couldn't stop them consistently for 4 quarters. Against Oregon in the Rose Bowl, we played reasonably well, but Oregon stopped itself more than it had anytime all year, and then in the Sugar Bowl against Arkansas, we played with our hair on fire for one half of football.
This 'quiet crowd' thing must end, and quickly.
IDK, I watched Dunn botch a few playcalls, and then after knocking Braxton over in the backfield, I thought to myself if only Rod Smith could velcro the ball to his jersey...
As much as I want Michigan to be ranked highly, they're not worthy of that top-10 rank by a long shot. The offense is good, but their defense is awful. They gave up 34 points to us last year while we were working out the mechanics of the forward pass, and they lost their top two sack guys up front.
Realistically, this was a team last year that *if* there was any semblance of an offense, the defense was good enough to carry on just about any given day. Now, the offense has a plan besides Dave/Power O Left or Right, and the defense for the most part is back. I am drinking the Kool-Aid because I think this defense is going to be nasty, and any opponent - USC, Oregon, OK State, LSU, Clemson, WVU etc - won't (or shouldn't) score more than 13 points on them.