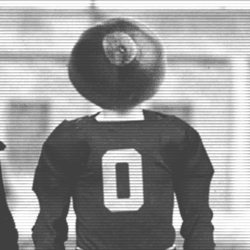 mtrotb
---
Member since 03 July 2013 | Blog
Helmet Stickers: 359 | Leaderboard
Favorites
SPORTS MOMENT: Red Sox winning 2004 World Series and OSU winning 2002 Nat Championship.
COLLEGE FOOTBALL PLAYER: Braxton Miller
NFL TEAM: New England
NHL TEAM: Boston
MLB TEAM: Boston
Recent Activity
Ah, he committed to Florida, not Miami!
Here we go again with the weekly Nick Connor update. He is not a tier one recruit, merely a fall back recruit. Baker, Hilliard, Kilby-Lane, Holland, and DeBerry as all guys we are waiting on first.
Well I was wondering when this was going to start happening. Who is next? Any 3rd year soph or 4th year junior who is not in the 2 deep needs to take a serious look and decide is this is the best place for their playing career. Of course when the players have a meeting with their position coach now that spring ball is over, they may be encourage to look elsewhere as well. Epitroupolous will never play here, Warren Ball not much, 1 or 2 olineman as well. Will be interesting to see what shakes out.
Hopefully he will hang in there and do what he needs to do. Won't see much time this year, but has 15 thru 17 to play a lot.
Arrange for an alum to conveniently pick up him up hitchhiking in front of his house!
I hope that put the full court press on him this weekend as we need some big time prospects at QB. We screwed around with Kyle Allen last year who wanted to come here and then we waited too long as he has a good chance starting this year as a frosh at TAMU. We can't/shouldn't count on landing just Gibson. After watching the spring game, I saw potential with Jones and Barrett, but nothing that screamed, OMG, this kid is great.
It is November 1st. We have had them in the past on October 30th. Not like it is the end of November. End of October is still fairly nice.
Speaks volumes about what they really think at Boren at center. Hopefully Billy Price continues to develops and wins this battle in August as Boren is not his brother and is just an average player at best.
Dantonio won the Big 10, he can do anything he wants.
Hopefully not another Gunner(Indiana, LSU, ND, Cincy) Kiel.
Proverbial dead cat bounce. Flavor of the month. Is it sustainable long term?
In the scrimmage last Saturday per Cleveland.com it was Lee, Grant, and Perry running with the #1's and Worley, Raekwon and walkon Joe Burger running with the #2's.
Be curious what receivers will be on the bench this fall besides Epitroupolous and frosh that redshirt. Figure Wilson and Marshall at H, Smith, Smith, Spencer, and Thomas will be the two wideouts. Wonder what happens to James Clark who played as a true frosh before getting hurt and earning his redshirt year. Will Samuel only be a TB, or will he play H as well?
I didn't know the AP hoop poll now lists 30 teams, as I thought it was just 25? If you are counting others receiving votes then you are hard up. They got what they deserve.
Maybe he wanted to be like Bobby Hoying and Kent Graham for a few days.
Hopefully the long snapper isn't the only commitment this weekend, hard to get excited about that.
LB Jeff Holland from Jacksonville, teammate of Ben Edwards is high on the Bucks as well.
Boals will be a career assistant, accept it.
"Was it over when the Germans bombed Pearl Harbor" Bluto.
I am the one who started the thread and want to thank you guys for helping out. As of 6:40 am the vote is now 50-50. Remember as they use to say in Chicago vote and vote often. Props to Deadly Nuts for showing us how we can do multiple votes.