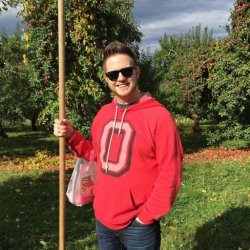 mrspray
Centreville, VA
Member since 09 December 2013 | Blog
Helmet Stickers: 1,516 | Leaderboard
Voting Record: 1429 / 40
Favorites
SPORTS MOMENT: Ohio State win over Alabama - 1/1/15
NBA TEAM: Washington Wizards
MLB TEAM: Cincinnati Reds
Recent Activity
Maybe he's just expecting something at all due to FNL...
Any worry about the cold weather then?
This question always gets me - if anyone wants to eventually play in the NFL, then the cold weather had better not be a problem...
I did catch a replay of the 2006 TTUN vs OSU recently that pretty much looked like HD. Hadn't seen that before...
That'll be the day - Verizon FIOS tried, and even though I have FIOS, I haven't looked into it enough to see what that looks like. I know that Disney/ABC/ESPN is (or at least was) suing because they had a contract saying all of their channels had to be packaged together, and FIOS didn't do it with these new plans. I think eventually the networks won't have a choice. I don't personally have HBO or Showtime, but am glad that someone's going out on a limb to offer their programming without a cable TV subscription.
This just warms my heart...
Except for when Joe Bauserman was the better QB...
Yeah, say the heavy favorites to win the SEC and ACC championships lose to 3-loss opponents in their respective championship games... I might take a 1 loss MSU (the one loss being to OSU) over those SEC and ACC conference champions...
I said no, but it depends on who they lose to and if it keeps them from the B1G championship game. Being undefeated would easily put them in the playoff, but I don't think it's necessarily required...
I did a double take on that one...
Mr. Spray - it just happens to be my first/middle initials and last name as well :)
By principle, I'm ok with 12pm, although a later time wouldn't bother me. On a personal side, every other year I'm driving from Ohio back home to Virginia during the game, and the later start would DEFINITELY make for a less stressful drive home. In 2013 I could literally feel the blood pressure rising in my arms while driving.
Are any EKU games televised nationally (or in the DC region)? I'd love to see Spence blow up some opposing O-lines this year...
That was my immediate thought - then someone mentioned the supplemental draft. Those seem like the two likeliest options to me.
I think they legitimately have 2 "tough" games in the regular season, and would then technically have 3 more tough games for the B1G championship game, bowl game, and NC game. I think if they stumble, it's in the last 3 :-/
I'd have to pick someone on the OL or DL. Probably Pace for the OL (duh), but I can't decide for the DL - need someone on the inside.
I thought I read he would wear 00 this morning... Oh well - I wouldn't buy a Lakers jersey anyway...
If he's still playing for the Lakers, how long is Kobe in the league for?
You can infuriate any current toddler parent by simply asking them, "What do you think about that new Chipmunks banger, my friend?"
I'm pleased that as a father of 3 year old twins I have no idea what this means...
Nice piece of trivia there
I thought that there was no question that our guys were prepared
I love that he still calls them "our guys".
They immediately shat on the Buckeyes by losing back-to-back home games against East Carolina and Georgia Tech. They also somehow lost to Miami by 24 at home and scored only three points in a double-OT loss at Wake Forest, 6-3 (yes, that's an accurate score from a two-overtime game).
Still shaking my head at all of this...
I assume you mean Braxton's pass to Posey that was just a bit out of his reach? I think about that pass a lot...