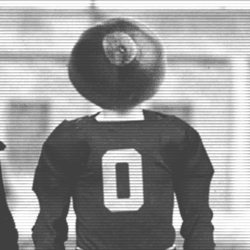 mrspray
Centreville, VA
Member since 09 December 2013 | Blog
Helmet Stickers: 35 | Leaderboard
Favorites
NBA TEAM: Washington Wizards
MLB TEAM: Cincinnati Reds
Recent Activity
Well, Iowa lost. That's one down...
I agree - I think the players have a little bit of a chip on their shoulders about the PSU losses. PSU players might be a little distracted coming in to that matchup too. If I were a PSU fan, I wouldn't want to face OSU on a neutral court.
Great write up - I didn't realize until Sunday night that his (and Lenzelle's) senior night was coming up so quickly. That recruiting class has indeed left a significant mark on the program that I don't think will be forgotten very soon.
One thing I've noticed recently is that comparing the team's record this year (22-8) isn't all that far off of last year's team's record for the regular season (23-7). Those seasons are drastically different (worse OOC schedule this year, losses only to ranked teams last year), but that gives me a little bit of hope that they won't just roll over and die come both tournaments. They started their 11 game winning streak a little earlier than now last year, but must-win time isn't necessarily now. It is coming AWFULLY soon though...
Look who else recruited him: http://espn.go.com/college-sports/basketball/recruiting/player/_/id/67178/traevon-jackson
Seems like an easy choice, given the circumstances.
Is it possible that without the Big East as it was the last few years sending 8+ teams that there's a potential for one more team from each power conference? I feel like that could bode well for the B1G, but don't think OSU is on the bubble yet. Even with the bad losses on the schedule, there have been some VERY good wins there (@Wisconsin, @Iowa).
I had the exact same thought last month, and was disappointed with the timing of my decision...
I'd pay for a video of that game - the box score on it is incredible...
As terrible as this season has felt at times, I have to remind myself that if this is a bad year for this team, then that's pretty good over the long haul. I can also look to another really solid recruiting class next year and know they'll have a good chance to be even better next year - a very different team, but could certainly be better.
I still have a lingering hope that somehow they pickup Myles Turner, and then you have a huge paint presence that would give some shooters an opportunity to shoot.
I'm definitely excited to what D'Angelo Russell can bring to the table - looks like this will be a much better shooting team overall next year.
I think you hit it on the head - if Q can fill Deshaun's role from last year, and Sam can fill Q's shoes from last year, and they don't hit a HUGE scoring drought like the first half against Wichita St, they could definitely get into the Elite 8 or further.
As a DC area fan, I'm pumped that there are two semi-local games to go to this year. If I can get to either game I'll be a happy fan.
That seems like a bit of an oversight… Not even on the "first 5 out" or "others considered"? gimme a break...
This whole season has been just like the Wichita St game - they were so close in that game after shooting so poorly in the 1st half, but just weren't able to make up the difference in the end. Glad to see there's some fight in this team though - whether they win or lose, they tend to at least make these games exciting.
As a JMU alum, I'm pumped to see what he can do with this squad...
I know it's baseball, but I like when Brandon Phillips from the Cincinnati Reds says "Offense sells tickets and defense wins championships…"
His freshman year (along with Sullinger) was the first year I really started getting into the OSU basketball team - it'll be weird to not have him or anyone else from that squad on the court anymore...
Sounds like a steal (in more ways than one...). He also recently followed the OU RB coach, Cale Gundy.
Having gone to JMU when they won a nat'l championship, I'm excited to see where he can take the program - I haven't cared about JMU football since they beat VA Tech though, so unless they start winning soon, I will continue to not care so much...
It's not everyday that Bell is gonna have to matchup against a duo like Watkins & Boyd. It's not out of the question that he will in the future, but I feel like he put up a great effort all game long. If Watkins doesn't make that catch (or Bell makes a play), his stock for next year is even higher than it already is.