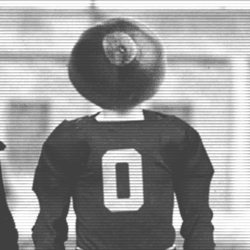 Mr. Slick
---
Member since 21 September 2011 | Blog
Helmet Stickers: 205 | Leaderboard
Favorites
COLLEGE FOOTBALL PLAYER: Ryan Shazier
COLLEGE BASKETBALL PLAYER: Aaron Craft
NFL TEAM: Bengals
NHL TEAM: Aren't they on strike?
NBA TEAM: Cavs
MLB TEAM: Reds
SOCCER TEAM: USA
Recent Activity
For me personally I think the current system is really great. I want to be able to continue watching college sports exactly the way it is now for as long as possible.
Therefor I hope nothing changes.
Only for your chances of winning this ball.
I believe OSU is 4-2 while Thad is 8-1 (he coached other places before coming here).
This.
Very hard to lose to a higher seed when there are four or less in the whole thing.
That signature looks like a giant bird(?) with legs eating the #21. And it looks like someone took that ball our for some hoops on the blacktop.
But it's sure going to look good on my mantle!
Is it Thursday yet?? This is going to be an AWESOME four day weekend.
Anyone have a link to the post game pressers?
Thanks in advance.
Anyone have a link to the post game pressers? I checked BTN but cannot locate.
Thanks in advance
Say what you want about Thad, but he does a hell of a job.
Fixed for ya
Respectfully disagree. This was better.
They think hurry up offenses in football are too fast, can you imagine why they don't like basketball??
I'm sure Bert thinks basketball is not safe bc the offense doesnt have to wait ten seconds for the defense to get ready when they get a rebound.
And then it got pretty deep in a hurry.
Love the GIF - didnt notice the bench till Jason pointed it out. Who is that beast that chucks Amedeo across the floor? It looks like Amedeo is trying to draw a charge call.
Anyone else think the title meant we wanted more uniform changes to help with recruiting? Ha! did I ever feel silly when I started to read the article.
great start to the half!
Then Amir can't catch
Word.
And they show them EVERY BREAK
curious enough to look myself
9-11 for the half
missed a few late but werent we pretty good through the half?
Serious question
It was only one possession but did anyone else see the job Loving did on Payne? If he can guard him a little and let us play without a big I think it improves out lineup.
there's an explanation for that?
and learn how to play harder