mockjocks
Columbus
Member since 28 December 2012 | Blog
Favorites
SPORTS MOMENT: 59-0...in a luxury box. It was bout as good as it gets... and I've been to 6 OSU/tTUN games all between '98-'07 - so all the good ones
COLLEGE FOOTBALL PLAYER: Hard to answer honestly, too many
COLLEGE BASKETBALL PLAYER: Jamar Butler, several others also. Dude was underrated
NFL TEAM: fantasy football since 2001
NBA TEAM: Indiana Pacers for as long as I can remember
MLB TEAM: Playoff baseball > any other pro sport playoff
SOCCER TEAM: Team USA
Recent Activity
Props to them for calling it! I was all for it.
I second that. The QB position is one unit that is not 'strong' yet which is why we're not 9 strong. If you watch 2014 games of both Cardale and JT you can see how neither took a step forward after Herman leaving - and you could easily argue they both regressed with Beck. JT's the QB because the zone read is about the only advantage we have on defenses this year. The passing game has virtually disappeared. Injuries aside (Noah Brown, Corey Smith, etc) there's no excuse in my opinion for the QB play to be so inconsistent. JT under throws balls downfield just as much as Cardale, and from my vantage point it's because neither of them are seeing plays develop as quickly as they were last year. Herman seemed to coach them up better to trust the routes, and almost throw guys open - where this season they wait until someone gets open, which causes balls to be underthrown...or not thrown at all.
I'm not saying Beck will be fired because I think Urban will give him a chance, but he should be on notice. Warinner called plays better from the booth, and it wasn't close.
QB play has to improve to take advantage of all the weapons we have lined up at receiver.
I couldn't agree more. The Cooper years should NEVER be forgotten. I'll never feel sorry for beating our rivals.
Beating them NEVER gets old.
"But, our defense is elite this year - and we got Harbaugh!" - TUN fans
Buckeye reaction every time for over 1000 days:
Kalis, had a real shitty day - a real shitty series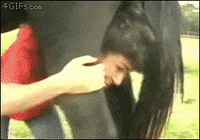 Always looks and sounds like he's constipated...
"I don't know if I've ever been a part of a bigger win" -Urban Meyer
Thorough domination. Glad to see our team peak into a bit of what they're capable of.
I was gonna scroll until I found someone who actually listens to popular music of today. Ok, they're not a household name - but they're certainly well known by anybody who has a pulse on today's music. Pretty sure 11w wouldn't have posted on it, had they not been.
But you took my play on words AZBUCK. I'm definitely ready for a a fight night. Hit em with a left, hit em with a right - all day long up and down the field tomorrow
Jared Sullinger's season hair, tho...
I heard yesterday their fans ask Buckeye fans on the radio, "But isn't he the right amount of crazy? Admit it, it's good". They even had the nerve to dare compare his amount of crazy to one, Woodrow Hayes. Blasphemy.
"Forget about their crowds. The size of the school stadium. Their fancy ugly uniforms - and REMEMBER what got you here! Focus on the fundamentals - that we've gone over time and time again!"
"And most important, don't get caught up thinking about winning or losing this game. If you put your effort and concentration into playing to your potential - to be the best that you can be, I don't care what the scoreboard says at the end of the game. In my book, we'r gonna be winners! OK O-H?!"
-Coach Norman Dale
I waited until my day (now night) was completely free from distraction to read this. Dammit Ramzy, I'd run through a wall for you! I ran out of superlatives for you many comments ago, and I think I've even commented on how I've ran out of superlatives for you.
I've never felt more in the moment reading someone else's words. I'm forever thankful, and I'll follow you to the moon!
My heart skipped a beat when I read that! Ramzy was starting into my soul...
I wasn't even born until the 80s, but I concur
I was waiting for this trailer. This year's was better than last year's. Never disappoints
Good point, '04 was another great one. Wasn't at that one, but remember it like it was yesterday.
I have to admit the best memories I have of The Game are games we won on the road. I was at the Big Out House for 4 renditions of The Game in '99, '01, '03, and '05. The wins in '01 (Tress' first year, and foreshadowing) and in '05 (you may remember 'The Catch') were the moments that topped them all - and I was at the '02 and '06 games. I spent most of the game in '02 on pins and needles since we were outplayed most of the game, and as Michael mentions in '06 I never felt the game was in doubt once we went up 21-7 in the 2nd quarter.
This is the best time of the year, and even after what happened this past Saturday I'm quickly getting pumped for this weekend. I'll be spittin' nails come Saturday morning.
Go Bucks!
The vid of the kid galvanizing the herd to go tear down the fence was one of the best vids I saw last year. Epic.
Inevitable at this point. This is the world we live in now
How awful. So sad. Thoughts and prayers!
Clever, for sure. As much as I think there's zero chance in hell they can pull off the upset on the road - by Saturday, I'll probably be sucked into believing anything's possible...
You could see this sort of season coming, so while it doesn't make it any easier to swallow - STOP YOURSELF from the #firethad comments.
We've fired enough OSU coaches for one week...