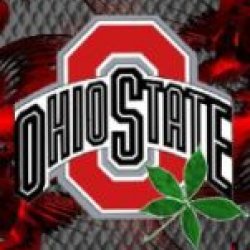 MN Buckeye
---
Member since 15 January 2013 | Blog
Helmet Stickers: 6,267 | Leaderboard
Favorites
SPORTS MOMENT: OSU wins the 2002 NC
MLB TEAM: Minnesota Twins
Recent Activity
Thanks HB. The comments in the link are hilarious.
Please know that many of us are thinking of you during this difficult time, SGT. My dad's favorite colors were scarlet and gray, and we buried him in his gray suit with scarlet tie. I wish you peace.
Alabama knows what entitled 5* recruits are all about.
Two days in a row, Gene. You really ARE back! Thanks.
The O-line last year was amazing, just crushing defenders.
As a young man growing up in Minnesota, how did you develop an interest in Ohio State? Can you compare the level of high school football there to other places?
I have a feeling that Big Meech will have a lot of stories to tell
I enjoy a good twisted metaphor, such as those collected from high school students. Here are a few:
1. Her eyes were like two brown circles with big black dots in the center.
2. He was as tall as a 6′3″ tree.
3. Her face was a perfect oval, like a circle that had its two sides gently compressed by a Thigh Master.
4. From the attic came an unearthly howl. The whole scene had an eerie, surreal quality, like when you're on vacation in another city and Jeopardy comes on at 7:00 p.m. instead of 7:30.
5. John and Mary had never met. They were like two hummingbirds who had also never met.
6. She had a deep, throaty, genuine laugh, like that sound a dog makes just before it throws up.
7. The ballerina rose gracefully en pointe and extended one slender leg behind her, like a dog at a fire hydrant.
8. He was as lame as a duck. Not the metaphorical lame duck, either, but a real duck that was actually lame. Maybe from stepping on a land mine or something.
9. Her vocabulary was as bad as, like, whatever.
10. She grew on him like she was a colony of E. coli and he was room-temperature Canadian beef.
I agree, JJ's black stripe goes first.
Cathal Kelly's analysis of the dumb-and-dumber fest that is Bayless and Smith is spot on. Sports talk radio and tv too often has the culture of loud, conjecture-as-fact personalities because enough people find them entertaining. I gave up ESPN a few years ago and have not missed it. Although now I live here a lot. Hmm, may some therapy is in order.
I blame the farthest reaches of public education.
Blue against blue at the Red. Color-coded mediocrity.
Hmmm. Seems like a serial downvoter hit this thread.
Why is it that MI chooses team representatives that have been in trouble with the law?
But the Titanic was indestructible, right?
Alabama in December at Cleveland
Purdue and WI: That's it???
IL: Fight?
NB: confusing montage
Iowa: this is supposed to look intimidating?
NW: what jumped out to me was the Under Armor symbol
MN: cool, of course
OSU: really? This can't be Sammy
PSU: too many guys with hands covering their crotch
MI: good photo, even if photoshopped
The top four look really good.
Gene, you have been missed, brother! Welcome back!
I agree BR, to the extent that we have some experience and lots of talent. But the O-line requires a unique chemistry that comes from playing together. The first three games should give us an idea of where that unit stands.
Ask Bobby Knight if those chairs can fly.
I think Hoke is a decent guy and has a good heart, as we have seen with his welcoming the kid with cancer, but he is an average football coach at best and a poor public speaker. I would much rather read Kyle's synopsis than listen to the man at the podium.
I just love what EZE brings to the offense, and I expect a breakout year from him.
Feel the excitement