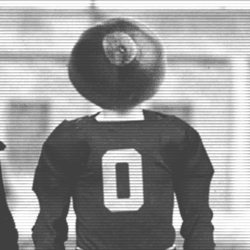 mmounts
---
DC (via Suwanee, GA)
Member since 23 May 2013 | Blog
Helmet Stickers: 137 | Leaderboard
Raised in the South and hour outside of Athens. Survived my teens and college as a Buckeye fan and had no shortage of trash talk sent my way. Recently moved to DC.
Favorites
COLLEGE FOOTBALL PLAYER: Noah Spence
NFL TEAM: Falcons
NHL TEAM: Capitals
MLB TEAM: Braves
SOCCER TEAM: USA
Recent Activity
3:11 anyone else notice a little knee limp?
I was wondering the same thing regarding Cardale. Just a week ago he was leading the competition for back-up and now somehow he is an option to transfer after 15.
Bourbon Sour is a beautiful thing.
Try this. Go to a URL address that isn't the homepage of 11W. Usually, large companies just block the initial homepage but you can back door your way in if you enter through a forum link and stay off the homepage (I have to do this for anything with the word Fantasy in it). I also work for a large corporation that has crazy firewalls (China loves us).
I almost cast mine for 4+ simply out of spite for not having 0 an option
The school, definitely. The insurance for specific body parts is more like life insurance....if it "dies" they cash in.
Anyone know who his first doctor was?
47:15 & 1:59:15 is a look at his mobility. 51:10 strong passes. 54:25 forced throw in endzone. 1:05:28 under thrown long ball. 1:14:45 redzone (2 poor passes). Great pass at 1:58:15. Coombs ice bath 2:13:45
U Street is a fine area. DC has been great fun for my post-grad life. If you're new to the area, Brixton and Marvin are my favorite non-sports bars near U Street. Public Bar is about 5 minutes away and its slammed on gamedays.
http://www.elevenwarriors.com/ohio-state-football/2014/08/38644/braxton-miller-graces-regional-sports-illustrated-cover
Good, because I was half way through making my 9 other accounts...
Fail. Insert giant pile of crap on bed GIF below. I honestly just thought the forum crashed so I made a new one
CAN WE CHANGE THE TITLE OF THIS ALREADY? IT IS HIGHLY MISLEADING.
I couldn't upvote previously but just broke through the 100 mark. This helped a lot, ty.
I want everyone to be aware that less than 2 blocks from the stadium, Horseshoe Casino will be opening the week before the Navy game....God Speed
Small world. I graduated from North Gwinnett in 07. I remember when Tressel was visiting/recruiting Cameron, I got word from a buddy. I left school and took off down Peachtree Industrial to try and see him. Caught a glimpse of him and got an O-H in.
Did I miss where the MRI came back and Braxton is out for the season? Give it a little time. He would have over a month before Cincinnati and over 2 months until Penn State (I skipped the worry of Rutgers and Maryland) to get healed. We can argue recovery times but every injury is unique and Braxton is unique.
1. 11W crashed
2. I will never read a SI magazine for as long as I live. I hate them.
3. STOP PUTTING YOUR STUD ON THE DAMN MAGAZINE
Never been to a Buckeye game. Planned on making Navy vs. OSU my first, regardless of this! Lived in SEC country and was a military brat my whole life (until a year ago moving to DC), so OSU games were never an option. Would love to have them. If given, I would be taking my roommate who ships out to OTS school for the Air Force later this year. I will be joining the Army after I complete my Masters.
Corey Smith loooookkksss gooood. Catching smoothly.
I didn't see option C....Whatever Urban thinks. He will make the right call. Ultimately, lets hope Braxton stays healthy and gets us into the playoffs without having to face this question until next year.
I know it's ESPN but wanted to drop the link. Braxton interview. BONUS, Braxton has two throws at the end...kind of.
http://espn.go.com/college-football/story/_/id/11345297/ohio-state-buckeyes-qb-braxton-miller-wants-title-add-personal-honors