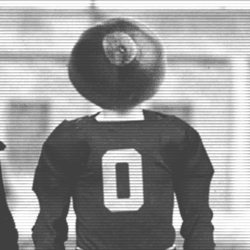 millertime2011
---
Member since 23 December 2010 | Blog
Helmet Stickers: 823 | Leaderboard
Favorites
SPORTS MOMENT: Easy. In the 2003 Fiesta Bowl, when krenzel throws the interception to sean taylor and clarett chases him down and strips him. Biggest emotional swing ever.
COLLEGE FOOTBALL PLAYER: Malcolm Jenkins or Troy Smith
COLLEGE BASKETBALL PLAYER: Scoonie Penn
NFL TEAM: Browns (Sadly)
NBA TEAM: Cavs (Sadly)
MLB TEAM: Indians (this is getting depressing...sadly)
SOCCER TEAM: This is 'Murica
Recent Activity
Hahaha, in the scrimmage part, Gardner throws a terrible pick on the first play.
He said that all of the schools he has visited are ahead of all that he hasn't. This is expected and smart, in my opinion. In no way has he done anything that makes it seem as though his desire to visit OSU is diminished. Pump the breaks. Still a long way to go.
Dylan, Dylan and Dylan....because he ran hot fire!
Do you mean you're not optimistic about us getting clark at all or us getting clark this soon? I thought we had as good of a chance as anyone at getting him in the end, no?
Including Cardale Jones' first tweet in here is why you guys are the best.
I disagree, respectfully, of course. What we need is more saturday night games. My biggest problem with Friday games isn't that it's not how it's "supposed" to be, but rather that it would be bad for recruiting. Big time high school programs have games Friday nights, for the most part. This means that the recruits won't be able attend these college games. Recruiting-wise, a Saturday game at noon that the recruit can actually go to is better than a friday night game that the recruit won't even be able to see live on TV because of their own game.
What are your thoughts on where we are with him? Obviously traveling all the way to ohio to only visit OSU is huge, but are we a "top 5 so we're getting a trip to cover all of the bases" or could we jump to be a favorite if we blow him away?
Nothing about Nunez? Have we cooled on him?
I'm sorry if you misunderstood, but comparing two things does not mean that they are equal (my original point to your first post). Yes, African Americans went through awful times, but to downplay the prejudice and yes, even violence, that gay people go through, even today, is wrong. And, by the way, I in no way came up with calling this the new civil rights movement--it's used by many people, especially in the academic community. And, by literal definitions, this IS a civil rights movement as it is dealing with the civil rights (marriage, how that impacts taxes, etc.) of a group of people.
Completely disagree with you. Just because Rodriguez is a hero doesn't mean Sam isn't, too. This is part of the new civil rights movement. People called and still call Jackie Robinson a hero (and he was/is) so why not Sam? This is a huge moment in our country's history. The fact that there have been numerous gay football players in the NFL (statistically there has to have been) and no one has been out shows how big of a deal this is. Also, Rodriguez is a hero but I'm not sure a story about someone buying the movie rights to his story (which was already known) is a bigger deal than potentially the first out NFL player. Both are heros, but to deny that Sam is a hero in the new civil rights movement is shortsighted.
Um, everyone nationall is actually saying this IS a big splash. Seems like this was one of Urban's top choices as it DIRECTLY attacks our big needs (and what everyone was clammoring for): Better tackling, a more aggressive strategy, and an upgrade in the passing game. Look what he did at Wisconsin. Now imagine that with OSU caliber talent.
Cale, Mike's brother, coaches there.
Booker beat around the edge there
Webb had 1 PBU early on on a 3rd and long. Besides that it seems like he hasn't gotten thrown to. Reports all week were that he was "quiet" because he had blanket coverage on everyone and no QB would throw his way. I love when you can't notice a CB.
Lot of passes to the outside and LBers can't blitz. Linebackers usually aren't that loud in this game.
This is great! also sounds like he could get a bump on 247 after this week.
This guy is absurd. Garrett committed to LSU.
Dixon overthrown. Should have 1, maybe 2 TDs
OH NO! He gave it away for marshon!
I don't know why, but I have a bad feeling about this...hope i'm wrong
Huh? "Opened it back up?" He never commited to us.