MichaelJ721984
from Massillon, OH
Member since 16 December 2013 | Blog
Helmet Stickers: 2,312 | Leaderboard
Voting Record: 458 / 14
Favorites
SPORTS MOMENT: Beating McKinley!
COLLEGE FOOTBALL PLAYER: Chris Spielman
COLLEGE BASKETBALL PLAYER: Evan Turner
NFL TEAM: Cleveland Browns
NHL TEAM: Columbus Blue Jackers
NBA TEAM: Cleveland Cavaliers
MLB TEAM: Cleveland Indians
SOCCER TEAM: NOPE!
Recent Activity
you were 42 in middle school?!?! Dumbass!
Spring Game will be my nephews first trip inside the stadium. He's so excited for it. Can't lie, I can't wait either.
Well shit. I guess it's one of the many regrets I'll be taking to my grave (God willing not for another 50 years) Thanks though fellas
I think I joined right about the time that Bucksfan changes icon thing took off. Didn't really start posting in here til later so I never read it but it's always brought up. Can't find it in the search. Any chance someone can direct me to it?
#10 in baseball bcuz of Chipper Jones. #69 in football bcuz I have perverted issues.
Pavarotti. I don't understand anything he sang but it's fuckin beautiful.
Saw it on a buddies FB post. Had to share with the masses.
I love Pensacola. Might be because I have family there I only see once a year but the white sand is awesome. Just a relaxing time. I cant wait to go back this summer to rub it in all those Bama & FSU fans faces there. It will be legendary.
Whales? If I wanted to see those I'd watch the Michigan cheerleaders...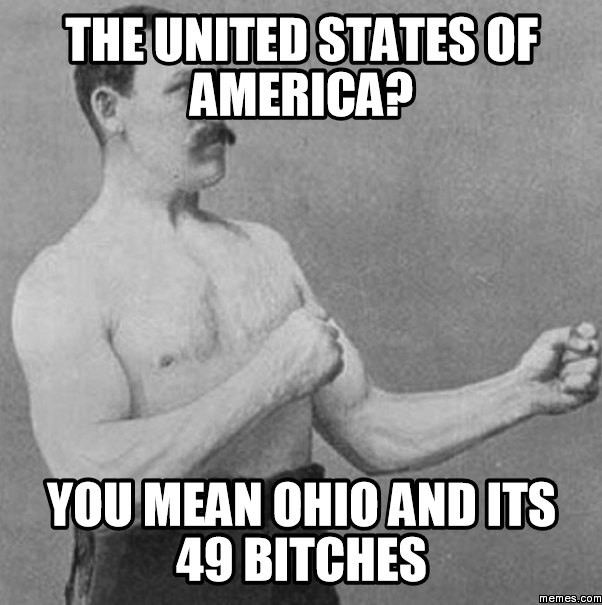 O-H!!!
Condoms. Have kept me from being a father which I appreciate. Love kids but not for me right now.
I can't stop laughing at this.
I was a soph in 03. Still have my BuckID somewhere. I probably look like a dumbass lol
If we're not in.... FIRE FICKELL!!!!!!!!!!!!!!!!!!!!!!!!!!!!!!!!!!!!!!!!!!!!!!!!!!!!!!!!!
I'm not sure of the transfer rules so if someone could help me out... Won't he have to sit for 5 games since he's transferring?
Nah, Massillon football existed before Danny and will after Danny. Wish he would have stayed but the Clarks gotta make sure they do whats best for them!

Take it up with the OHSAA my man. Until they change it, they're legit. Sorry.
Best of luck to ya Danny. Kid is an absolute class act. Was fun watching you play for the Tigers for 2 years. The coaching change would have definitely have helped him progress because the coaching he was getting under the previous staff was literally Hoke-esque. Felt bad for him. He and Sibley together in the backfield... WHOA!
Listen, I'm not gonna say I'm Batman but no one has ever seen Batman and I in the same room together. Just sayin.
Those are the numbers I play too. Looks like we'll be splitting the pot.
Hell we got a Smokey and a Drunky in Cleveland. Top that Arizona!!!