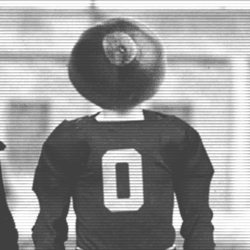 Mercurius
---
Member since 24 January 2013 | Blog
Helmet Stickers: 358 | Leaderboard
Recent Activity
Is TedGinnIsFaster... really Johnny-Shane_Utah-Falco?
I think OSU wanted him at H-back--which after this season will be known as the Dontre Wilson position.
I hate that your posts are so reasonable. I really want to give you down-votes instead of up-votes. Grrrr.... have another damn up-vote.
Josh Moore and Josh Alabi. One more Josh to go.
...and does this really need a new topic?
It sounds like Waters went to Gene Smith and followed protocol.
From Reddit user mermur, not me:
OSU marching band female alum here. I was a member from 2003-2007 while Jon Waters was the assistant director. I never had an offensive/sexual rookie name or trick, nor was I ever sexually harassed. I can address every claim made in the dispatch article and most of the official 23 page report if anyone wants, but instead I'll say OSU band was one of the best experiences of my life. I came from a very sheltered upbringing and was definitely surprised by some of the traditions, but never felt threatened or uncomfortable. I was immediately told by the older male members that I didn't have to participate in anything I felt offended by or uncomfortable with. I chose to participate in midnight ramp (marching in my underwear), but I was never forced to drink or perform sexually explicit acts. I always felt like my best interest was kept in mind, protected by the older members, and met a lot of great people and lifelong friends. Jon Waters was always the toughest of all the directors about inappropriate nicknames, tricks, and questionable traditions. In fact he was often criticized by members as being lame and form wanting to change our long standing but offensive traditions.

One whiney ass family is happy with his sacking, but I guarantee the band will suffer without his leadership. He's simply the scapegoat for these accusations, just being the director at the wrong time. I stand behind him 100% and hope to see the university president make more terrible decisions so HIS ass will eventually be canned.
I'm pretty sure Josh Sweat isn't considering UK or UM:
S/O my bra @JoshSweat9 most freakish athlete in the country! He's the next Clowney! We might be future teammates everybody go follow him!

— Damien Harris (@Damien_D1Harris) July 25, 2014
I just want ours to look nicer than Alabama's, Tennessee's, Texas' and Oregon's. Good architecture and design are the most critical component of this. I wouldn't pay for a luxury hotel with dropped ceilings and fluorescent lighting; same if I were remodeling a home. We are competing with the best of the best and details matter.
For $2.5 million, I wouldn't think you would have to sacrifice anything. You can get any hue you want, from cool to warm, with directional can lights or track lighting.
The lockers look nice but for $2.5 million, you can't put drywall on the ceiling? Other than the giant Block O chandelier, the lighting is pretty bad too. I'm not a fan of overhead, fluorescent lighting--especially if you're going for a zen atmosphere. Meh, hopefully 17 and 18 year old kids aren't that interested in good design.
Gee and Walters were some of the best things about tOSU. Too many people get their panties in a wad over small things.
For Music: I personally would resurrect Freddie Mercury with a curse that only let's him live in Ohio Stadium and I think we should fly The Black Keys to every home game and have them play Ohio in place of where every Seventh Army Nation is currently played. If we're resurrecting people, I'd go ahead and bring back Woody to cover press confences and public relations with the state of Michigan and bad referees. All major networks should have a contract that requires the TBDBITL halftime show to be shown, commercial free, at the halftime of every game; it's obviously better than whatever they are currently showing.
Fireworks: A system that would launch a firework that exploded as a giant double middle finger (i.e. Marcus Hall) should be installed in Ann Arbor and go off every time tOSU scores--anywhere. The only fireworks in Ohio Stadium should be associated with the TBDBITL.
Building: The victory bell should be installed on a graphene space elevator so the whole world knows when we win and can see the location of Ohio Stadium. A giant geodesic dome should be able to rise out of the ground and cover the whole stadium from inclement weather. The world's largest train station should be installed as part of the stadium with bullet trains from NYC, Chicago and LA nonstop to Cbus. B-deck pillars would be made with a translucent material. All urinals and toilets should be in the shape of *ichigan or their stadium.
Technology: A three dimensional scoreboard that uses Amazon's retina tracking system should be installed for all 110,000 seats.
Food: Ray Ray's Hog Pit, Thurns and Los Guachos Taqueria would be the only food vendors. Alcohol would be served but it would be all Ohio based micro breweries and classic cocktails.
Crowd: A system would be installed that would spray quiet home sections of the stadium with a cocktail of a strong stimulant (e.g. methylphenidate or MDMA) and a mild hallucinogen and disinhibitior (e.g. GHB). Maybe a mild dose of sildenafil for especially nonchalant persons.
Bans: Lifetime bans should be implemented for Mark May and Matt Millen. I'm sure there are more.
The weather looks like it's going to be great for FNL! Wait, um... actually no:"Dear Blue Chip recruit, the highs are always in the mid-seventies towards the end of July in Columbus."
Hilliard continues to be a leader:
Too hyped to hear @TheDream_75 is coming up to Columbus this weekend. JOIN THE FAMILY BROTHA.

— Justin Hilliard (@JHilliard47) July 23, 2014
Jordan Whitehead coming to Cbus on Friday!
#BOLT (FREE): 2015 DB Jordan Whitehead confirms he will be at #OhioState for #FridayNightLights http://t.co/FKuR8CmowD

— Alex Gleitman (@alexgleitman) July 22, 2014
Any word if his visit is confirmed yet?
If staff could get upvotes...
Christian Wilkins or Neville Gallimore; or both?
What's going on with Drew Richmond? You crystal balled him to Memphis.
I like it a lot. We might be able to get more commits in our 2016 class than our 2015 by the end of summer.
I think Harris is going to be something special. That would be great to have Hilliard, Harris and Baker in this class. I really hope we can get Christian Wilkins back again soon too. The dude is almost 300lbs and runs a sub five second 40. He is also listed as a TE.