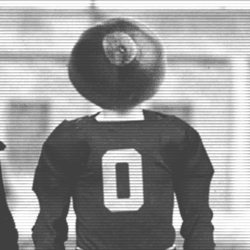 Mercurius
---
Member since 24 January 2013 | Blog
Helmet Stickers: 235 | Leaderboard
Recent Activity
Who will be on hand for the Core 6 day?
http://www.reddit.com/r/FloridaMan/top/?sort=top&t=year
http://dictionary.reference.com/browse/there
I believe he is the son of the assistant head coach at OU:
http://www.ohiobobcats.com/sports/m-footbl/mtt/burrow_jimmy00.html
That's just it. I think OSU will win this one if it is drawn out. Ed Warinner has such a sterling reputation of having a dominating O-line where it's one of the weakest parts of Penn State; no depth. Herb Hand lacks experience and doesn't have any proof of being able to coach kids into the NFL. Jenkins might get early playing time at Penn State--but has a much higher ceiling at OSU. I think if Jenkins is uncommitted by Oct 25, he is going to be a Buckeye.
I'm sure that has nothing to do with the fact that he is visiting Tennessee today.
I'd love to get him and Damien Harris to visit at the same time.
That is some exciting news! So when is his upcoming visit to Columbus?
Here's hoping he picks the good guys. He is really active with other recruits too; natural leader.
I really hope to see Mickey Mitchell and Luke Kennard playing together.
Gibson has the highest ceiling and a few years to develop still.
I feel good about where we are. We are in the lead for a ton of elite talent. The problem is much of that talent isn't going to announce 'til after the season. I really want to get Jerome Baker and Justin Hilliard from in-state. Out-of-state, nothing would make me happier than Damien Harris and Torrance Gibson; elite talent! Looking at our needs, we didn't take any DT or TE last year and need some depth at those positions. Christian Wilkins plays both of those positions. I'd love to see a 300 lbs TE catch a few balls.
Gibson said he is going to visit tOSU over his spring break which starts on March 24th.
Really??? I think this will be the highest ranked class in Urban's tenure thus far--and he has already had a #2 ranked class; so...
If this even comes close to fruition, (and we don't get Tim Settle & Minkah Fitzpatrick) we'll have the number one class in the nation. Even ESPN will have to have us in the top three. Just for fun, I did the 247 class calculator on these 25 and came up with 311.89.
Is there anywhere on the site that has a list of upcoming visiting recruits? I thought there were a couple this next weekend?
Digressing, thanks to Mr. Starwind for all your hard work.
http://www.thewire.com/national/2014/02/feds-questioning-rape-investigation-involving-university-michigan-football-player/358516/
Any updates on this? I don't want to be crass (as I don't know the family's health or financial particulars) but would it be legal for the OSU community to raise funds for Mr. Mitchell's condition/treatment? The benefit wouldn't be going to his kids--but to him.
I know nothing about this family other than Mickey and Mike both seems to be stellar individuals--but would have to imagine Mr. Mitchell isn't working full time. If it's needed, this seems like a good person to do some crowd-source fundraising for.
Is there a list of all upcoming visitors anywhere?
I think I'll take betting odds over ESPN's way too early rankings also. This would put tOSU at fourth in preseason rankings.
I still say that if we win the BIG--we're in.