Mean Mr Mustard
---
Unfortunately, Connecticut (via Columbus, Ohio)
Member since 21 February 2014 | Blog
Favorites
SPORTS MOMENT: 2002 NC
COLLEGE BASKETBALL PLAYER: None
NHL TEAM: None
NBA TEAM: None
MLB TEAM: Yankees
SOCCER TEAM: None
Recent Activity
I thought Zeke was really good at that
I think Reggie Bush while in New Orleans is the best way to utilize Samuel's skills. He probably has more WR skills than Bush.
Meyer's interview on 3/7 was pretty good. One of the things he said was that the QB
gets too much credit when thinks are good and too much blame when things are bad.
It's still the Ohio St offense, etc, etc
Strength of the offense will be the run game, anyways. That is why I think JT gets the nod
Maybe they are figuring it out. Instead of drafting bad players, they should try drafting good players.
KJ Hill will be getting reps at the H-B. Meyer uses a spare and a pair at H-B more than he does at TB. He got reps at RB in high school also
You can watch the Meyer interview on 3/7/17. He said that the Ohio St offense is not changing, b/c it is not broken. He is bringing in Wilson to enhance the offense as it is and to develop the deep passing game. Meyer mentioned how in some of their biggest wins they had a deep passing game. Wilson will enhance and improve the offense a few degree I am sure, but they are not changing really big picture stuff.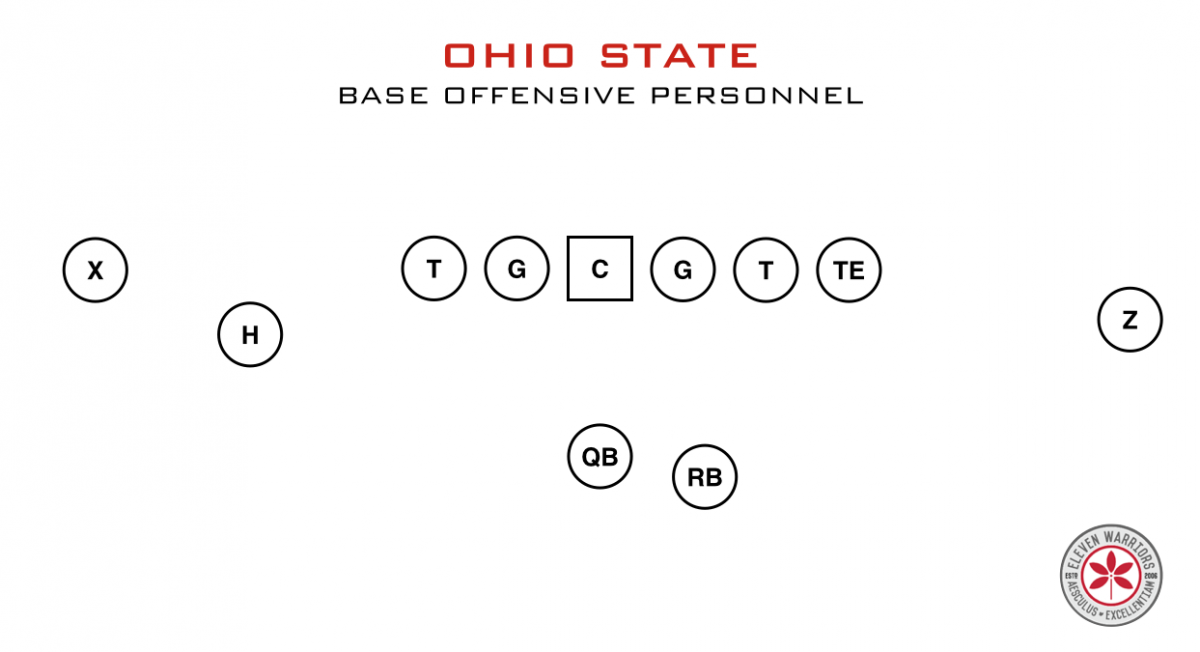 Yes and the H will sometimes motion into the backfield for a 2 RB set.
BTW, I think McCall gets reps at TB and HB.
Mack was a true freshman and Meyer said something like he hit the freshman wall. He sounded unconcerned. Mack lost his stripe early though. It sounds like Mack was doing the basics really well, but had trouble taking it to the next level. Mack was playing the X, so he is on the line dealing with more press and jamming as opposed to Victor who was playing more Z. That could be a factor. Don't understand why people are down on Mack.
I think we still have an H-B. The 2-RB sets have been one of the things that has worked the last two years. Explosive plays out of this formation with just an outside zone read or H-B counter play. I wonder if Wilson had a guy that could be a hybrid. If you have a guy that can do that and a QB that can run the option, I can't think of a reason not to use the guy as an H-B instead of simply a slot WR. Yeah, Wilson is more of a spread-to-pass guy and Meyer is more-spread-to-run, but it's not that big of a tweak.
I think Wilson still uses the H-B, because it is still Meyer's system. The position has been tweaked in the past for guys that really weren't hybrids--i.e. Philly Brown, Noah Brown, etc. In 14', Wilson and Marshall were the main guys at the position, but Noah Brown and Corey Smith got reps there also. I believe that Noah Brown got a jet sweep in the game vs 'Bama b/c the coaches forgot he was in there. Anyways, what I am trying to say is that Meyer has had guys that are more WR than hybrids play the H before.
It sounds like he got reps at H-B in an earlier practice. RB reps is part of being an H-B. Wouldn't read too much into it. He might spend a practice or a week at WR. It is what hybrids do
TS, it sounds like they are haters. Technically, not really trolls.
One of the general principles of Meyer's offense:
2 deep=run
1 deep=run
0 deep= pass
They were 0 deep and we couldn't pass the ball, so bad things happened. Of course, you don't follow that strategy to a tee. I was just referring to Herman going away from the run game in that game b/c there wasn't a numbers advantage in the box even though the run game was still working.
I actually agree w/ what you are saying when it comes to the Clemson game. O-Line needs to hold their blocks, QB needs to throw a better ball and WRs need better separation. I'm just saying that there is a slight tendency to go away from the run game if there is not a numbers advantage even if the run game is working. They can start looking at numbers a little bit more than the Jimmies and Joes
Well, I'm just talking about if they completely abandon the run game all together if the numbers aren't there. Herman did that in the B1G Champ game against Mich St years ago even though the run game still was working
If Wilson wants to play more outside zone read than some of our previous O-Coordinators, I think we will see more Dobbins and McCall at TB this year. I think Williams may be on his way out b/c of this. I like Weber b/c he is pretty balanced at inside zone or outside zone.
Weber last year:
41 missed tackles last year https://www.profootballfocus.com/college-football-early-fiesta-bowl-prev...
Also, if someone wants to do the research, I wonder if the O-Coordinators got away from the run because there was simply a huge numbers disadvantage in the box.
Pretty spoiled fans. I don't think that Weber has Elliot's straight line speed or Hyde's power, but Weber gets the job done. He break a lot of tackles.
41 missed tackles last year https://www.profootballfocus.com/college-football-early-fiesta-bowl-preview-can-osu-contain-clemsons-receivers/
The defenses we faced last year sold out to stop Weber also. Was it that the O-Coordinators forgot about Weber or that they saw the defense was selling out to stop the run b/c they knew that was the only thing that could beat them?
'09 vs TTUN > all the above
The Patriots have a spread offense. We have a spread option offense. Tom Brady will not be running the option, so there really is no reason to develop hybrid skills in the slot receiver. You are right that a slot is not necessarily an H-B
Yeah, one of the good things about the H is that it is extremely hard to put the position in a box which makes it hard for the defense to do the same. In'14, we had Wilson and Marshall getting most of the reps at H and then Corey Smith getting some reps at H also. Smith got carries on the ground also. I could see Hill playing Corey Smith's role.
Size is not a problem for Prince, but pass blocking is. We really don't know if Pridgeon can do the job either. I think Plan C is to move Jordan to RT. Anyways, Feder stepping up and forcing more competition would be a good thing.
McCall could get a steady dose of reps at TB especially since Wilson is more of an outside zone read guy. I think that Campbell will have to take some reps at X since we are thin there. I think this leaves KJ Hill getting some steady reps at H being more of a regular slot receiver. I hope EGW get the punt return job b/c simply being a great athlete does not necessarily mean you are a good H-B (Braxton Miller)
I don't know about the WR spots
Mack is more of an X and Victor is more of a Z. I think Campbell will get reps at X b/c he is one of the few WRs that has the body type. I've been saying since Thomas left how there was a scarcity of X types
Bad News: He has never been much of a technician and now we are asking him to be even more technical at center.
Good News: He is huge for a center. He is bigger than any of the centers taken in the 1st in recent years.
Under Wilson's first year, the Hoosiers had a 1–11 record. In his second year, Indiana improved to 4-8 on the year with Wilson's team exhibited an explosive offense, going from 80th nationally in pass offense to 19th and leading the Big Ten with 311.2 yards per game, in spite of losing the starting quarterback Tre Roberson in the season's second game
Would love to see him take our 81st pass offense to 20th.
He was an offensive guru at IU. I am sure his defenses sucked.
https://en.wikipedia.org/wiki/Kevin_Wilson_(American_football)