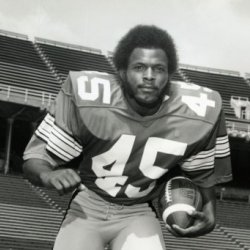 MDBuckeye2002
---
Member since 30 August 2011 | Blog
Recent Activity
I would guess Bama and aTM being those 2. UGA isn't very good right now though they play the Vols at Sanford stadium. Only to play Bama again in the SEC title game and lose again.
Are the Vols faithful happy with that? I would guess Butch would be on the hot seat a little next season if they end up with more than 3 losses.
I think JT has very good touch on this passes. We all know he doesn't have a cannon but it is sufficient enough to beat anyone. I believe a good portion of it is the timing with his WR's and them not getting open enough for him to feel comfortable enough getting it to them. He isn't quite throwing them open but hopefully will be by years end.
I have complained about them not getting their heads around on the deep ball but they had a wonderful performance last night. I was prett worried when Conely went down but they didn't miss a beat seemingly.
Urban's comments even make you think that is the way the offense will try to open up the passing game. Run to open up the pass but I really think we could do it the opposite as well and may need to. Can't have the DL tee'ing off on JT on 3rd and long. Make 3rd downs manageable with the short to intermediate pass on 1st down some.

Love this series. I'm a big fan of reading up on military history and our past heroes.
Thanks JKH
Offensive line does need consistency for sure but I'm a little worried about the DB's. I'm not the biggest fan of calling players out but I see some weakness in Damon Webb's game and it looked like Tulsa was targeting him some. Yes he's young but he was getting beat pretty regularly in the 1st half yesterday.
Super excited for this one though. GO BUCKS!
These are an away game speciaty at my house. Good add.
Could always add some grape tomatoes diced up for some color and a little different taste.
2nd & 7 Foundation has some great events throughout the year and this one should be no different. I'm going to a different tailgate closer to home that day so won't be able to attend but it should be a good one for sure. I'm going to pass this on to a few buddies who may attend. Thanks for posting.
I still have some items from Joe's I used quite a bit back in the day, like my big ass glass mug which surprisingly still exists after many drunk walks home. High street will never be the same for sure.
Everything is moving toward the cloud in networking now days. My job will be obsolete in 8-10yrs unless I get into it a lot deeper.
I disagree. I believe both Burrow and Haskin's see time this season and there won't be a lot of difference in that split time. As we all know the time the backups have to be on the field is earlier in the season. Once the meat of the B1G season is upon us there won't be many backups getting time, unless of blowout which is always possible with UFM at the helm.
That star average is just flat out nasty!
Double your pleasure shocker!
BOOM!!! BOOM!!!
Welcome to ZONE 6 fellas.
I've been offline for a few days but caught the gold medal match. Incredible effort and preparation.
Congrats Kyle Snyder!
Frigging outstanding bump!
Fantastic article Eric! Having a leader and a grinder like Pat anchor this young line is going to pay.
Slobs Rule!
Interestingly a co-worker of mine, who is a huge Tennessee follower that has all his teeth, mentioned this as I walked into work tonight. He said there is some connection between Hibbs and his wife, who also worked for UT at one point, and Emory Jones. He joked that we are getting all of the recruits and now all of the administration folks we want.
That site looks more like a news site rather than a forum driven site like 11W and others are. All have their places.
Lots all over Ohio. Like many said about the Bengals not being there before I was born but if you lived approximately between the two cities then you had the choice to follow either the Browns/Bengals or Reds/Tribe. My dad loved the Reds and taught us so but when it came to football, unfortunately, my brother and I both went by way of the Browns.