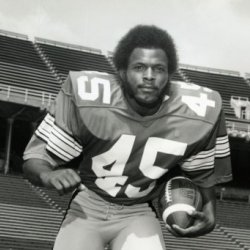 MDBuckeye2002
---
Member since 30 August 2011 | Blog
Helmet Stickers: 152 | Leaderboard
Voting Record: 232 / 0
Recent Activity
Great article DJ. You made my day!
Awesome to see the young guys having fun!
Assuming you mean Jae'Sean Tate...
Good write up, however, I would add Purdue in their gym as I think the way they have been playing lately will be a tough one for sure.
I agree. Thad may be able to stick with the small line-up a while tonight, unless Maryland starts beating us up on the boards.
Trimble - 6'2"
Wells - 6'5"
Pack - 6'3"
Layman - 6'8"
Dodd - 6'9"
They also have five others who play major minutes so it will be interesting to see how Maryland tries to attack and how Thad responds.
On another note, I saw that Purdue took IU to the woodshed last night. I think they will be a tougher team to contend with that what we all maybe expected.
Second biggest home game this year. Have to think the Terps will do their best not to let D Russell beat them, though I still think he gets his 13-18 points, others will have to step it up. Having the seniors play good team ball puts less on Russell to be the only option.
Gonna be a good one in the Schott tonight!
We'll see what Thad cooks up for tomorrow night but I think his best lineup against the Terps will be Russell, Scott, Thompson, Tate, and whatever big man shows any fire and can impose a little will on the boards. Rotate Loving for Thompson or Tate if they aren't doing much or need a blow and Kam to spell Scott or Russell. I don't think Thad will put more than one of the "bigs" on the floor at the same time unless he has to.
My keys to the game: Rebound, hit some dang free throws, don't stand around watching Russell, and RUN as much as possible!
Agree BucksfanXC... the B1G is down more than usual this season and I believe that is a fact unlike B1G football... Sending 4 or more teams to the DANCE is a stretch.
On another note, we could play the lineup we did this weekend because IU plays smallball because of injuries. What does Matta do when we have to play with more size? I don't think there is anyway but to play Amir and hope for the best. Maybe he gets the picture now... I surely hope so.
I'm happy for Da'Von and what his commitment means for the DL. I work with a lady who's son plays with him and has trained with him since middle school. Just like one of the previous posters said, when he soley focuses on DT and with the opportunity to get bigger under coach Mick and learn from coach Johnson he has the potential to be a stud. Early in the Pickerington season there was talk he wasn't going 100%, but playing both ways will do that to you.
Future is bright for sure!
Beating up on SC would be great but I'll take putting Bama in their place again for sure as well.
I will cherish our Buckeyes winning the first ever CFP and being against all odds this season, but beating Oregon didn't add enough to it for me. I just didn't/don't have any animosity or hostility against them. It would be like beating Minnesota for the B1G title... I have no hatred or dislike toward Minnesota. I enjoy putting a beat down on TTUN, making them cry and fire their coach because they aren't successful against us. Call me sick and twisted but it is what it is...
I was a lurker on 11w for years, joined in the fall of 2011, and just have now started posting and voting more. I love this site, most of the faithful Buckeye fans involved, and especially the talented writers here.
Congrats on your 1,000 GO BUCKS!
Something should be done or changed with this process for sure. The fact that people are making money from this is absurd. It was meant to be for the fans for FREE!!!
How in the world is this Nick not a 5* in all the recruiting services? Do they even watch highlights?
OR know his brother is the baddest DE in college football?
Hopefully we fill the stands on Saturday for the celebration!
40 degrees and mostly sunny isn't bad for this time of year.
GO BUCKS
TxsBuckeye - I sure hope he continues to tap into DMV roots. MD/VA and on up I-95 has some serious talent and always have had.
Best DAMN TEAM in the Land
Great work as usual Ramzy.
I attended the 2002 NCG and it was nothing more than pure bliss beating what may have been one of the most star studded college team to play at that time. I was sitting in the endzone some 40 rows up where it all happened. I actually look back on it and give thanks I wasn't sitting in the opposite end. I had so many emotions happening during that game, completely incomparable to anything I've ever experienced. This championship was completely different for me because I was not there in person to see it. Still sweet just the same though.
#great8
Loved this complete beat down. I thought all the guys played pretty well and showed some intensity that was missing in an away game vs IU. If this team can score, our big men can play with some intensity and not commit stupid fouls this team can go places.
Sit back and enjoy being UNDISPUTED NATIONAL CHAMPS for a bit.
I too heard the talking heads today bantering about it and the first thing that came to mind is relax, enjoy this incredible time and worry about it after Spring practices. I personally don't think he's ready after only 3 games, but coach Meyer and the rest of the QB room will undoubtedly sit down and have a good talk about things at a later date.
A dynasty in the making in deed! GO BUCKS
Can't believe he was only ranked as the 4th best RB in the B1G this year.
Ran like a man possessed behind the SLOBS tonight!
GO BUCKS
Love this TEAM!!!
Zeke and the SLOBS were out of their minds tonight!
Agreed, Chip Kelly's offense at Oregon and now with the Eagles fits Urban's style of playing fast but at The Ohio State University there has always been a run between the hashes, smash mouth style that was still relevant last year with Hyde and Miller running the ball.
Will 2014 be different with J.T. under center and all of the offensive weapons be used? I believe they have to be in order for 2014 to be successful. Get the ball out of the hands young J.T. and into the hands of the play makers. There are lots more weapons on this team than the Clemson team that shredded us last year mainly with one star player, Watkins.
Game On
That is hilarious... I was a section over from the Neutron man. I loved that guy! I almost forgot about the actual game as the more recent games stick out to me.
1. 2002 National Championship win against da U
2. 2005 Texas came to the Shoe... Limas Sweed in the corner of the endzone... enough said.
3. 2006 @ UT quieting all of those fans in burnt orange and Colt McCoy.